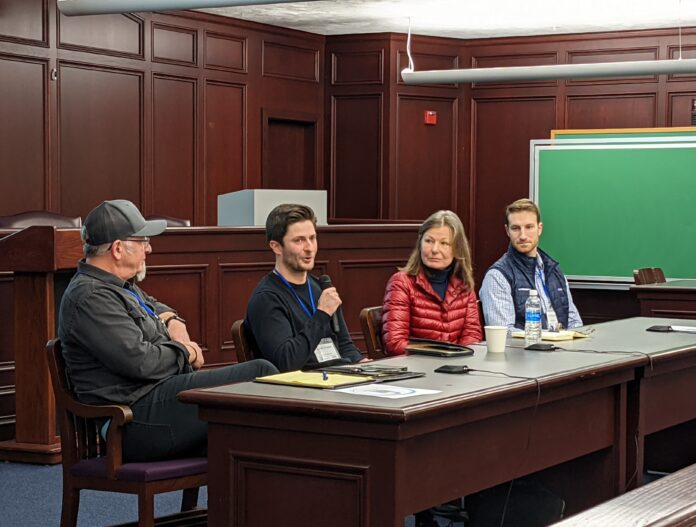 BRISTOL – When Billy Thalheimer, CEO and founder of Regent Craft Inc. first set out into the venture capital space, the most exposure he'd had to that sphere was the fictionalized version portrayed in HBO's "Silicon Valley," he recalled.
But the company, which last year moved from the Boston area to Quonset Business Park as it develops fully electric "seaglider" technology, followed advice to apply for the Y Combinator accelerator, and soon had $500,000 under its belt in Regent's first fundraising round.
Thalheimer recounted this early growth at Rhode Island's first Blue Venture Investment Summit, held at Roger Williams University on Tuesday morning. Regent is now two years in as a startup, with around $45 million fundraised and just less than 40 employees.
The symposium, organized by the Blue Investment Forum, brought local innovators and investors together with an international audience, including companies from Canada and Europe.
Over the course of four panels, as well as opening and closing remarks, some observers said that startups have unique opportunities available to them even as their larger, later-stage competitors face a daunting market and downwinds.
"Early stage, pre-seed is actually very robust," said David Ford of Blue Angels investors. "The multiples are holding up, there's plenty of money."
"So if you can close now … It's actually a very good time to start, because I think some of your competitors might have difficulty in closing," he continued.
Now about two years in from developing its initial pitch deck, Jaia Robotics closed on $2 million in seed funding in November, with Launchpad Venture Group, Cherrystone Angel Group and Blue Angels among its investors.
Advising fellow startups in attendance, Ian Estephan Owen, CEO and founder of Jaia Robotics, said that estimating initial costs was easy, with the company right on track with its initial projections of fundraising $2 million in two years.
The harder part, he noted, is predicting where and when sales will come from, particularly when a CEO has to balance this task against leadership duties.
"The time you think it's going to take to get an investment, I would double, even triple it," Etephan Owen said, "because it is a hell of a journey. Nothing ever happens as fast as you'd like, and that can be (on) an order or an investment."
Panelists also advised startups to focus on forging connections and networking, rather than fixating purely on finances.
Some of those connections can come from accelerators, panelists said, including MassChallenge.
Hope Hopkins, head of acceleration at MassChallenge, said the organization's "definition of blue has gotten less defined and far more expansive" in recent years, with recent cohorts including startups working in "blue-green economy" decarbonization technology, defense and cosmetics.
Daylin Frantin, co-founder at Bristol-based FLUX Marine, advised startups to introduce themselves to investors as soon as possible, even if they're a few months out from development.
This strategy exposes ideas to investors early on, Frantin said, and while it may be too early to come away with an investment, startups can still attract valuable mentors at this stage.
Programming will continue throughout the week in Middletown, and in February at the ninth annual Blue Innovation Symposium.
Jacquelyn Voghel is a PBN staff writer. You may reach her at Voghel@PBN.com.

Want to share this story? Click Here to purchase a link that allows anyone to read it on any device whether or not they are a subscriber.