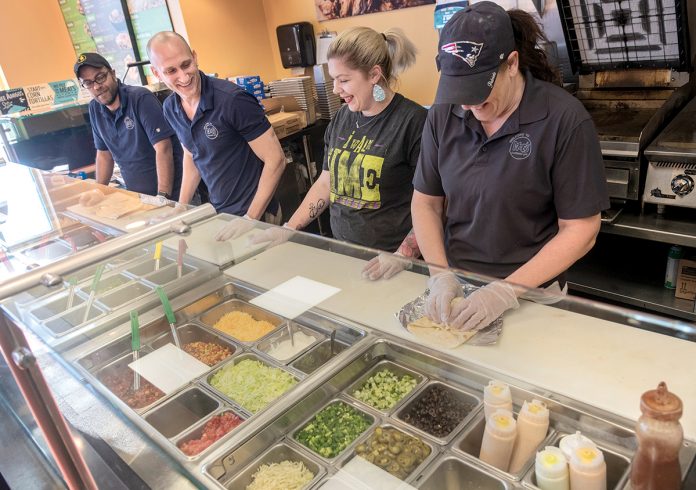 Matt Rusconi | Moe's Southwest Grill | East Providence, South Kingstown and Warwick
---
The Pitch: Moe's Southwest Grill offers an extensive menu of Mexican food, as well as a "welcoming, lively, colorful" vibe within the restaurant, Rusconi said.
Years in business: 10
No. of employees: 30-40
Cost of franchise: $30,000 franchise fee; $446,035-$997,212 total approximate investment
Before opening franchise: Rusconi worked in advertising within the television-production industry for three years right out of college. He helped produce commercials for various companies, such as GMC, Burger King, Heineken and others.
Reason for opening: After working for other companies and organizations, Rusconi wanted to branch out on his own, he said. In his research, Rusconi picked out the food industry. He first opened a Moe's in his home state of Connecticut before expanding to Rhode Island, first opening in South Kingstown in 2013.
---
"I'm an entrepreneur at heart, and the goal was always to find something. I did the research and that's when I ran into Moe's. I went to a bunch of franchise shows. I went into a Moe's in 2006 in Connecticut. I loved the food and could picture myself doing this."
"Having the opportunity to partner with the community to give back … being able to grow within the community, you really can't put a price tag on that. I met a lot of great people and worked with a lot of great people."
"You have to constantly have an open mind. As the world evolves, you have to be flexible and be a part of it and understand that what may have worked yesterday or a couple of years ago may not work today or two years from now. It's a matter of staying on top of trends."
"I grew up in Connecticut but spent a lot of time in Rhode Island down by the beaches. We first opened in Connecticut and moved our way down the state. The opportunity was there for Rhode Island and [we]took the opportunity to expand into the neighboring state. It made the most logical sense to expand here."