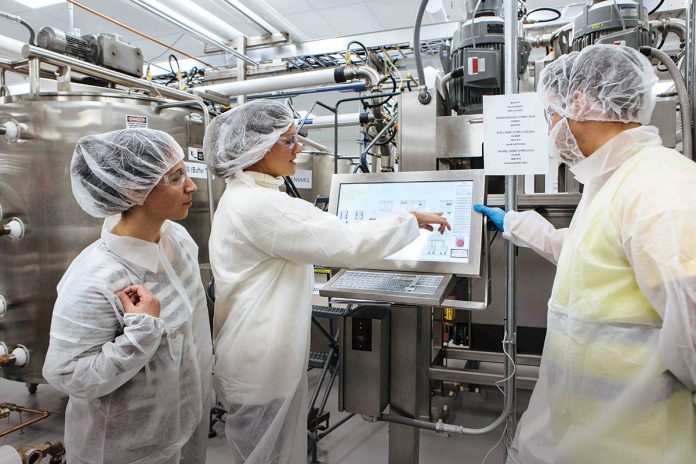 Steven J. King rolls up in a company-issued sport utility vehicle to a graveled construction site in a wooded area, at the end of an otherwise lonely road at the sprawling Quonset Business Park in North Kingstown.
The managing director of the Quonset Development Corp., King is showing a visitor the future home of the quasi-state agency's latest achievement in attracting business: A $100 million meat-packaging plant expected to employ several hundred people.
His cellphone rings to the tune of "Highway to the Danger Zone" from the 1986 movie "Top Gun," starring Tom Cruise as a heroic U.S. Naval aviator. It's a fitting song, considering Quonset was a U.S. Navy base and air station that, once vacated in the mid-1970s, came to resemble a "war zone" to North Kingstown Town Council member Mary Brimer. It soon became marked by rubble and abandoned buildings she says gave the place a ghost-town atmosphere.
"It has completely transformed," said Brimer. "It's something to be proud of now."
Nestled along Narragansett Bay east of Interstate 95, Quonset boasts 203 companies and 11,439 jobs. It seems to offer everything light and heavy industry needs: development-ready land with access to utilities; its own seaport, rail line and mini-airport; and easy access to the interstate highway system with a location between Boston and New York. The place even has its own shopping center, The Shoppes at Quonset Point. Add to that several ongoing housing-construction projects along the 3,212-acre site's western perimeter.
With all of Quonset's success, however, things are getting a bit crowded. To make room for Infinity Meat Solutions' meat-packing plant, the QDC had to buy 40 acres of private land. Quonset is running out of developable land and is nearing the projected maximum number of jobs that it can host, according to King.
Meanwhile, the site's added value may be as a blueprint for future job creation and business development elsewhere in Rhode Island, particularly in the northern part of the state, according to Karl Wadensten, a board member at R.I. Commerce Corp., the state's economic-development agency.
"It's pretty profound," Wadensten said about Quonset's growth. "You have so many world-renowned [corporate] names down there. Now let's make it happen at other places in the state."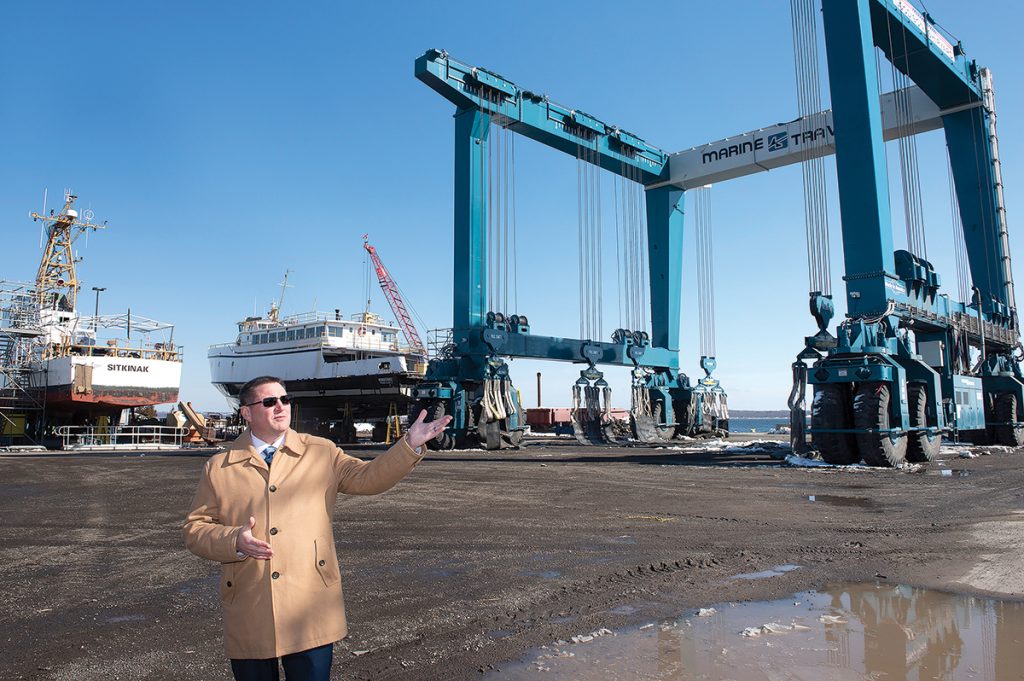 DIVERSE GROWTH
Quonset's fortunes could have played out much differently. The site mainly consists of the Quonset Business Park and the Port of Davisville. Two decades ago state officials were considering a strategy to create a deep-water seaport, with major cargo-container operations. The idea was dropped after significant public opposition in favor of a more diverse mix of businesses.
Since 2005, Quonset has added about 5,300 jobs and seen nearly $1 billion in private investment, according to King. Though job growth was flat from 2017 to 2018, hundreds of new jobs are expected this year and next.
Much of the job growth and new investment at Quonset comes from its largest employer, General Dynamics Electric Boat, which has used Quonset for years to help build the U.S. military's nuclear submarines – first the Virginia class and now adding the larger Columbia class – at its expanding Quonset complex near the bay.
Near the west end of Quonset, Infinity, a division of Minnesota-based food and agricultural giant Cargill Corp., has started site work for construction of a 200,000-square-foot, meat-packaging facility that would serve supermarket chains such as Stop & Shop, among others. King said the project will generate about 700 jobs.
There are also separate plans for construction of an asphalt-production plant near the Infinity site.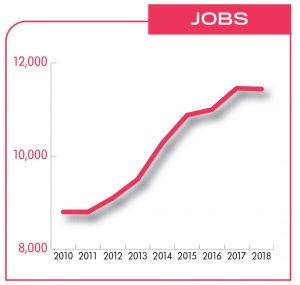 Still, the biggest current project at Quonset by far is the ongoing $792 million expansion of Electric Boat's facilities. The company, a subsidiary of Virginia-based, defense-contracting giant General Dynamics Corp., already has been responsible for much of the job growth and private investment at Quonset in past years. Now the company needs more space for work on the Navy's next generation of nuclear submarines, the Columbia class. The work on subs essentially involves construction of giant modules that, when completed, will be shipped by barge to the company's facilities in Groton, Conn., for assembly into full vessels.
King said Electric Boat is about a year into the three-year project, expected to be completed in 2021. The project involves adding more than 350,000 square feet of building space and relocating power lines underground.
The company has increased its employment at Quonset from 3,715 in 2017 to about 4,500 by the end of last year, with plans to add 500 more by the end of this year. The company expects to start another round of hiring in 2023 that would increase its Quonset workforce to between 5,500 and 6,000 by 2027 or 2028, according to Electric Boat President Jeff Geiger.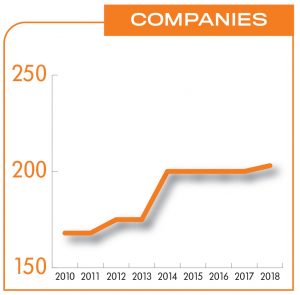 A more typical example of growth at Quonset is Edesia Inc. It makes food products for customers such as UNICEF that ship the goods overseas to feed malnourished children, mainly in developing nations. The company was outgrowing its original facility in Providence. Quonset had the space and the good location to make the move, said Edesia spokeswoman Heidi Reed.
Edesia arrived at Quonset in 2016, opening an 83,000-square-foot, high-tech factory. Virtually all its employees continued to work for the company when it moved. Since then, Reed said, Edesia has hired an additional 25 employees, bringing its current workforce to about 100. "Once we decided to go to Quonset, everything went smoothly," she added.
Several other Quonset corporate tenants have plans to expand or are already doing so.
Finlay's, a London-based developer and distributor of tea and coffee extracts, which officially opened a $17 million, 28,000-square-foot research and development center at Quonset in April, has an option to lease 15 additional acres where it may build a much-larger second facility with about 125,000 square feet of space, King said.
Other recent or current expansions are Toray Plastics (America) Inc., a manufacturer of films used for packaging and other applications headquartered at Quonset and one of its largest tenants, with about 560 employees; North Atlantic Distribution Inc., an auto importer whose business at Quonset has exploded in recent years, as evidenced by the thousands of cars that fill the fields there; Fujifilm Electronic Materials USA Inc., a Tokyo-based photography and imaging company; and the Rhode Island Air National Guard, which is renovating buildings near Quonset's old military airstrip.
Toray is relocating its parking lot and making stormwater-system improvements in advance of a 70,000-square-foot building expansion. FujiFilm is adding 29,000 square feet of warehouse space. And the Air National Guard is making multiple building additions and renovations, according to the QDC's annual report.
Overall, $340 million was invested last year in new-building construction at Quonset and an additional $56 million was invested for infrastructure projects, according to the QDC.
Saul Kaplan, who headed the state's economic-development efforts under former Gov. Donald L. Carcieri from 2006 to 2008, is impressed by how development has unfolded at Quonset. He credits King, who started working at Quonset about 21 years ago, for his work guiding the QDC.
"The big question was 'How do we take advantage of the port?' There were different views," said Kaplan, Business Innovation Factory founder and chief catalyst. "One was to develop it into a deepwater port that could accommodate big ships. If we did that, we would have had to recover the costs through taxes on port users. We decided not to do that.
"I never saw going all-in on a deep-water port," he added. "I never thought that the most opportunities were there.
"In the end," he added, "It's not just what you want and what is preferred, but what the market will bear."
Longtime North Kingstown resident Richard Pastore was part of the community opposition to a container port as far back as the late 1990s, as president of the Concerned Citizens Coalition.
Today, he couldn't be happier about how the site has grown. He called it a balance of different types of businesses. He complimented King on the job he has done managing the QDC. The agency was created in 2005 and works with R.I. Commerce Corp.
Pastore said not only did he and others believe that having a major container port at Quonset would disturb surrounding communities, but they thought the site didn't have the logistical advantages to support a large container operation.
"It's incredible what's going on there now," Pastore said.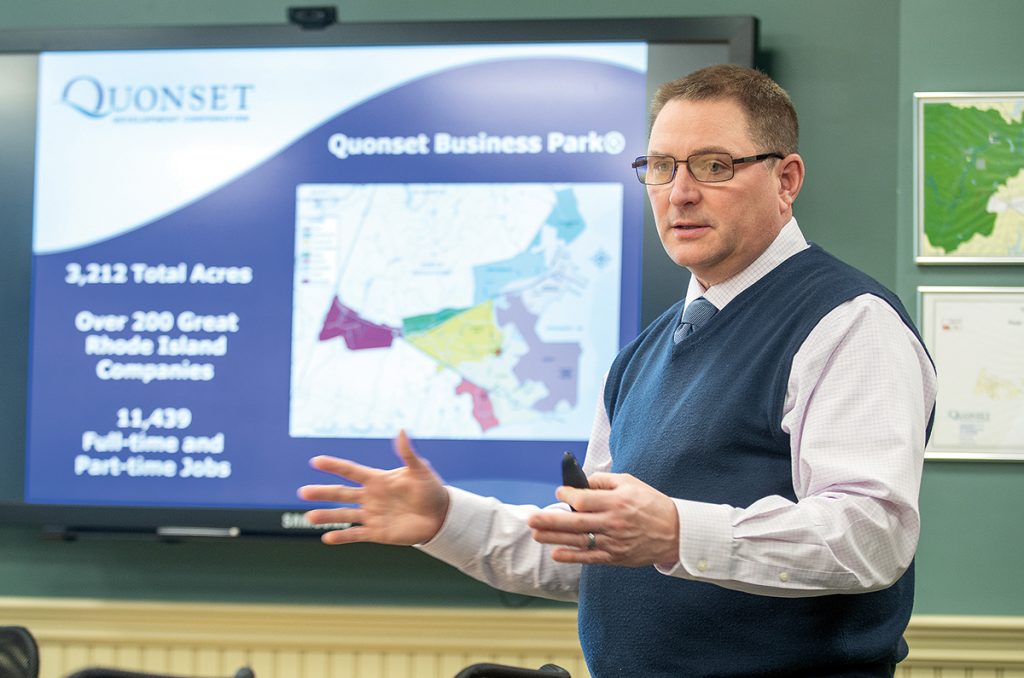 FAST-TRACK PERMITS
King says the primary reason Quonset has developed into Rhode Island's industrial hub is the logistics of what it offers businesses: Large, open tracts of land within a business park, available at market rates, a location near I-95 between Boston and New York, access to a quality labor market and talent pool in southern New England, as well as access to Atlantic shipping lanes via the bay.
"It's hard to find an open, 35-acre tract in a business park in New England," King added, extolling one of Quonset's advantages.
In addition, he noted, the QDC has taken steps to encourage businesses to come to Quonset: A 90-day turnaround on permitting, aided by a 2010 agreement between the QDC and North Kingstown to help fast-track permits and licenses; "site readiness," meaning sites ready to connect to utilities; and uniform zoning regulations.
The QDC also has sweetened the pot by providing businesses with discounts on their rent if they sign leases of 50 years or more, as well as discounts based on the total amount of wages they generate.
The longer the lease and the greater the wages, the larger the discounts. It allows businesses to shave up to half off their lease rates. The QDC tracks tenants' gross wages by the quarter to adjust their lease payments, King said.
"If those numbers go down, they get less of a credit," he said.
Not all the news at Quonset, however, has been about business growth.
Last May, Greencore, a Dublin-based maker of sandwiches and other ready-to-eat foods, announced it was halting "fresh production" at its 105,000-square-foot Quonset facility as part of a broader company restructuring.
Greencore, which laid off 218 employees there, said the facility would be retained for "potential repurposing." The company arrived at Quonset in 2014, with former Gov. Lincoln D. Chafee declaring it was "a good day for Rhode Island."
Then, Texas-based Pinnacle Logistics informed state officials in June that it was laying off workers at Quonset. The company closed its warehouse operations there and at T.F. Green Airport in Warwick. Pinnacle said it was moving to Hartford, Conn. It resulted in a loss of 300 jobs at Quonset, according to the QDC.
But incoming business has far outweighed the losses.
In addition to Infinity, new tenants that signed agreements to move to Quonset or that opened facilities there in 2018 were Stalwart Films – the first company to move into the QDC's new "flex" light industrial buildings; Lincoln Manufacturing, another "flex" tenant; Commodity Hauler Express, which signed a new land lease; and Agilent, which acquired Quonset tenant Ultra Scientific, according to the QDC's annual report.
Within the past two years, the QDC has built a series of quaint offices that look like suburban duplex houses. The project, dubbed the Gateway Offices, are designed for small, professional firms – part of efforts to make Quonset available to businesses of all sizes. Already, a few tenants have moved in. And more Gateway offices may be added, King said.
The largest building at Quonset belongs to retail chain Ocean State Job Lot. The company occupies a 1.2 million-square-foot warehouse there that seems to stretch forever. The company uses it as a distribution center for its more than 130 stores in the Northeast.
According to King, the building was previously occupied by Electric Boat. When it moved out, Ocean State Job Lot expanded the building by 500,000 square feet to its current size at a cost of $49.1 million after being approved for $7.8 million in state tax incentives in 2016.
Another Quonset success story is NORAD, which uses about 35,000 square feet of building space and nearly 128 acres of fields to store and process thousands of cars it imports from overseas. Last year, there were a record 280,387 auto imports at Quonset, mainly brought in by ship but also by rail and truck, according to the QDC.
Years ago, King said, NORAD was importing only about 30,000 vehicles a year at Quonset. Then the company signed a new lease agreement in 2008 and its business began taking off, King said.
Meanwhile, commercial-fishing giant Profand Fishing Holding is waiting to close a deal to buy one of the Port of Davisville's primary companies, Seafreeze Ltd. A Quonset tenant since 1994, Seafreeze bills itself as the largest producer and trader of sea-frozen seafood on the U.S. East Coast.
Overall, the port registered 225 ship calls last year, another record for Quonset.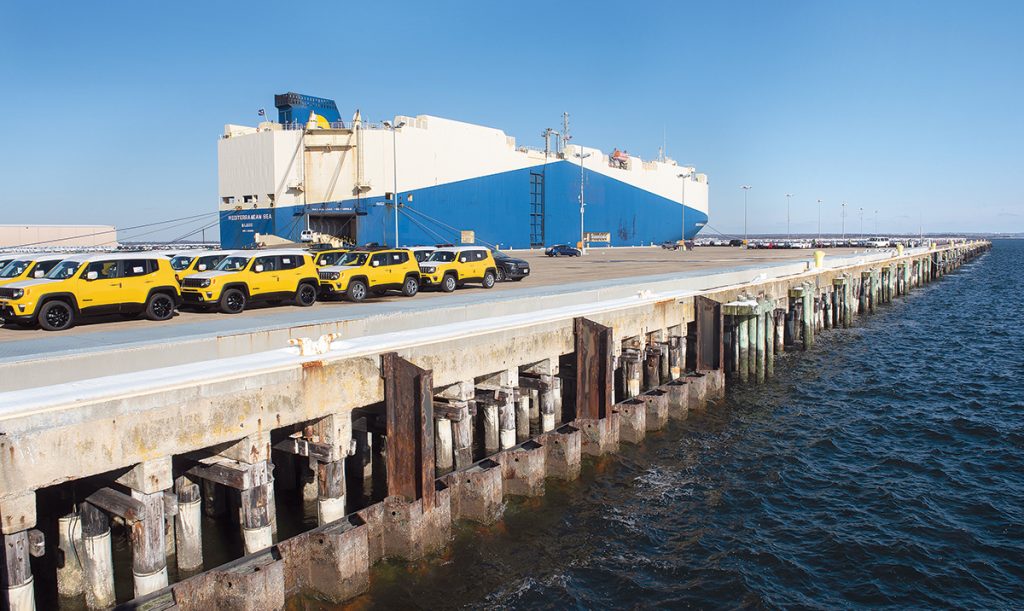 LOOKING AHEAD
With several major business projects in the works, the QDC is preparing to eventually shift its focus from growth to maintenance. King estimates the state-owned site will be fully built out in about 10 years.
"When the property is fully absorbed, QDC will continue with its property management, port operations and public-works maintenance activities. Development activity [instead] will focus on tenant turnover and redevelopment opportunities," he said.
Of the 1,350 acres designated for development at Quonset Point, only about 200 acres remain available, he said. Quonset's 11,439 jobs are about 75 percent of its projected capacity of 15,157 jobs, as estimated in a 2008 master plan the QDC is currently updating. The jobs ceiling is likely to be raised under the updated plan, King said, but not by much.
King says Quonset is spending on port upgrades to position itself for future shipping and work related to the burgeoning offshore wind-energy industry.
There are several planned wind-turbine farms that would span miles through federal waters off the southern coast of Massachusetts and Rhode Island, with combined development costs running into the billions of dollars. Some of the world's largest offshore-wind and energy companies have stakes in the projects.
With that and other shipping in mind, the QDC is undertaking a $90 million package of port improvements. That includes building a new seawall around the piers at Davisville to replace the aging seawall there to better handle heavy loads. The ongoing work also involves a nearby 225-foot pier extension.
The dockside work is being done partly with companies such as Orsted US Offshore Wind in mind. At an estimated cost of $1 billion, the company's first project will be Revolution Wind, an 85-turbine project more than 15 miles south of Rhode Island's coast. The company has not specified the amount of work that will be performed at certain ports but promises Rhode Island will get its share.
A longtime tenant with growth plans is Rhode Island Fast Ferry, which has ferried passengers to Martha's Vineyard and around Narragansett Bay from Quonset for about 19 years. The company plans to construct a new terminal, building and parking lot there for the 2020 summer season.
Charles A. Donadio Jr., owner of the ferry company, hopes to eventually expand the ferry service to Block Island.
"When I first came to Quonset, there wasn't a lot going on," Donadio said. "It's just a great place to get people [out on cruises]."
Another future development opportunity is familiar to Pastore and other longtime North Kingstown residents. The QDC hopes to reach an agreement with Brooklyn, N.Y.-based Red Hook Terminals to start a cargo-container shipping operation at Quonset.
As planned, Red Hook – a terminal, stevedoring and barge operator – would make regular container deliveries to Quonset, perhaps once or twice a week.
It would be a short-sea shipping operation that would create stevedoring and other jobs at Quonset and open the site to global markets, King said. And it would be a much smaller container operation than was envisioned for Quonset about 20 years ago, he added.
"The container service being contemplated [now] is a barge shuttle service between New York/New Jersey and Rhode Island," he explained. "The proposal contemplated decades ago was the creation of a full-fledged container terminal for oceangoing container carriers."
Pastore, who runs his own engineering business from his home, has no problem with the QDC's current effort to start short-sea shipping at Quonset.
"It's not a big deal," he said. "It's not like you'd have traffic and trucking going everywhere."
About the only complaints now from surrounding residents seem to be about the way Quonset is lit up at night. Some companies are operating three work shifts around the clock.
"You can see [the lights] across Narragansett Bay," Brimer said. "From Massachusetts, you can see we're open for business."
Scott Blake is a PBN staff writer. Email him at Blake@PBN.com.