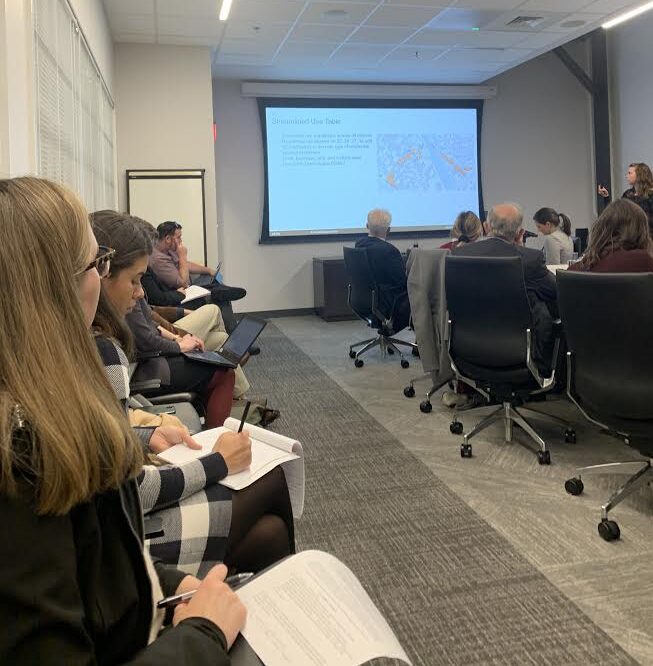 PROVIDENCE – Prompted by a new state law that allows large economic development districts to bypass local zoning, the I-195 Redevelopment District Commission is considering changes that would encourage much taller buildings along Interstate 95 while discouraging residential buildings in the Jewelry District area.
The commission's design consultant on Wednesday recommended new building height guidelines for the district's unbuilt parcels, which would allow buildings on four parcels along the highway to reach heights of 25 stories, similar to the financial district's skyscrapers.
The plan remains in discussion and a written draft will be made available in early December, and published on the district's website. A public hearing will be scheduled for Dec. 18, with a vote to follow in February.
Under the proposed changes, building height minimums and maximums would be increased in the westernmost portion of the district, allowing developers to build structures between 130 feet and 345 feet, according to the presentation by Utile, the commission's Boston-based design consultant.
Critics of current Providence zoning have said that it needs to encourage taller commercial buildings. The district had already encouraged somewhat taller buildings for four parcels along the highway, but no more than 245 feet.
The idea is to follow urban development practices set out in the city zoning but to clarify the goals on certain parcels, said Tim Love, of Utile. "The spirit of this is we wanted to embrace fully the urban design objectives that underly the Providence zoning."
While the idea of allowing taller buildings along the highway didn't spark much discussion, a design proposal to prohibit apartment development on five vacant parcels — 22, 25, 27, 34 and 35 — quickly led to disagreement among several commission members.
Michael McNally was critical of zoning certain parcels for office, others for residential, saying the restriction would relegate larger parcels to being parking lots for years to come, because the private market is calling for more housing construction, not office buildings.
"We're all frustrated by the fact that we have way more residential than we would want, but the fact of the matter is the market is strong for residential," he said. "The rents pay for new construction."
Chairman Robert Davis said the proposal would prevent overbuilding of residential buildings in the district, which is what many developers have pitched for vacant parcels to date.
It would allow the commission to direct what remains to be developed appropriately, he said. "Part of the problem is we would [otherwise] likely be flooded with all residential proposals and we would end up with serious overbuild and the land would be gone."
Mary MacDonald is a staff writer for the PBN. Contact her at macdonald@pbn.com.

Want to share this story? Click Here to purchase a link that allows anyone to read it on any device whether or not they are a subscriber.