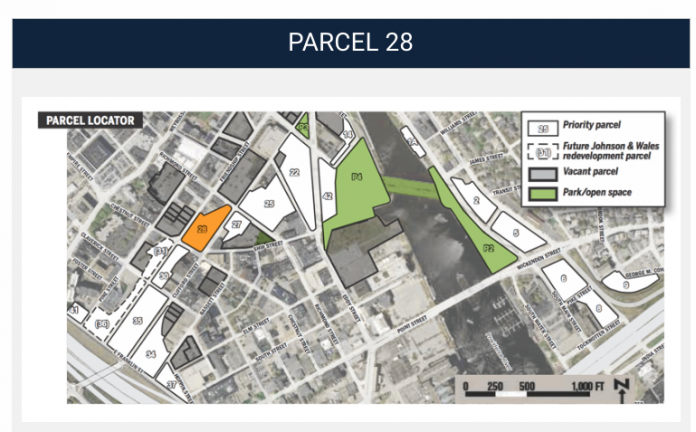 PROVIDENCE — Having received several inquiries about an available parcel in the Jewelry District, the Interstate 195 Redevelopment District Commission has issued a request for proposals, which it hopes will entice developers with serious interest to submit formal plans.
The property is Parcel 28, which is a 1.25-acre site bounded by Friendship, Clifford and Chestnut streets.
The RFP, which should be on the commission's website Thursday, sets a quick turnaround, with proposals due by Dec. 31. The commission anticipates selecting a "preferred developer" at its January 2019 meeting.
The site initially drew interest from a Dallas developer of student housing in 2014, but the company withdrew its application in 2015 after being unable to come to terms with the city of Providence.
The property now is across Chestnut Street from two completed developments, which include the 95Lofts, a residential conversion of a former factory building, and the Johnson & Wales University academic building which houses science and engineering programs.
"We've had some interest in the past six months," said Peter McNally, the commission executive director. "We think the best way to advance this is through an RFP."
For the first time, the commission is actively seeking proposals that respond to needs for additional affordable housing in Providence. The RFP casts a wide net, encouraging respondents that want to develop housing to include some "workforce" housing that is affordable to households that earn up to 120 percent of the area median income.
In Providence, 120 percent of the median income is an income up to $67,500 for an individual, or up to $86,760 for a family of three.
The Providence metropolitan statistical area figures for apartment rents for the above would range from $1,929 for a one-bedroom to $2,409 for a three bedroom.
Following the meeting, commission chairman Bob Davis said the commission did not have a requirement for affordable or workforce housing, but wanted to review options for it in future proposals.
The city of Providence also does not have an affordable housing requirement for new development.
In other business, Davis said the commission expects in its December meeting to decide which developers should proceed on plans to develop the East Side parcels, identified as Parcels 2, 5 and 6.
Mary MacDonald is a staff writer for the PBN. Contact her at macdonald@pbn.com.