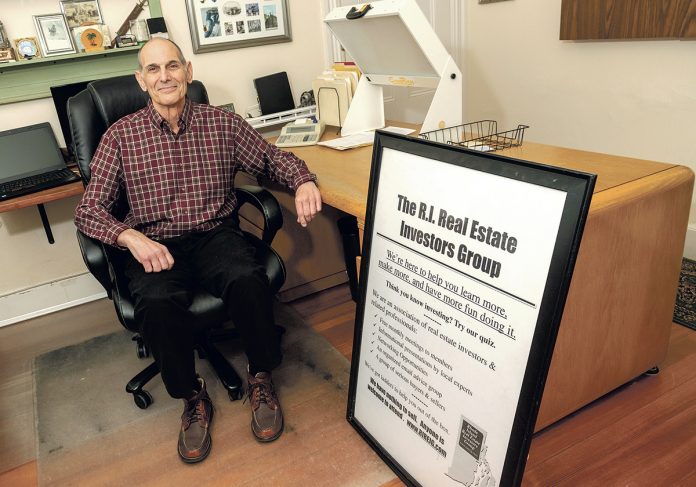 Investment groups seeking new members are attracting would-be entrepreneurs and investors to meetings around Rhode Island.
Some are informal, formed among friends or co-workers. Others require a membership fee, typically designed to cover the administrative costs of the organization.
Interest in joining them appears to be rising, along with the real estate market.
Rick Cohn, who in 2003 organized the Rhode Island Real Estate Investor Group, said the primary purpose is information and networking. Each month the group, organized as a limited liability company, meets at the Crowne Plaza Providence-Warwick, where a guest speaker addresses a topic of mutual interest.
In January, the speaker will talk about the new tax law and the implications for real estate.
Cohn said the 200-member group has grown steadily since the recession.
In a typical meeting of 80 people, most are members, he said. One-third of the people might be beginners who want to learn about investing in real estate.
Membership costs $100 upfront and $60 for annual renewal. It is primarily to cover administrative costs, including the facility rentals for meetings, he said.
The structure is intended to provide educational support and to connect people, but the financial decisions are made by individuals, Cohn said.
The association founded by Cohn is a member of the National Real Estate Investors Association. The Cincinnati-based association has 40,000 individual members and 126 association members, said Chief Operating Officer Charles Tassell.
It requires members to carry insurance and abide by a code of ethics.
Many of its newer members have come into the national association, or into regional or state associations, after getting burned on bad investments. Some got involved in flipping houses or buying rental houses after watching popular do-it-yourself programs on television.
"We have people coming in all the time who don't know what ROI is," Tassell said. "But they know retirement is coming soon and they need to do more than they've been doing."
How do investors avoid getting taken? "That's why we have our association and the rules in place. That's what we want people to avoid," Tassell said, by teaching people about financing, renovations and how to be a small landlord.
In the past five years, interest has been increasing, as more people see the rise in market values and start to feel rental real estate could provide a reliable income stream.
"As the association, we say, 'Let's get some reality in your … market,' " Tassell said. "You can't buy a house for $200,000, put $200,000 into it and try to sell it for $500,000 if your market is only a $250,000 market."
Pitfalls of the online associations or those seeking new members include sales tactics. Some investment organizations are structured to sell things, Cohn said.
"They make their money from selling books and tapes from national gurus, people who will talk about apartment-house investing, various investment techniques, flipping houses, wholesaling," he said. "That's one of the dangers about many groups in general. You are drawn to these gurus who are essentially selling you things."
In his own group, one individual was asked to leave after he borrowed money from people that he didn't repay. Otherwise, the group operates under a code of ethics, in which nothing is sold.
Dough Jeffrey, owner of Broadway Real Estate Group, which brokers single and multifamily sales, said the best advice he would give people interested in real estate investments would be to connect to a seasoned, experienced broker, and a seasoned investor who could mentor them.
The Providence Apartment Association, which is a professional association of landlords in Providence, has many such individuals, he said. "They've seen the peaks and the valleys," Jeffrey said.
People who want to become educated about renovations could also try old-fashioned networking. Get out of your vehicle if you see a project unfolding that you're interested in, Jeffrey said.
"Ask them what they're doing," he said.
As the market has become more heated, more people are investing in real estate. Jeffrey said in the past two years, investors from Boston and New York have moved into the Providence market, actively buying residential properties.
Cohn purchased his first rental home in 1978 and has accumulated property since. He would not disclose how many units he owns but said he primarily owns single-family rental homes. What he's learned is the landlord business isn't easy, even in a state where many families are renters.
"I just did an eviction," he said. "We're fixing up the property, which is going to take about a month. It's going to take us a month to fill the vacancy."
Mary MacDonald is a staff writer for the PBN. Contact her at Macdonald@PBN.com.