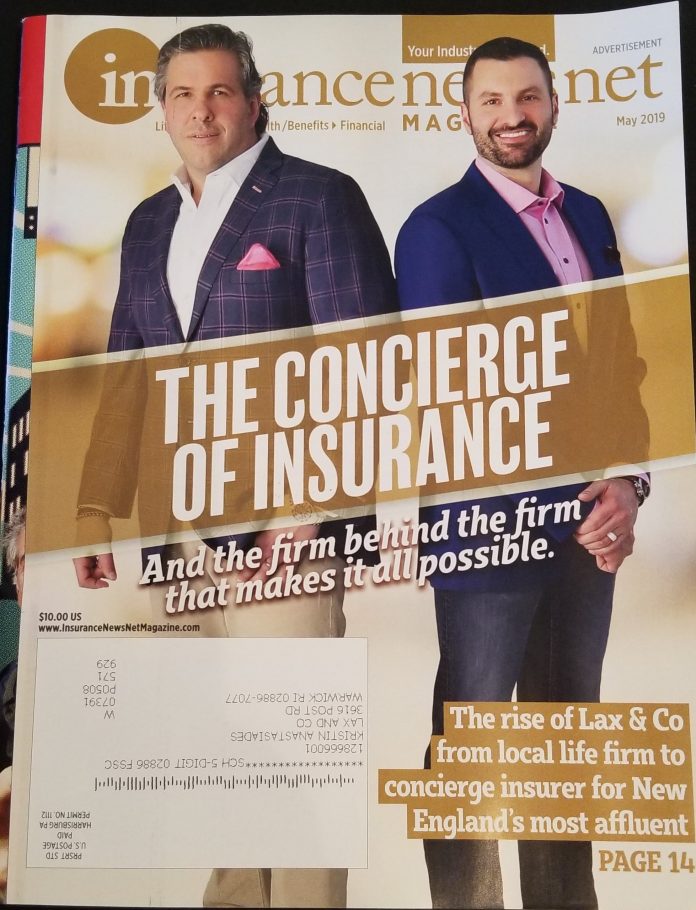 Lax & Co. is once again representing Rhode Island on the national stage in the life insurance industry. Firm President Ryan Alan Lax, along with Lion Street's Senior Vice President Dan Murphy can be found on the cover of InsuranceNewsNet Magazine's May issue.
Lax & Co. is the first Rhode Island firm to be featured in the publication.
InsuranceNewsNet is on the forefront of communicating breaking news and original insights to the industry. It is the industry's most-read publication with more than 126,000 total readers. Their audience includes some of the most engaged and elite advisors in the field.
Lax & Co. caught the eye of the magazine last Fall when it became aware of the firm's scrupulous attention to detail and ability to customize policies to match the unique demands of high-net-worth clients. "Higher net worth individuals are a different type of client. Yes, the basic principles of customer service are the same for everyone. But these individuals, families, and business owners come with some subtle differences and some intensifiers. They have higher service expectations that require exceptional attention to detail" says firm President, Ryan Alan Lax.
Lax & Co.'s ownership of Lion Street enables the firm to enjoy exclusive product access and support, thereby achieving virtually any goal a client has, turning every policy into one that is truly customized. Dan Murphy, Senior Vice President of Lion Street, who is also on the cover, is the senior consultant that helped Lax & Co. make the transition from a second-generation insurance producer to a nationally awarded, recognized, and sought-after firm. Lion Street is known for selecting only the best of the best practices to join its ranks – those with genuine leaders with proven ethics operating the helm.
"Our clients expect the best, and that is what Lax & Co. delivers. Our concierge underwriting process, concierge handholding throughout the process and overall experience set us apart" says Lax.
About Lax & Co.:
A member of AALU and Forbes, Lax & Co. is an independent firm offering concierge insurance planning to high net-worth individuals, business owners, and their families. Lax & Co. is a proud owner of Lion Street, a privately-held, adviser-owned life insurance distribution company based in Austin, Texas.
Lion Street provides elite independent life insurance producers access to the financial products, intellectual capital, and specialized resources they need to meet the sophisticated needs of their high-net-worth and corporate clients.
As Advisor-Owners we benefit from a carrier/product agnostic platform, specialized resources, proprietary technology, intellectual capital, and the collective clout of a nationwide network of elite, life insurance-centric practices, enhancing our ability to meet the complex planning requirements of any client.
Securities and Advisory Services offered through Cadaret, Grant & Co., Inc., a Registered Investment Advisor and Member FINRA/SIPC. Lax & Co. and Cadaret, Grant & Co., Inc. are separate entities.