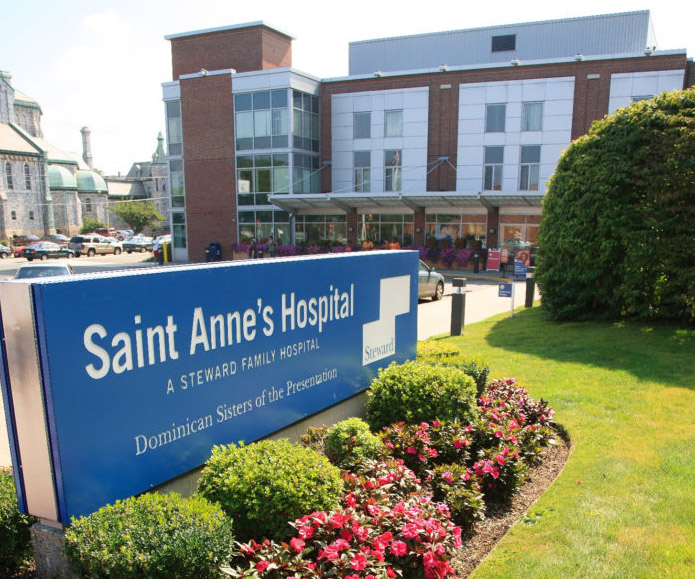 FALL RIVER — The Leapfrog Group has named St. Anne's Hospital among the 35 top general hospitals in the United States, and also named The Miriam Hospital among the 52 top teaching hospitals in its Top Hospitals Awards, the second consecutive year for each institution.
The Leapfrog Group, a nonprofit aimed at driving quality, safety, and transparency in the U.S. health system, uses its top general hospital methodology to assess hospital performance each year. Hospitals must apply for the assessment by submitting a Leapfrog hospital survey. The designation measures hospital performance, including infection rates, inpatient care management, and the hospital's capacity to prevent medication errors.
St. Anne's was the only hospital in Rhode Island and Bristol County, Mass. named among the top general hospitals. It was one of the only two in New England earn the honor. The hospital also made Leapfrog's top hospitals list in 2013.
Steward Healthcare, which owns St. Anne's, also owns the other top hospital in New England: Holy Family Hospital in Haverhill, Mass.
The recognition also follows Saint Anne's recent "Straight A" grade for hospital safety, earned annually since its inception in 2012.
"We are gratified to be recognized by the Leapfrog Group as one of just six percent of America's top hospitals in achieving important goals in quality of care and patient safety," said Michael Bushell, president of Saint Anne's. "Each and every day, the commitment of our frontline staff and medical staff to deliver the highest quality of care, with compassion and excellence, is evident. We are grateful for their expertise and humanity and for steadfastly fostering a culture of safety for our patients and the communities we serve."
The Miriam Hospital was one of three teaching hospitals in New England to make the list, and the only one in Rhode Island or Bristol County, Mass.
The Miriam was also recently recognized with an 'A' safety grade by Leapfrog.
"The Miriam Hospital is extremely proud and honored to be named – for the second year in a row – among the top teaching hospitals in the nation," said President Arthur J. Sampson. "Being designated by Leapfrog as one of the best hospitals in the country, after having recently received its 'A' score for safety, is a testament to the professionalism and high standards of our doctors, nurses and support staff who every day come to work dedicated to providing excellent and compassionate care for our patients."
Rob Borkowski is a PBN staff writer. Email him at Borkowski@PBN.com.