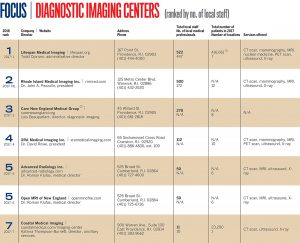 Total number of local staff: 1,515
FOOTNOTES:
1. Reflects number of patient visits in 2017.
2. Care New England is comprised of Butler Hospital, Kent Hospital, and Women & Infants Hospital. Memorial Hospital, formerly of Care New England, closed in January 2018.
To purchase a copy of this list, call (401) 273-2201 or visit pbn.com/lists.html for more information.
For more information about participating in PBN's Top Lists, or to make additions or corrections, call (401) 680-4838 or write to research@pbn.com.