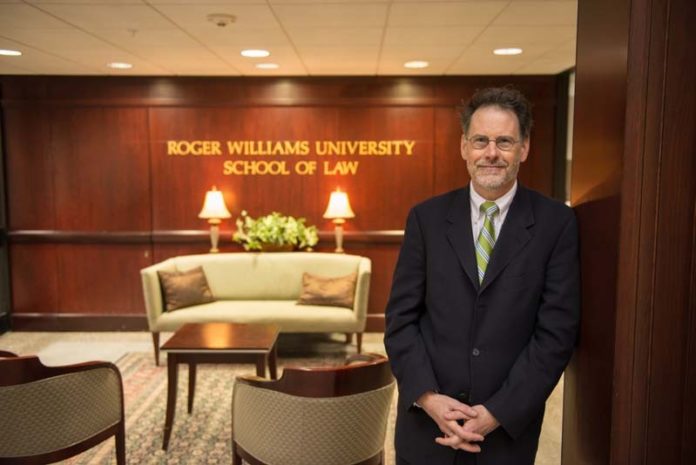 One of the founding faculty members of Roger Williams University School of Law 20 years ago, Michael J. Yelnosky is poised to utilize his deep roots in Rhode Island's only law school to strengthen and broaden its impact when he takes the reins as dean on July 1. He succeeds David A. Logan, who will step down to return to teaching at the school. Yelnosky faces challenges such as the high cost of a law school education, changing employment opportunities for graduates and the shifting landscape of the legal profession.
He envisions RWU law school's future as a consistently positive force in the legal culture of Rhode Island, as the school continues to partner with judges and law firms to provide legal assistance to the state's neediest residents and to prepare students to succeed in a variety of legal careers, from corporate work to public-interest law.
PBN: You've been instrumental in helping Roger Williams School of Law achieve a high level of quality and recognition. What will be your first order of business when you move into the position of dean?
YELNOSKY: My guiding principal is to keep our momentum going. We have been on a terrific trajectory. I've seen it over the 20 years in the quality of the faculty, the quality of our students and our relationships with members of the Rhode Island bench and bar. I've seen it in our bar pass rates, which are measured by the number of students who pass the bar the first time they take it, and our employment rates. We need to be true to our mission to educate students to the best of our ability, but we need to be very dynamic. The profession is changing very rapidly and we need to be able to respond to those changes in the profession and, at the same time, not lose what makes this law school a special place.
PBN: What do you see as your more specific, short-term goals?
YELNOSKY: In the short-term, we have to keep an eye on our tuition, on the debt of our students. We took a dramatic step and for this admissions class we reduced our tuition by 18 percent. That really sets us apart from schools that would arguably be called our peer schools. We're one of five or six schools in the country that have taken this step and I am very proud to be associated with an institution that is finally paying attention to something that's been an issue for a long time, the spiraling cost of a law school education. It's a serious problem that hamstrings a lot of our students on the other side of graduation and it erects a barrier to a lot of our potential students. We've got another program that's fairly new and it's important to operationalize – a guarantee that every one of our qualifying students, and that's essentially everyone, will have a substantial clinical opportunity while they're in law school. That's also unique among American law schools. It could take the form of a clinical internship, where students spend time, for credit, in offices with practicing lawyers. We have students, for example, in the general counsel's office at CVS, in judges' chambers and at Rhode Island Legal Services. The other form the clinical guarantee could take is working with our faculty members who represent indigent clients in immigration matters, criminal-defense matters and a community economic-development clinic, which is kind of a small business, or startup, clinic.
PBN: How have the prospects for employment for RWU law school graduates changed in the past few years?
YELNOSKY: The job prospects for graduating lawyers are not as good as they were five years ago – that's not news. The profession is undergoing what may be a restructuring. Our students are faring as well as students at most other schools and we have a much larger percentage of our student body go into judicial clerkships the first year they leave law school. Last year, 15 percent of students went into clerkships – that's in federal court in Rhode Island, the Rhode Island Supreme Court, Superior Court in Rhode Island, the workers' comp court, and also in other state courts, mainly in Massachusetts, Connecticut and New Jersey. This is invaluable training and the relationships with judges can really be helpful in finding that next job.
PBN: What are some of the changes RWU's law graduates are facing as they move into their careers?
YELNOSKY: Increasingly lawyers are going into smaller firm settings. The number of big-firm jobs is smaller than it used to be. We do have plenty of graduates who are at larger law firms and they're doing well.
PBN: Do you see the law school as having a particular specialty?
YELNOSKY: At the most exclusive national law schools – the Yales, the Harvards – I think a larger percentage of the students want to work in places like Manhattan or Chicago or Los Angeles, where three-quarters of the class may be used to getting jobs at large law firms making $150,000 a year – that was never our student body. We have a significant number of people who come here wanting to do public-interest work. I think we're old enough now that students begin to get a sense of where our strengths are as an institution and public-interest law is a real strength.
PBN: In addition to the cost of a legal education and changing employment opportunities, what other challenges do you see facing the legal profession?
YELNOSKY: For the profession as a whole – it's a tough nut to crack, but it's a reality – at the same time that we have lawyers who are unemployed or underemployed, we continue to have a tremendous amount of unmet legal need out there. Part of that is caused by the fact that students are saddled with debt and cannot take on pro bono or low-bono – low-paying – legal work.
PBN: How do you envision Roger Williams University School of Law in five years?
YELNOSKY: I think we're still too much of a well-kept secret. This is a terrific institution that does a lot of really terrific things and one thing we've got to try to do in the next couple of years is make sure more people know about it. My vision for the school five years from now is that we have, as much as possible, changed the way we educate our students to reflect the reality of the practice of law. We're in that process and we need to continue, so that law school is affordable, our students are getting the skills they need and … exposure to the field they're about to enter, so they can make good choices about what they want to do with their degree.