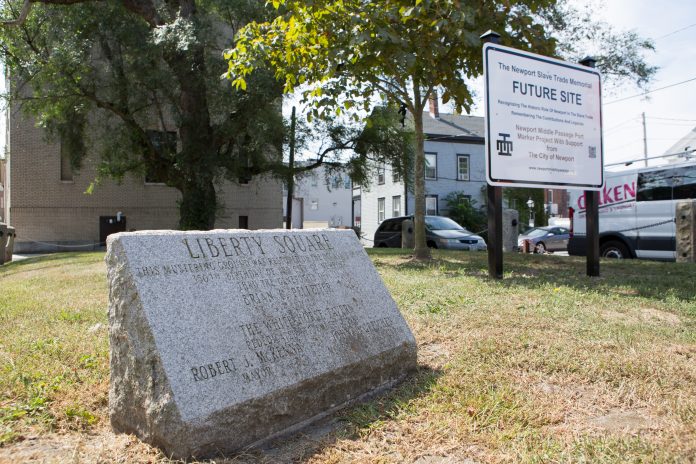 While some places in the American South are coming to grips with their pre-Civil War history by tearing down or moving monuments to people associated with the slave trade or Confederate-era politics, Newport is set to add a monument that reminds the community how deeply the City by the Sea was involved in that period of American history. And so far, at least, it does not appear to be generating much controversy.
Victoria Johnson, a born-and-bred Newporter of African heritage and former principal of William S. Rogers High School, heads the Newport Middle Passage Port Marker Project.
"I went through school … and know nothing about my heritage," she said.
The 2-year-old nonprofit committee, which numbers roughly 15 volunteers, said Johnson, represents one of the 52 ports across the Eastern Seaboard that were entry points for enslaved Africans, as identified by the Middle Passage Ceremonies and Port Markers Project, based in Jacksonville, Fla.
The 7-year-old national nonprofit encourages identified port communities – which run through 18 states from New Hampshire to Texas – to place public markers and host ceremonies in honor of those who were transported from Africa to the New World.
Bristol and Providence also are named on MPCPMP's list. As of September, a marker had been placed along the Providence River, but neither city hosted ceremonies.
Liberty Square, at the intersection of Farewell and Marlborough streets, was requested by the local committee as the site of the monument, and it was granted late last year. On Aug. 23, a sign was placed on the square labeling it the future home of the NMPPMP monument.
To date, the group has received $15,000 in grants – $5,000 from Bank Newport and $10,000 from the Rhode Island Foundation – and raised nearly $7,000 from the community toward construction costs.
Both Newport Mayor Henry F. Winthrop and Evan Smith, president and CEO of Discover Newport, do not feel the monument will, in Smith's words, "drive thousands more tourists to [Newport]."
However, they both understand its addition is an important one.
The monument's goal is not tourism-oriented and the local slave trade "is not something we're proud of," said the mayor, "but it's part of our history and something people should be reminded of."
Heritage tourism, said Smith, is increasingly popular. He added, "for the visitors that do come, [the monument] will tell a deeper story about various chapters this city has gone through."
Objection has been modest. Smith and Johnson said they have heard none, while Winthrop admitted receiving "one email" protesting the location.
Emily Gowdey-Backus is a staff writer for PBN. You can follow her on Twitter @FlashGowdey or contact her via email, Gowdey-backus@PBN.com.