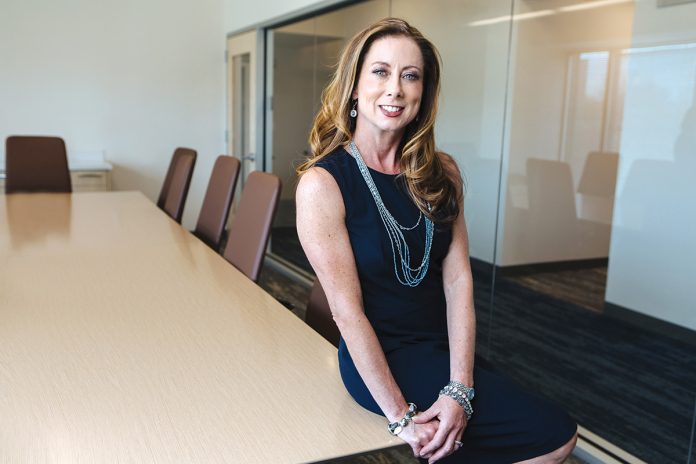 2019 C-Suite Awards | CHIEF HUMAN RESOURCES OFFICER, PRIVATE COMPANY: KIM McCAULEY | NARRAGANSETT BAY INSURANCE CO.
---
Recruitment is a passion that drives Kim McCauley, chief human resources officer at Narragansett Bay Insurance Co. She specializes in getting younger people to visualize themselves succeeding in the insurance industry.
"It's my entire approach on talent acquisition," she said. "If you can grab the hearts and minds of young adults, it pays in dividends. If we can hook them young, it's how we close the gap with skills we can't fill today," she said. "The insurance industry can be very boring from a young, millennial perspective. It feels 'old.' "
McCauley understands that. And she's become a beacon in exposing young people to an industry full of opportunities they may not have considered or known about. Starting a robust internship program and partnering with local colleges, McCauley has shown students the work done in the insurance sector using artificial intelligence, predictive modeling and other technology.
She's even been known to explain the work without mentioning insurance right away.
"Sometimes I go to campuses and don't even use the word," said McCauley, who has been in the industry for more than 20 years, six with NBIC. "Instead, I'll say, 'Do you want to predict the future [as with data analytics]?' "
With McCauley's help, Johnston-based NBIC has found the right people and grown from 75 employees in 2016 to 132 in 2018. Under her guidance, senior leaders are encouraged to scour the industry each quarter in search of emerging talent, then put into motion.
Rather than having job descriptions for which NBIC finds candidates, McCauley introduced the idea of using an unconventional recruitment model: find talent and then explore ways to use those candidates' strengths.
"We plug and play with different rules," she said. "We've brought in part-timers, worked in others who could only do two days a week – we find ways to fit that talent. Otherwise, they would go untapped until ready to be full time. That doesn't help anyone, including the economy."
This open-minded approach to talent acquisition carries over to employment. McCauley and the NBIC management team consider how they can make positions work for employees who bring strengths to the organization. Employees are allowed to work from home, have a casual environment at work, and can work flexible hours.
"There are different styles of work and different styles of communication," McCauley said. "You have to create a job environment that works for that candidate."
Her forward-thinking mindset has also put the company in a good place from a cost and cultural standpoint, said Nick Steffey, NBIC chairman. "With the strong family/life balance culture she has fostered, the organization's turnover rate is extremely low. Employees comment on their last day that they hate to leave the company."
In addition to innovative efforts around recruitment and work-life balance, McCauley has also proven her value under pressure.
NBIC's revenue is on a steady rise now, but after the East Coast was hit by Superstorm Sandy in 2012, the company did not turn a profit for two years. McCauley worked with senior leadership on solutions, including a drastic reduction in the number of its relationships with insurance agencies – cut from 412 to 98 – putting the focus only on agencies and work that brought in the best return on investment.
It worked.
"Through this effort, the organization stabilized," said Steffey.
McCauley calls the storm a catalyst to reshape the business, a chance to sharpen operations and review inefficiencies. She welcomes this and other challenges.
"I just love my job and the HR profession," she said, adding that it's changed and evolved with the advent of technology. "We no longer need to do the older tasks, [such as] enroll people in benefits. We can now focus on inclusion, making sure every person is seen in terms of the unique gifts they bring to the table."