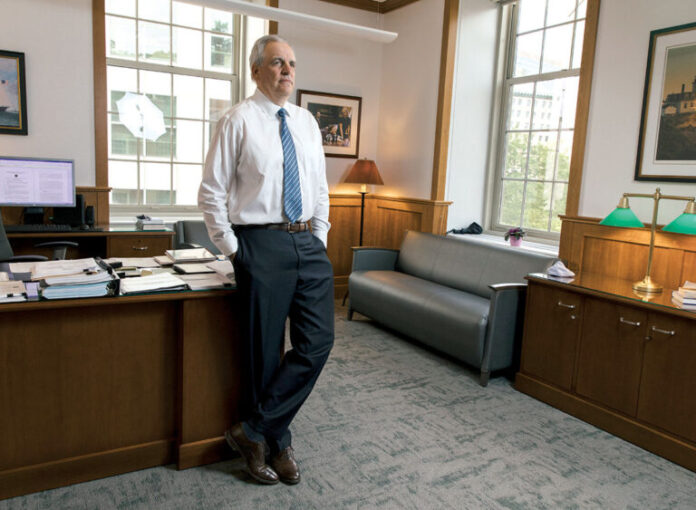 PROVIDENCE – The R.I. Department of Transportation's initial plans for its carbon reduction strategy received a rebuke from state attorney general on Thursday, with Peter F. Neronha describing the agency's strategies as misguided and "fundamentally flawed."
In a seven-page comment letter released Thursday morning, Neronha said that the plan falls short of state needs and fails to meet Act on Climate mandates, which require Rhode Island to reach net-zero emissions by 2025.
Among his chief concerns, Neronha said that RIDOT's proposal would use $23.7 million – the majority of its total $35.7 million federal Carbon Reduction Program funding – for pre-planned highway maintenance projects that would not lead to significant carbon reduction.
The agency is aware of this inadequacy, Neronha said, with RIDOT stating that these projects will support "congestion reduction," but "will not substantially 'move the needle' when it comes to carbon reduction."
And overall, Neronha said, the department fails to detail how its strategies will reduce carbon emissions.
The outlined plans "appear to be cast aside when it comes to once-in-a-decade additional federal funding opportunities," Neronha wrote in his commentary.
"The Act on Climate mandates are fast-approaching and require considerable coordination across many sectors of the State," he added, "and while we must act swiftly, that cannot be to the detriment of the process needed to make these programs successful."
RIDOT did not immediately respond to a request for comment.
Neronha also highlighted several other areas of concern, adding that RIDOT did not acknowledge recent updates issued by the state Executive Climate Change Coordinating Council; did not draw on existing plans, such as the Transit Master Plan, for greener transportation options; and proposed inadequate funding for electric vehicle, cycling and pedestrian infrastructure.
RIDOT also did not engage sufficiently with stakeholders, Neronha said, with public participation limited to a single two-and-a-half hour in-person workshop, which drew 21 participants who mostly worked in state agencies.
Jacquelyn Voghel is a PBN staff writer. You may reach her at Voghel@PBN.com.

Want to share this story? Click Here to purchase a link that allows anyone to read it on any device whether or not they are a subscriber.