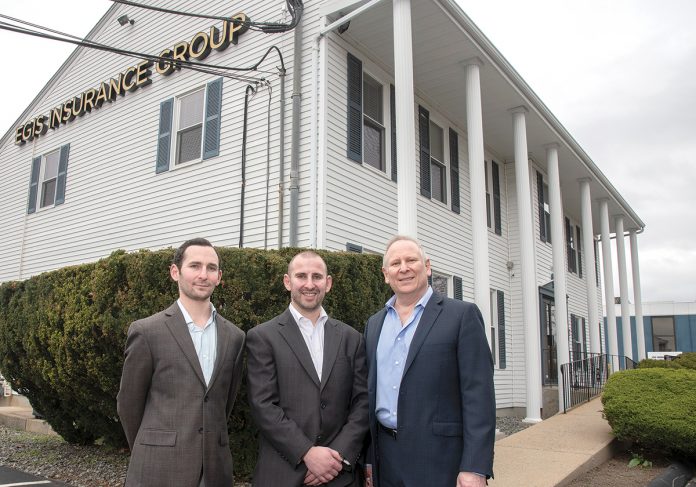 A decade of growth inspired a bold move this year for Finkelman Insurance Inc. The family-owned insurance agency, doing business as The Egis Group, decamped from Providence after 44 years, spurred by a need for more space for its growing staff and clientele.
The new home is in Warwick, in a highly visible building purchased by the company along Interstate 95.
Over the past 10 years, the company has grown organically, say its owners, with new national clients coming for its expertise in specific industry needs.
While other agencies have turned toward insuring medical and recreational marijuana businesses, which are expanding rapidly across the U.S., Egis Group has its own niche.
"Self-storage and cigars have been the driving factors," said Alex Finkelman, a third-generation owner of the company who directs sales. "They [have] very specialized insurance needs that most local agents don't know about."
That expertise comes on top of regional growth in their longtime business and personal insurance clients. "On a national basis, we've expanded to very-specialized products," said Finkelman. "We've become specialists in roofers, truckers, the cigar industry and self-storage facilities."
The company, started by Gerald Finkelman in 1975, is now run by the second and third generations.
Roy Finkelman, who joined his father's business after college, is in charge of administrative functions. Alex Finkelman leads sales and another son, Corey Finkelman, is the director of marketing. Roy Finkelman's brother Alan is the commercial account manager.
The family that works together knows its boundaries. When asked how the family members keep work at work, Roy Finkelman said everyone has learned to keep the two lives separate.
"The business is an entity that needs to be protected," he said. "The trick is, everyone is held accountable for their own job. As long as everyone does that, and they do, and they take it seriously, there are no issues out of the workplace."
The decision to move out of Providence was made deliberately.
The location in Warwick provided more space and exposure. "You can be anywhere in the state in a matter of minutes, and we still believe in doing business with a handshake," Alex Finkelman said.
In its new location, the company has more potential for additional growth. Referrals from professionals, including real estate agents and accountants, account for 90% of its new business.
"Our customers trust us," Alex Finkelman said. "We don't just go sell them a policy. We educate them about the inherent risks in their business and how to protect themselves from it."
OWNERS: Roy and Alex Finkelman
TYPE OF BUSINESS: Insurance agency
LOCATION: 120 Lavan St., Warwick
EMPLOYEES: 16
YEAR ESTABLISHED: 1975
ANNUAL SALES: WND
Mary MacDonald is a PBN staff writer. Contact her at Macdonald@PBN.com.