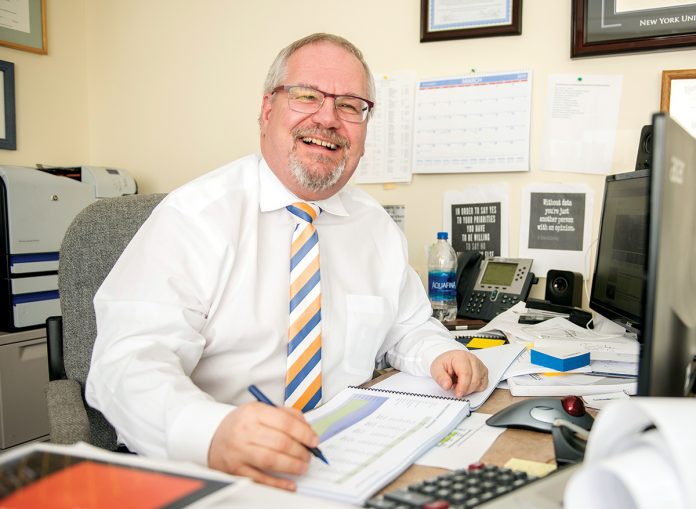 2019 C-Suite Awards | CHIEF FINANCIAL OFFICER, GOVERNMENT: JAMES LATHROP | NORTH KINGSTOWN
---
JAMES LATHROP, finance director for North Kingstown, is all about finding solutions and empowering people. It's paying off in terms of reduced town debt and staff turnover, and increased revenue and morale.
He creates professional-development opportunities for his department of 11, solicits feedback from his staff and makes a better work environment. He also works to get residents more engaged and welcomes opposing views.
"I want to have your opinion, and I like people who argue with me," said Lathrop, who added that he sees opposing viewpoints as a vehicle for insight and improvement.
North Kingstown Town Manager A. Ralph Mollis said Lathrop's technical knowledge is outstanding, and he's displayed top-notch management and leadership skills in two years on the job.
"I was town manager for just four months when I hired Jim to be part of my team," Mollis said. "The community was in the process of correcting a deteriorating financial picture."
Within a month, Lathrop had an internal audit completed, Mollis said, with heavy input from his team and solutions at the ready.
Lathrop, a Bryant University graduate from Connecticut, is a certified public accountant and earned a master's degree in public administration from New York University in 2017, while working full time.
He has been the New Shoreham town manager on Block Island, assistant town administrator in Portsmouth, and a finance director for Westerly and for its schools. Lathrop also had an accounting practice for more than a decade.
When he arrived in North Kingstown – which has a $115 million budget – its issues included debt and high staff turnover in its finance department.
"I've been that guy who's kind of come in and fixed stuff, with a private-sector view," he said. "I've worked for myself" and he's made decisions to maximize dollars and reduce expenses as he would for his own business.
Lathrop's success has included helping to get the town an AA+ rating from Standard & Poor's last year. The rating, one notch below the top rating, allowed the town to refinance debt, which is expected to save almost $500,000 in borrowing costs over the next decade.
Another success: Lathrop introduced the idea of leasing equipment such as police cruisers. He used the same practice in Westerly, where the town leased bleachers for a municipal stadium.
"Many governments wait until everything is completely broken, then go borrow a lot of money to replace it," he said. "With municipal leasing, you can lease equipment and it is tax exempt at a 2.5% interest rate."
Lathrop isn't afraid of instituting change. To persuade others, he believes in the value of understanding one's audience and the best way to communicate with them.
He developed more-readable monthly financial reports and annual budgets so the community could more easily participate in spending discussions. And a tax late-fee abatement program for one-time late taxpayers costs the town very little, but it builds goodwill.
Lathrop has also reduced his department's turnover rate, which had been high. "It wasn't like they left the town; they just left the department. They didn't receive training or a lot of support," said Lathrop. But since he's taken over, only one person has left, and that was a retirement.
Lathrop started annual performance reviews. He links team members with training programs so they can acquire skills they need to advance. "They have to explain how it will help their job," and they learn on their own time, he said. Reworking benefits to include flexible spending accounts for out-of-pocket health care expenses adds to morale, and costs the town nothing, said Mollis.
Lathrop likes his department to have fun, too, with events such as pumpkin decorating contests and "dress in pink" day on the schedule.
"I have a person here who decorates for every holiday," Lathrop said. "I tell her to go crazy. When you empower people, they do a better job."