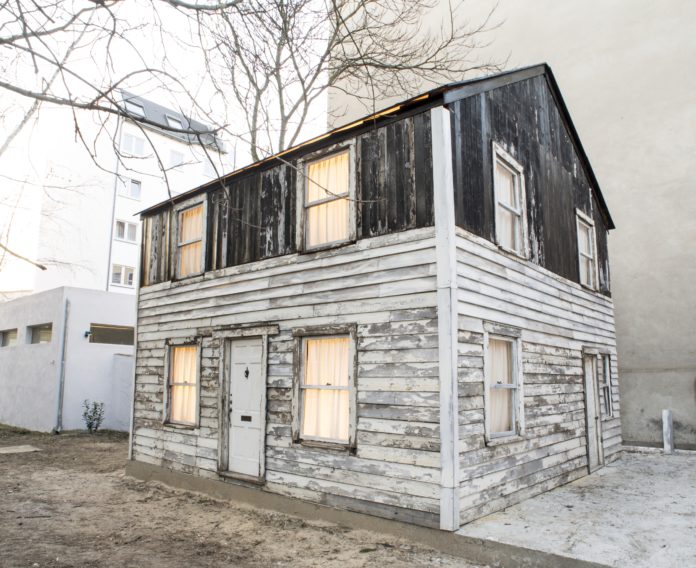 PROVIDENCE – We are hearing the word "sanctuary" a lot lately in connection with American places. Early next year, Providence will host and showcase a sanctuary in the most basic sense of the word.
It is a simple wooden house, originally located in Detroit, where Rosa Parks lived in 1957 after she fled the South, driven by threats of extreme racial violence that were a reaction to the Montgomery bus boycott of 1955-1956. The boycott by black riders of city buses ignited the mid-century civil rights movement; it started when Parks refused to give up her seat on a city bus to a white person.
Ray Rickman, executive director of Stages of Freedom, a Providence organization that promotes black American culture, worked alongside Parks in Detroit in the 1970s. Rickman likened the house to the actual Montgomery city bus in which Parks refused to submit to Alabama's Jim Crow laws. The restored bus is on display in a museum in Dearborn, Mich.
"People come to see it; they want to touch it," Rickman said of the bus. "That's what is going to happen to this house. They are taking an endangered structure and turning it into a shrine."
If plans go as expected, the house will be assembled and displayed as a temporary exhibit from next March to June at the WaterFire Arts Center in Providence. Plans are getting underway to bring people and programming to the exhibit, which will be the centerpiece of thinking and talking about racial justice in America, past and present.
Efforts to save the house as a memento of a terrifying time of resistance and justice have placed it on a meandering journey for the past few years. It was acquired in 2016 by Ryan Mendoza, an American artist, who had it dismantled and shipped to his home in Berlin, Germany.
Seeking a way to return the building to American soil, Mendoza contacted Anthony Bogues, the director of Brown University's Center for the Study of Slavery and Justice. That center is now the lead actor among others, including Stages of Freedom, in organizing the house's "homecoming," as Bogues calls it, back to America.
Bogues said Mendoza, owner of the house, contacted him last summer and asked if Brown to take temporary possession of the house. "Brown University is important because of the history of Brown's involvement in the Atlantic slave trade and the work that the university has done to confront that history," Mendoza told Bogues.
WaterFire Providence brings an estimated 1 million visitors a year to Providence, so its creator, Barnaby Evans, has seen the power of a cultural icon to attract visitors. "There is a community of people who travel to art installations," Evans said. "Having one more attraction makes it likely for more people to visit" Providence.
Evans draws a story line from Roger Williams, who founded the colony of Rhode Island in 1636 as a haven and sanctuary for persecuted minorities; to the state's deep involvement in the slave trade in the 1700s; to the visit by the Rosa Parks house.
"This is an opportunity for give a physicality to that history," Evans said.
Martha Sheridan, president and CEO of the Providence Warwick Convention and Visitors Bureau, has a mission to bring visitors to the capital city, and she welcomes the influence of the Rosa Parks house exhibit.
"Rosa Parks's story is an essential one in the history of our country, perhaps now more than ever," said Sheridan. "Having such as landmark here in Providence will allow visitors to learn more about her background and about how she became an important voice, not only for people of color but for all Americans. We look forward to learning more about it and to including it in our winter marketing initiatives."
Bogues, of Brown University, and Rickman, of Stages of Freedom, see the potential for the house exhibit to attract visitors from throughout the region and even across the country. "We see this as cultural programming of the highest level," Rickman said.
Mary Lhowe is a PBN contributing writer.