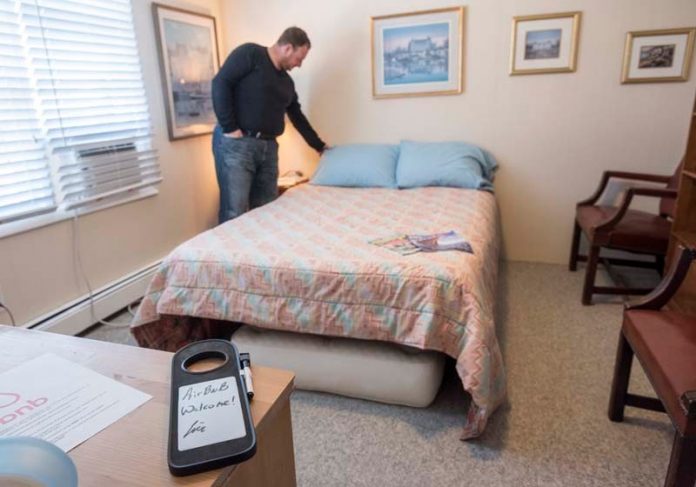 PROVIDENCE – Short-term home and apartment rentals such as Airbnb will be restricted in Providence, particularly in residential neighborhoods, under a proposed ordinance moving through the City Council.
The changes are part of a larger zoning package and would restrict short-term rentals in residential zones to owner-occupied buildings.
In addition, short-term hosts would be required to obtain a temporary permit for rentals if they are not "present and living" during the rental period.
Recommended for approval by the council's committee on ordinances, the measure has had one vote for passage by the full council and is expected to receive a final vote at the council's meeting on June 6, said Billy Kepner, a council spokesman.
He described the proposal as a modest effort to regulate short-term rentals, which could include Airbnb, HomeAway and other online home-booking businesses. A spokesman for Mayor Jorge O. Elorza indicated it would be supported by the administration.
"This particular change is part of a continual process to regularly update zoning and is responsive to, but not overly prohibiting of, the growing market for short term rentals within the city," said Elorza spokesman Victor Morente.
While it doesn't identify Airbnb by name, the online platform is among the largest players in Providence. A spokeswoman said Monday the city had not contacted the business about its plans.
This weekend, Airbnb is preparing for its largest-ever weekend in Providence, with about 1,600 guests expected to stay for events including Memorial Day weekend, the Brown University graduation and WaterFire Providence.
In a statement, Josh Meltzer, head of Northeast policy for Airbnb, said of the Providence proposal: "While we are still reviewing this proposed ordinance, we have concerns about how these regulations will hurt the local residents who rely on home sharing for extra income, as well as small businesses that benefit from visitors."
In 2018, Airbnb had 790 active listings in the city, and a total of 49,500 guests. Hosts in the capital made a total of $6.3 million in revenue from the bookings, according to Airbnb.
The ordinance would require owners to provide visible, printed information with diagrams for points of access and exit, in both Spanish and English, and provide a clearly marked fire extinguisher. Units would require a one-year temporary use permit unless the owner is present and living in the adjoining dwelling unit during the rental. That permit will not cost anything, Kepner noted.
The council committee worked closely with the city planning department on the ordinance. It's intended to preserve residential neighborhoods by not allowing investment-operated short-term rentals in those zones.
And the permit will make sure that fire and safety rules are being followed for guests' benefit.
"We want to make sure that those rules are being followed," Kepner said.
Next to Newport, Providence has the most activity for short-term rentals in Rhode Island. Newport has also considered adopting more stringent regulations for short-term rentals. The city requires a special-use permit, but a planning committee has also recommended limiting rentals in residential zones to those with on-site owners.
Boston also has a relatively new requirement that requires hosts of short-term rentals to pay the state's hotel tax for bookings of more than 14 days per year.
Mary MacDonald is a staff writer for the PBN. Contact her at macdonald@pbn.com.