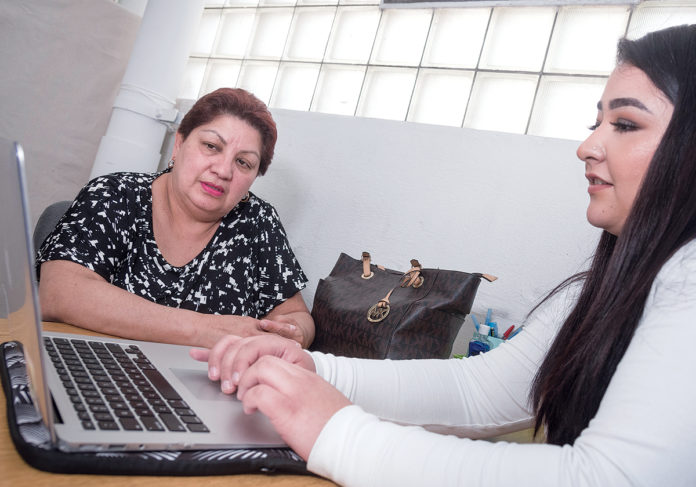 Gloria Orjuela, a 53-year-old Providence resident, is disabled and living on supplemental-security income.
Originally from Colombia, Orjuela has lived in the United States for 27 years, and moved to Providence more than a decade ago. In January, her mother, who still lives in Colombia, became ill and was rushed to the hospital.
With no savings, and feeling like she had no other options, Orjuela turned to the $46 billion payday-lending industry and borrowed $450 from Check 'n Go in Providence.
"It is horrible," she told Providence Business News. "I'm constantly thinking about the money because they don't give flexible payback [options]."
Payday lending is often criticized as predatory. High interest rates make it difficult for some to pay back even small loans. In Rhode Island, interest rates can exceed 260 percent, marking the highest in New England. Interest rates are capped at 30 percent in Connecticut and 23 percent in Massachusetts.
The number of households using alternative financial services such as payday lending in Rhode Island and southeastern Massachusetts is growing, especially in urban areas. Some argue the trend signals a subtle shift in how people – especially those with low incomes – are banking, which could be a byproduct of traditional financial institutions focusing less on offering products and services for the poor.
"Who do banks favor? It's high rollers," said Michael D. Ice, professor of finance at the University of Rhode Island. "Those are the customers they actually want. You don't normally see them pursue the low-income customer."
Banks and credit unions naturally disagree, insisting there are ongoing efforts to serve the state's most needy. Any shift in banking habits is more likely a consequence of tighter underwriting requirements that disqualify segments of the population from certain products and services, they say.
"Banks have a fiduciary and moral responsibility to reach all segments of consumers across a wide range of demographics and geographically," said Anthony Botelho, president of the R.I. Bankers Association. "That being the case, there also must be an effort and desire among individuals to provide the necessary forms of identification and financial disclosure that is required and ­necessary to banks, for the financial institutions to provide the most cost-effective products and services. As the saying goes, 'It takes two to tango.'"
POVERTY IN RHODE ISLAND
Fewer Rhode Islanders live in poverty on average than compared with the United States. But the Ocean State is worse off than any other New England state.
In Rhode Island, 10.2 percent of families and 14.2 percent of individuals are living below the poverty line, according to the 2015 American Community Survey. The average for the rest of the New England states is 7.6 percent for families and 11.3 percent for individuals.
And while the U.S. economy has improved since the Great Recession, the number of people living in poverty has increased. Between 2010 and 2015, poverty grew 2 percentage points in Rhode Island, more than any other New England state.
The growing number of poor Rhode Islanders is exacerbated by the number of households – especially in the Providence metro area – with no money set aside for unexpected expenses or emergencies.
"The absence of savings can sometimes be a barrier to financial stability and resilience, particularly for consumers with uneven or low incomes," according to the Federal Deposit Insurance Corp.
In the Providence metro area, nearly half of all households, 233,929, have no money set aside for emergencies, marking the highest rate of any major metro area in New England. The high-poverty, low-savings dynamic poses an impending risk to families.
"If you think about you and me – even if we didn't have enough savings to cover a financial breakdown – we could likely put it on a credit card, or we might even have a home-equity line of credit," said Andrew Posner, founder and CEO of the Capital Good Fund in Providence. "Our clients have neither, and don't likely have savings."
In the past, emergency financing – or small, personal loans – was an area in which financial institutions, such as a bank or credit union, would step up. Indeed, many financial institutions including the giant Bank of America Corp., got started by pooling community assets and providing revolving financial services to immigrants and those with low incomes who felt discriminated against, or were denied services at existing banks.
But banking – and more specifically, lending – has changed a lot, especially since the Great Recession, as regulatory requirements have tightened surrounding subprime lending, a root cause of the financial collapse.
"Many banks have just stopped lending to the subprime borrower," Ice said. "I would argue the government didn't think it all the way through because if people can't get the money from the bank, where else can they go?"
ALTERNATIVE LENDING
Tucked between Cranston and Broad streets in Providence, the Capital Good Fund is nestled in a neighborhood spotted with low-income housing, reflecting a demographic it seeks to serve.
The nonprofit, a certified community-development financial institution, has a mission to "help people fix their finances." It offers small personal and auto loans, along with financial coaching in three states to help people get out of poverty.
Orjuela, who has no income besides SSI, is now paying $45 a month to pay back her $400 loan. She's working with a Capital Good Fund "financial coach" to ensure she does it as quickly as possible.
But her situation is not at all uncommon, and Posner argues the financial pitfall typically has little to do with personal money habits, but rather extreme circumstances.
"People don't take out payday loans because they [are unaware] the rates are high, they do it because if they don't, they'll get evicted," he said.
Payday lenders, typically located in densely populated, low-income neighborhoods, represent what some feel is a necessary alternative to traditional lending institutions, such as banks and credit unions.
Payday lending is categorized as "alternative financial services," a subsector serving nearly one in every five Rhode Island households, according to the 2015 Federal Deposit Insurance Corp. National Survey of Unbanked and Underbanked Households.
Alternative financial services include relatively low-risk, low-cost businesses, such as cash checking, nonbank money orders and sending money overseas.
But AFS firms also include the high-risk, loosely regulated lending services of payday, pawnshop and auto-title loans, which arguably perpetuate poverty and trap people into long-term cycles of debt.
"The average person rolls over payday loans eight times, and that's how a $300 loan can end up costing $800," said Posner, who's trying to offer customers an alternative to the risky side of the industry.
Payday loans are popular, however, because qualifying for them is easy. Paying them back, not so much.
The process requires borrowers to write an advanced personal check for the amount borrowed, plus a fee. The Consumer Financial Protection Bureau reports 80 percent of payday borrowers tracked over 10 months either rolled over or reborrowed loans within 30 days.
The controversial practice has often been scrutinized by Rhode Island lawmakers, and was a campaign issue in 2013-14 among Democratic candidates in the gubernatorial race eventually won by Gov. Gina M. Raimondo.
But payday lenders have managed to fend off efforts to tighten restrictions on their services in the General Assembly, making the case that the industry serves a need. Among its chief advocates is former House Speaker William J. Murphy, now a well-known lobbyist.
The payday-lending company Advance America Cash Advance Centers Inc. is paying him $50,000 for his services this year, according to the R.I. Secretary of State's Office.
Ice argues alternative lending services are needed, at least for the time being.
"It fulfills a need for these folks because, who else are they going to borrow from?" he said.
Nearly 24,500 households in the Providence metro area use alternative credit options, including payday lending, because it's quick and easy and doesn't require credit.
"In a lot of cases, people that utilize payday loans feel that's the only alternative that they have," said George J. Charette III, president and CEO of Pawtucket Credit Union.
That's partly because bank products and services designed specifically for low-income families mostly relate to mortgages, federally backed small-business loans and no-monthly-fee checking and savings accounts.
Short-term personal loans – or emergency loans – are heavily regulated and costly for banks and credit unions. Indeed, underwriting costs and requirements are typically the same for a $300 loan as they are for a $30,000 loan, and the margins for the smaller loan are next to nothing.
"It brings up the question for banks: Is a low-income customer worth having?" Ice said.
WALKING A LINE
There are laws against not lending to subprime borrowers, a practice better known as "redlining."
The Community Reinvestment Act, passed in 1977, prohibits redlining and encourages banks to meet the credit needs of all segments of the population, including low- and moderate-income individuals and neighborhoods.
Regulators periodically assess banks to ensure CRA requirements are being met, and Rhode Island banks in the past have largely been deemed in good standing.
However, Santander Bank, owned by Spain-based Banco Santander SA, in February accepted a failing grade.
The issues emerged in 2014 in Providence when the city accused the bank of discriminatory lending, specifically in poor, black and Hispanic neighborhoods.
"Santander Bank was called out because they weren't providing mortgages to people of color," said James Vincent, president of the Providence NAACP. "I'm not saying it's widespread, but it happens too often."
The city ultimately dropped the lawsuit in exchange for the bank agreeing to make more mortgages and give grants to city organizations.
"Santander categorically rejected this accusation, however, we have worked with the city of Providence to allay its concerns," said Ann E. Davis, a Santander spokeswoman.
Going too far in the opposite direction, however, can also land a bank in trouble. In March Santander agreed to pay $26 million to settle allegations of subprime auto lending in Massachusetts and Delaware.
The alleged practice of providing unfair, high-interest loans to subprime borrowers mirrored a pattern of subprime mortgage lending that resulted in the 2006-07 housing bubble, subsequent financial crisis and the Great Recession.
The bank, nonetheless, says it's moving forward.
"Santander Consumer is totally committed to treating customers fairly," said Davis, pointing to certain products and services for families earning below the midincome level, including its Home Ownership Made Easy Program, offering little-to-no down payment on qualifying mortgages, among other savings and checking services.
The CRA has drawn criticism from some congressional leaders, according to a 2015 report by the Congressional Research Service, a congressional think tank.
Some argue the law incentivizes banks to make loans to unqualified borrowers. Others contend it doesn't generate sufficient incentives to increase credit availability.
Rhode Island banks – and to a smaller degree, credit unions – have shifted focus away from pushing smaller loans. More time is now spent on bigger segments of the loan portfolio, including mortgages and commercial products.
The Washington Trust Co., based in Westerly, in April launched a new affordable-housing program with Fannie Mae based on feedback from several local housing organizations.
"We also work closely with and support, through financial contributions, leadership roles and as volunteers to agencies that provide assistance, education and training to members of the community in need," said Edward "Ned" O. Handy III, president and chief operating officer, through a spokeswoman.
At the same time, banks are focusing on more-affluent segments of the population. Santander in 2015 introduced Santander Select to Rhode Island, a specialty service that gives affluent clients access to a personal banker and dedicated suite of Santander's "most valuable products and investment services," the bank said at the time.
Likewise, Washington Trust and Citizens Financial Group Inc. have increasingly focused on augmenting wealth management as a key part of overall business, especially in the last couple years. Washington Trust acquired a wealth-management firm in 2015 to supplement its existing division, and Citizens, the largest Rhode Island-based bank, has been beefing up wealth-management staff.
"It's just a lot easier to make money off wealth management and products for the wealthy," Posner said.
Botelho, however, argues profit from more-lucrative services, such as wealth management, helps make other lines of business possible.
"The wealth-management market segment is accretive to banks' viability, which in turn ultimately [helps] banks to offer low-cost alternatives to the [unbanked]," he said, pointing specifically to no-fee, low-minimum balance requirements, which are not typically lucrative, along with financial-literacy courses that cost time and money.
BANG FOR THE BUCK
April marked Financial Literacy Month, and banks and credit unions were out in full force with programs and tools to help educate students and some adults on the basics of personal finance, such as balancing a checkbook and creating a budget.
Financial literacy has become a popular method of community outreach for banks and credit unions, especially since the financial crisis of 2008.
"There needs to continue to be a concerted effort by both the private [sector], including banks, and public sector in financial-literacy efforts that will reach all individuals who have an interest in establishing banking relationships throughout the state and region," Botelho said.
The approach is multifaceted, too, as banks and credit unions are hopeful that on top of good financial habits, which will help the public at large, the approach may also yield new clients that may now operate outside of the banking industry.
The effectiveness of such efforts, however, is questionable, says Posner. He criticizes the focus on financial literacy as an inadequate response to the Great Recession, and called it overly patronizing.
"Financial literacy was not why the financial-services industry collapsed," he said, pointedly.
According to the FDIC survey, 91,363 – or 21.1 percent of – Rhode Island households were unbanked or underbanked in 2015. That's the second-highest portion in New England, second only to Massachusetts at 21.7 percent.
And while Botelho and the industry at large insist financial literacy is key to responsible money habits, Capital Good Fund and others, including Navigant Credit Union in Smithfield, are showing that more lending programs that give borrowers with low incomes affordable interest rates are needed too.
Navigant about six years ago launched a strategy called "Emerging Markets," to try to reach the unbanked and underbanked. It began offering a prepaid, reloadable card, another financial service that's increasingly popular, especially in the Providence metro area. It also started offering a "smart-start" loan it promotes as an alternative to payday loans.
In 2016, Navigant originated 287 smart-start loans, reporting 4 percent delinquency and 4 percent charged off for the year. The 90-day loan can be for up to $600 at 18 percent APR.
The strategy, albeit a small segment of the credit union's overall business, has proven successful, especially at its branch in Central Falls. The city's median household income, $29,108, is the lowest of all Rhode Island municipalities.
Since launching in 2011, the credit union has made more than 700 smart-start loans totaling $391,000. Its Central Falls branch has grown new checking accounts by 62 percent, which excludes its recent acquisition of Dexter Credit Union.
"It's very slow and steady, and it's one relationship at a time," said Lisa G. Dandeneau, executive vice president and chief operating officer at Navigant. "It's a trust factor: There has to be a relationship. If people trust you, they'll listen to you."
Likewise, at Capital Good Fund, careful underwriting procedures and maintaining a close, working relationship with clients paying off loans has resulted in overall repayment that exceeds 90 percent. Among its offerings is a car-loan program designed for low-to-moderate-income families.
Posner is currently scaling the model, and hopes to reach more of the 12 million Americans who take out risky loans each year.
For some, it seems to be working.
"No," said Orjuela, when asked whether she'd ever take out another payday loan. "First and last time."
Correction: An earlier version of this story misstated Gloria Orjuela's repayment amount.