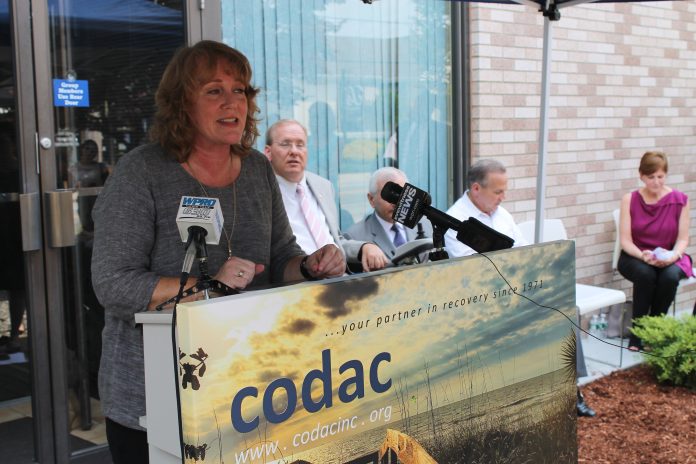 CRANSTON – After securing a $10 million increase in federal funds to a total of $12.5 million to address the opioid epidemic in Rhode Island, Sen. Jack F. Reed, D-R.I., Rep. James R. Langevin, D-R.I., and Rep. David N. Cicilline, D-R.I., joined Rhode Island health professionals calling for the money's quick deployment July 3 at CODAC Behavioral Healthcare on Park Avenue.
Reed, Langevin and Cicilline joined with Dr. Susan Storti, president and CEO of the Substance Use and Mental Health Leadership Council, CODAC Behavioral Healthcare CEO Linda Hurley and other advocates at CODAC in Cranston to discuss the latest efforts to develop and fund effective substance use prevention, treatment and recovery strategies that will help combat opioid addiction and prevent the opioid crisis from growing and hurting more families and communities.
"We secured historic increases in funding, but it is still only a fraction of what is needed to confront the enormity of this challenge," said Reed. "Rhode Island's opioid campaign is having a real impact and I want to talk with experts to ensure federal funds are being wisely used and figure out how we can replicate successful programs and solutions. Tackling opioid addiction means enhancing substance abuse prevention and treatment programs [such as] the ones here at CODAC."
"The only way we're going to stop this epidemic is if every level of government – federal, state and local – works together to implement a strategy that helps those suffering from addiction get the help they need, addresses the overprescription of opiate painkillers, and focuses first and foremost on the preservation of human life," said Cicilline.
"Rhode Island currently is listed by the [Centers for Disease Control and Prevention] as having the ninth-highest rate of deaths from opioid overdose in the country," said Hurley. "The good news is that Rhode Island is significantly down from the No. 3 spot it occupied in 2015."
Rob Borkowski is a PBN staff writer. Email him at Borkowski@PBN.com.