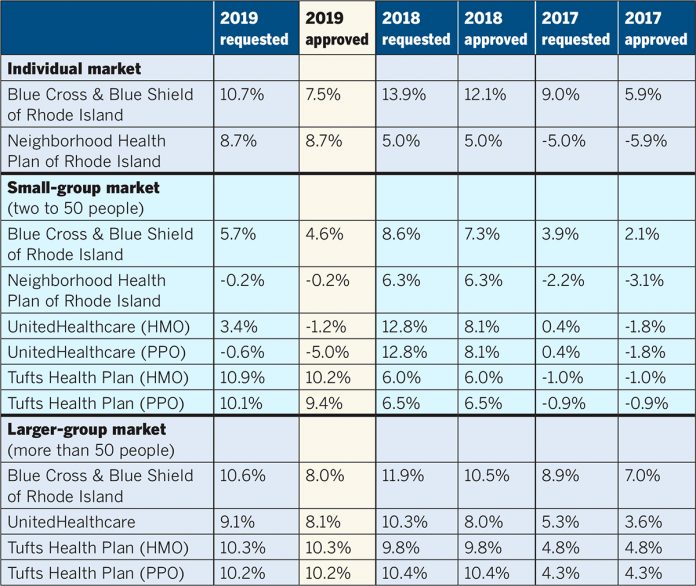 Rhode Island has had a good thing going under so-called "Obamacare," according to state officials, but it all could change unless the state steps in to pick up where the Trump administration and Republicans in Congress are leaving off.
The Patient Protection and Affordable Care Act, nicknamed Obamacare, has been a success in Rhode Island, officials say. The state has enjoyed some of the largest gains in health insurance enrollment and some of the lowest health insurance premiums in the nation – affirmed recently in studies by the Kaiser Family Foundation, a nonprofit that analyzes U.S. health care policies.
But President Donald Trump told reporters in July he wants to let Obamacare fail after the latest Republican effort to overhaul the U.S. health care system fizzled out.
State officials say that could lead to a crisis of rising premiums and increased numbers of uninsured Rhode Islanders. They plan to prepare an application to the federal government for a Section 1332 State Innovation Waiver to help keep premiums down.
Beginning last year, the waiver program allows states to alter key requirements of the ACA for the health insurance market for individuals and small businesses – those with 50 or fewer employees.
Though details of Rhode Island's plan have yet to be finalized, a Market Stability Workgroup formed by state Health Insurance Commissioner Marie L. Ganim's office and HealthSource RI, the state's health insurance exchange, has proposed a state-run reinsurance program to help keep premiums down.
The idea is to offset some costs of claims for insurers that they otherwise would factor into their yearly premium rates.
The program would be tailored for the so-called "individual market" – people whose employers do not offer health insurance or those whose incomes are too high to qualify for Medicaid and choose to buy their own insurance.
The second key part of Rhode Island's plan would be a state-imposed penalty for people who go without health insurance as an incentive to keep enrollment up. A state penalty would be a way to make up for the Trump administration's repeal, starting next year, of the federal penalty for not having coverage.
Rhode Island's reinsurance program, as the workgroup envisioned it, could be funded primarily by federal "pass-through" savings, and a state penalty for those without coverage could provide most of the rest needed funding.
The workgroup estimates Rhode Island's reinsurance program would cost about $26 million a year, with about $15 million coming from federal savings and most of the remaining $11 million coming from a state penalty for the uninsured.
Rhode Island wouldn't need the waiver if it wanted to fund its reinsurance program solely with state money, said HealthSource RI Policy Director John Cucco.
However, picking up the entire cost without federal assistance is something that Rhode Island officials so far have been unwilling to do.
Recently approved state legislation supporting the waiver request doesn't commit any state funding. And if Rhode Island officials decide to seek a state penalty for the uninsured, they would need to go back to the assembly for approval.
"As premiums continue to rise over multiple years, more and more healthy enrollees may drop coverage and the pool may get progressively smaller and sicker," the first workgroup wrote in its recommendations report in June to Democratic Gov. Gina M. Raimondo, a strong supporter of Obamacare. "These negative consequences disproportionately impact the unsubsidized population [primarily moderate-income individuals and families] who face the full brunt of premium increases."
State officials are preparing to form another workgroup to begin hammering out the details for the waiver request, including whether to seek a penalty for the uninsured.
Rhode Island's reinsurance program would go into effect in 2020, assuming it hits no snags at the federal level.
Getting approval has been a problem for some states that have been seeking a waiver. However, Rhode Island officials are optimistic about their chances, as the Trump administration appears willing to shift federal costs of Obamacare to states willing to pick up the slack.
It's worth the effort in Rhode Island, said Cucco, who disagrees with Trump's assertion that Obamacare isn't working well.
"It is working very well in Rhode Island," he said, adding that 70,000 more Rhode Islanders have gotten health insurance under Obamacare, leaving only 4 percent of the state's population uninsured – one of the lowest rates in the nation.
One Kaiser study this year found enrollment in individual health insurance plans in Rhode Island more than doubled in the first year under Affordable Care Act rules requiring insurance companies to guarantee access to everyone regardless of their health status. Rhode Island's enrollment grew from 18,392 in 2013 to 37,571 in 2014 – a 104 percent gain, the third-highest of any state in the nation.
Another Kaiser study found that Providence had the second-lowest health insurance premiums among 21 large U.S. cities examined. It found that 2018 premiums for the second-lowest cost "Silver" insurance plans before tax credits averaged $248 a month in Providence, down 5 percent from last year and second only to Detroit, where premiums averaged $244.