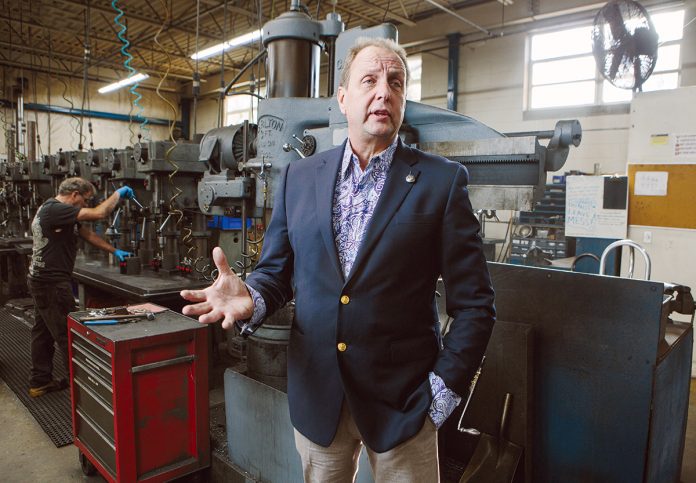 With ratification of the United States-Mexico-Canada Agreement dragging on longer than expected, Rhode Island manufacturers' outlook on the proposed deal is mixed.
Some say the uncertainty and tariffs on metals that were in place until last month have been corrosive to business and their bottom line, while others are skeptical of the deal itself.
At least one Ocean State company was happy with the North American Free Trade Agreement and says it stands to benefit more from USMCA, which needs Congress' ­approval.
Dave Chenevert, executive director of the Rhode Island Manufacturers Association, wants to see a deal signed.
"It's a quagmire right now," Chenevert said. "All this affects how you run your operation. The more it drags out, the more these companies are going to be hurting."
Before they were lifted last month, tariffs on aluminum and steel from Canada and Mexico were forcing some Rhode Island manufacturers to raise prices on products, while in other cases they were to blame for loss of business to overseas companies, Chenevert said, adding that many Ocean State manufacturing companies, including those in the automotive industry, do business with Mexico.
"The ideal outcome is to get the agreement signed and have Congress resolve this," he said. "It's very difficult to run a business with uncertainty."
Millions of dollars and thousands of jobs in Rhode Island are dependent on the state's trade with Canada and Mexico.
The relationship supports 40,700 jobs and generated $958 million in exported goods and services to the two countries in 2017, according to a study by Trade Partnership Worldwide LLC.
The release of the U.S. International Trade Commission's independent assessment of USMCA's economic impact means that Congress is now free to consider ratification.
The USMCA was signed by all three countries in late 2018 as a proposed replacement of NAFTA.
Neither deal satisfies Karl Wadensten, president and CEO of VIBCO Inc., based in Richmond.
Both agreements are designed for each country's best interest, he said, rather than unifying North America in a three-way partnership.
"We're intertwined, how do we bolster that? The USMCA and NAFTA agreements are defensive, to protect us, so how does our mindset change to bolster that for the rest of the globe and become a big mega-power?" Wadensten said. "I'd rather see something different. How do we find collaborative strength and just be the powerhouse of the world?"
Wadensten's company, which makes industrial vibrators for use in construction and other fields, depends on Mexico for a significant portion of its supply chain, and operates a facility in Canada.
Instability at the U.S.-Mexico border, along with Canadian regulations and the cost of sending products across its border, can result in regular headaches for the business.
"Every time there's a blip, it interrupts" costs and production, Wadensten said in reference to Mexico. "We count on that border being open."
And the state's manufacturers have seen little relief from the lifting of tariffs, according to Wadensten.
Companies that were already being undercut on price by overseas businesses jumped on the chance for markups and haven't backed down, he says.
Although VIBCO deals with domestic suppliers, those companies are purchasing raw products from overseas, setting them up for price increases to pass along to their manufacturing consumers.
Wadensten predicts that if aluminum and steel prices do begin to shrink post-tariffs, they won't sink to their original amounts.
"I guarantee if anybody does take them off, they're not going to go back, they're going back somewhere in the middle," he said.
But not all Rhode Island companies are opposed to USMCA.
"NAFTA was not bad for textile industries, and USMCA is a better thing," said Michael Woody, CEO of Trans-Tex LLC in Cranston and chairman of the Rhode Island Textile Innovation Network.
Under NAFTA, textile manufacturers ran a trade surplus over the past few years, according to Woody, but USMCA includes some improvements specific to the industry.
The deal creates a dedicated textiles and apparel chapter, as opposed to NAFTA, which grouped the industry with others, at times subjecting it to irrelevant regulations.
Stricter rules for sourcing thread, pocketing, narrow elastics and some coated fabrics are also included in USMCA, which requires those materials to come from one of the three countries in order for manufacturers to avoid duties or qualify for reduced rates.
'We count on that [U.S.-Mexican] border being open.'
KARL WADENSTEN, VIBCO president and CEO
The resulting incentive for manufacturers to buy those materials with the United States, Mexico and Canada has the potential to funnel $250 million in thread and $70 million in pocketing materials back to the three countries, Woody said.
While NAFTA required the U.S. military to purchase uniforms and related equipment, it omitted the Department of Homeland Security, allowing it to buy elsewhere.
The USMCA closes that loophole, and tightens customs enforcement at the border, Woody said.
Those improvements earned USMCA support from the North American textile industry, which faces stiff competition from China despite recently raised tariffs on Chinese textile materials and finished goods imported to the U.S.
While textile companies stand to gain from the agreement, Woody hopes any trade pact approved by Congress means widespread benefits.
"I hope that every U.S. manufacturing industry does better under USMCA," he said. "If they don't, then there's something wrong with that agreement."
Elizabeth Graham is a PBN staff writer. Contact her at Graham@PBN.com.