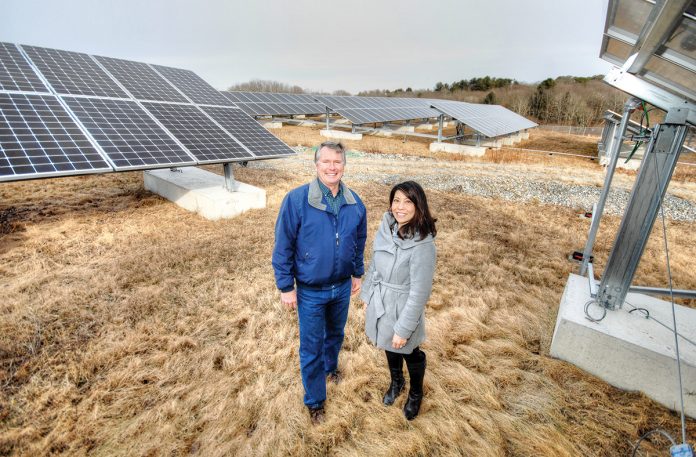 [Editor's note: This is the first of a two-part series looking at the growth of Rhode Island's solar and offshore-wind industries and expectations for renewable energy in the region's energy supply. See part 2 here.]
After stints in the California, Nevada and Texas solar-energy industries, Kenny Hsieh learned of the financial incentives offered in Rhode Island, picked up his family and moved east.
Now CEO of Ocean State Clean Energy LLC – a Pawtucket-based, residential solar-installation company launched in January 2018 – he found the "aggressive" incentives offered by the federal government, R.I. Commerce Corp. and other local entities too enticing to pass up.
While some may find Hsieh's decision to launch a solar company amid the unpredictable weather patterns of New England counterintuitive, he said energy costs are so low in the sun-drenched areas he left, that comparatively, "There isn't a massive economic incentive for people [in those places] to go solar."
In the Northeast, high energy prices, the proficiency of latest-generation solar technology and incentives available to consumers make the switch to solar "economically a no-brainer," he said.
By late January, Ocean State Clean Energy had wrapped up its 11th ­project – nearly one per month since its launch.
From business owners such as Hsieh to homeowners, colleges and municipalities, solar projects have become increasingly prevelant in the Ocean State over the past decade. In the past few months alone, major projects have been announced or completed, including a 40-megawatt array in North Kingstown, a Westport Planning Board-approved 3.1-MW installation, and the R.I. Department of Environmental Management's funding of four arrays in East Greenwich, Jamestown, Little Compton and Barrington late last year.
As solar energy continues to spark entrepreneurial activity from local and multinational companies, the state sees the technology playing a key role in helping meet ambitious renewable-energy goals set by Gov. Gina M. Raimondo more than two years ago.
Solar "will be a portion of the success in meeting [the state's] greenhouse gas emissions goals," said Carol Grant, commissioner of the R.I. Office of Energy Resources.
For that to happen, the industry – which has stagnated locally the past few years – may have to do it without a key state incentive set to expire in 2022.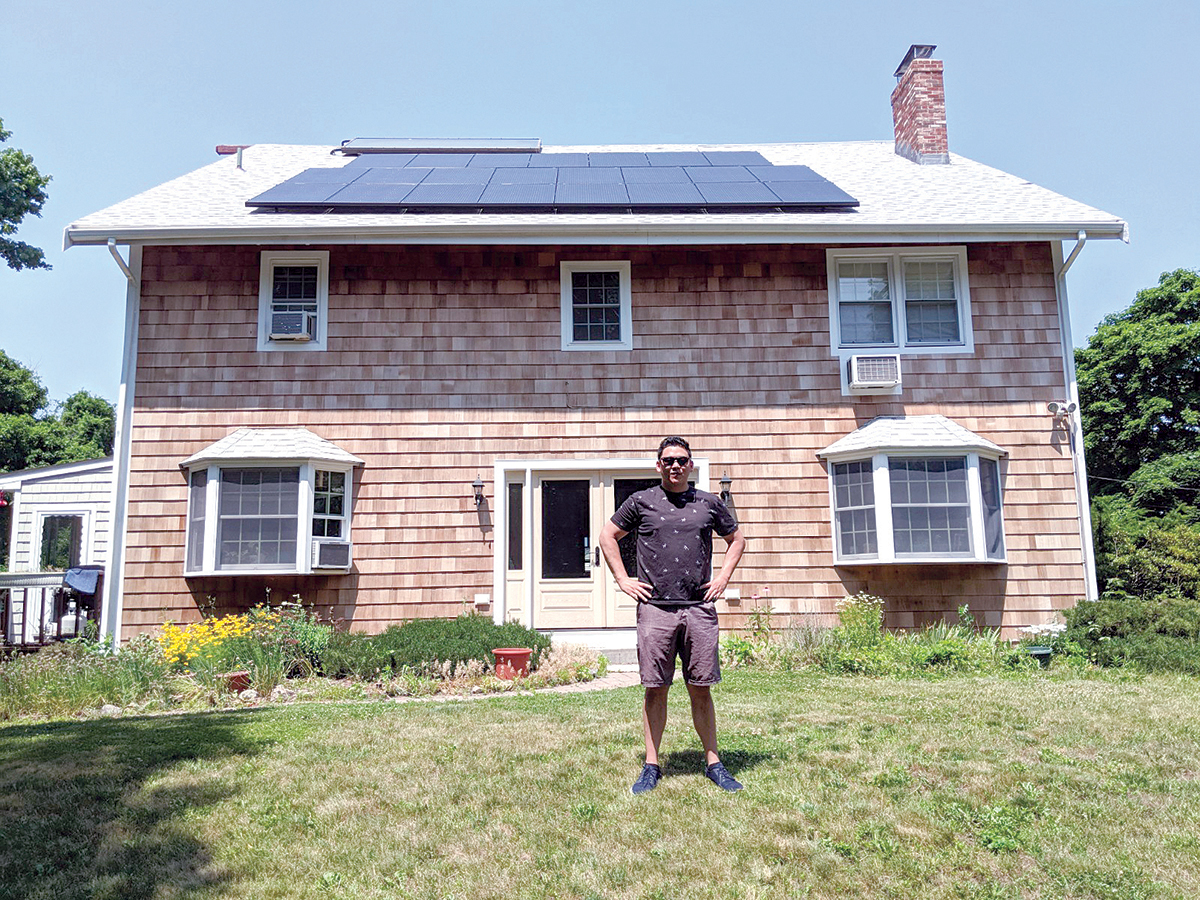 SOLAR JOBS
In 2015, the state had the highest percentage growth in solar jobs in the country, according to The Solar Foundation, a nonprofit that annually tracks job growth in the industry.
The number of solar jobs in the state more than tripled that year, from 300 to 941, ranking Rhode Island 34th nationally in the number of solar jobs.
Growth slowed the next year to a 25 percent gain to 1,176 workers, good for 36th nationally.
But the industry has slumped locally the last two years, with import tariffs hurting the industry nationwide in 2018.
Rhode Island saw a 10 percent dip in solar employment in 2017 to 1,064. Last year, the number of solar jobs fell to 1,007, a 5 percent decline but still good for 11th nationally per capita and 36th in total number of jobs.
In New England, Rhode Island had the fourth-most solar jobs last year, ahead of New Hampshire, ranked 38th nationally, and Maine, ranked 42nd. Massachusetts led the way regionally, with 10,210 solar jobs last year, a year-over-year decline of 11 percent but still 3rd in total number of solar jobs nationally.
The industry is expected to rebound somewhat this year, however, with 7 percent job growth nationally, according to the Washington, D.C.-based nonprofit.
Newport Solar owner Douglas Sabetti remains upbeat about the industry but is still feeling the sting from the tariffs instituted by President Donald Trump.
When Trump announced he planned to levy a 30 percent tariff on imported solar panels, Sabetti jumped into action. Prior to the tariff's onset in January 2018, he invested roughly $200,000 in 1,050 panels, so the anticipated cost increases would not be passed on to his customers.
"It was a good move because it allowed us to keep our prices steady," he said, but "as a small business, that put a tremendous financial burden on us."
Sabetti, who employs 13 full time, has nearly run through the inventory, but many of the projects for which those materials were destined have not yet been paid off. He says that might not happen until June.
"With a loan on those panels, it is not a good situation," he said. But Sabetti says he's avoided laying off workers and noted that ramped-up production over the past six months by Chinese manufacturers has caused global prices to drop and effectively negate Trump's solar tariff.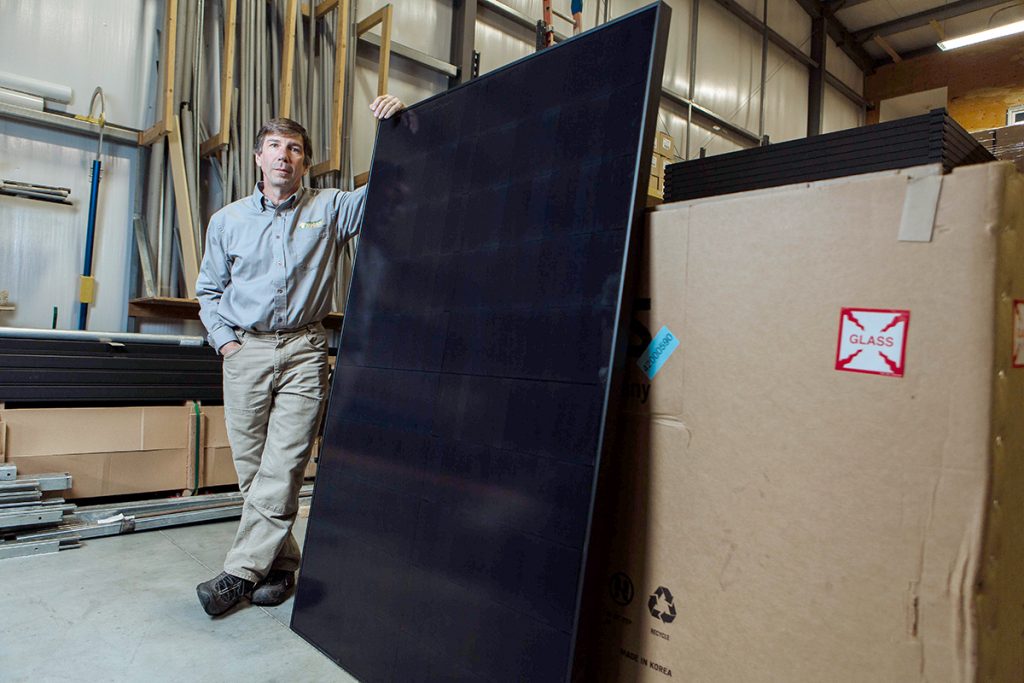 LONG VIEW
Rather than focus on the disappointing last couple of years, state officials and invested solar companies prefer to take the long view when discussing the industry's growth locally.
Christopher Kearns, OER chief of program development, noted how the industry has grown since 2009, when it was "a limited market with a limited number of active companies."
Sabetti said the sector in 2009 was no more than a "niche market" with little to no local interest.
Vito Buonomano III, owner of Providence-based Northeast Solar & Wind Power LLC, agreed, noting the sector is "much healthier" today. "The entire renewable-energy industry has evolved for the better," he said
Buonomano is particularly enthused by the positive reaction of local municipalities, including the 3.1-MW array on Drift Road in Westport and the up-to-3.9-MW facility at a former landfill in Johnston that will serve that community and Providence.
Kearns said growth in commercial installations in Rhode Island has been matched by residential interest.
"While the large solar programs have gotten a lot of attention, we've had a robust residential market in terms of the number of homeowners [purchasing the equipment] and companies [established to meet the need]," he said.
Going forward, he said, an OER goal is to "keep pace" with similar investments in Massachusetts, Connecticut, New Jersey and Vermont and "remain competitive."
INCENTIVES
A big reason for the growth in the state's solar industry in the latter half of the last decade is the state's Renewable Energy Fund.
Since 2013, when the fund first began offering grants, more than $27 million has been approved for more than 1,500 residential and commercial solar projects. Applicants can receive grants of between 25-30 percent of total project cost.
The fund has paid out roughly $17 million of the $27 million it has committed to local projects. The grants are funded by ratepayers, utilities and the Regional Greenhouse Gas Initiative.
But the program is expected to be phased out in December 2022, though Grant said it's "premature" for her to comment on whether lawmakers might be asked to approve an extension.
She said state solar incentives are designed to evolve as the technology and market change. That means phasing out some programs and potentially launching others.
Other incentives available for local solar projects include:
• The federal Investment Tax Credit, established in 2005 and renewed through 2021. This allows owners of residential and commercial installations to deduct 30 percent of a project's total cost from their federal taxes.
• National Grid's Renewable Energy Growth Program offers incentives tied to excess energy produced by solar arrays. National Grid's program is expected to expire in 2029.
• The Commercial Property Assessed Clean Energy program is a public-private agreement allowing building owners to borrow money toward a solar project and make repayments based on assessments of their property tax bill.
• The Rhode Island Efficient Buildings loan fund administered by the Rhode Island Infrastructure Bank and OER provides low-interest loans to government entities, such as school districts and municipalities, for solar projects.
• The Rhode Island Agricultural Energy Program awards up to $20,000 grants, mostly to farmers, to offset the cost of solar installation. It's funded by RGGI money via the DEM.
Combined, the EBF (since 2015), CPACE (2016) and the agriculture energy program (2016) have provided $19.6 million for 44 projects across the state.
The Renewable Energy Fund, managed by Commerce RI, as of late last month had about $1 million in uncommitted funds.
Rhode Island solar firms are split on the sustainability of the local industry without the fund.
Sabetti is among those who believe the industry will continue to prosper. In fact, he said, solar technology has grown in acceptance to the point that at the end of 2018, the company sold systems at retail cost with no state grants involved.
The industry, he said, is "getting really close to [self-sustainability]."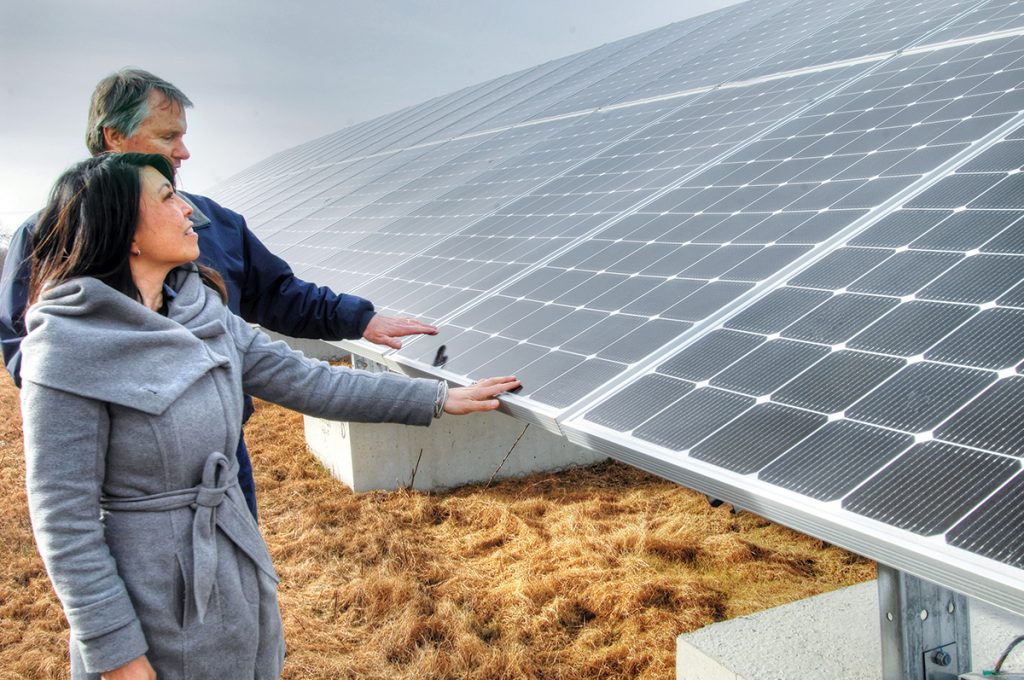 Others are not as convinced.
"We're not in [the] Sunbelt," said Buonomano.
While he feels the renewable-energy industry, including solar, has become "significantly" more financially competitive with fossil fuels, for Rhode Islanders "there is still a gap" that incentives help to bridge.
Incentives, added Anthony Baro, owner of Providence-based E2SOL LLC, are key to maintaining the state's competitive edge regionally and internationally. "Rhode Island is offering more than Massachusetts" in incentives, he said. "For that reason, you have national companies taking advantage of the incentives offered in Rhode Island."
However, in Baro's experience, that broader draw has created a "friction" between local companies and "large, multinational" firms operating in Rhode Island with out-of-state headquarters. Baro categorizes the friction as "good" interaction, so long as out-of-state companies hire Rhode Islanders rather than import workers.
Grant acknowledged a possible loss of the renewable-energy fund will have an "impact" on the industry. But OER wants to "evolve the market" rather than trigger a "boom-and-bust" trend by turning incentives on and off repeatedly in a short period of time, she added.
Grant said conversations among state officials are ongoing about the fund's future but added it will be up to lawmakers to determine its fate.
One group not in support of the fund or its potential extension is the conservative-leaning Rhode Island Center for Freedom & Prosperity.
"We are not anti-green energy," said CEO Mike Stenhouse. "We are anti-government subsidy of any industry."
He says that once solar and other renewable-energy sources are able to consistently compete with traditional energy sources on price, then his group would support their continued development.
"It is cost versus benefit, not cost versus theory," he said. "We've got these targets [for renewable-energy use] based on climate change that are arbitrary. But we don't give a hoot about the ratepayers" who help fund renewable-energy programs.
Eighteen months ago, Providence Business News reported the state's greenhouse gas emission reduction goal – an 80 percent cut below 1990 levels by 2050 – would be realized much later than expected. In August 2017, the state was on track to meet that goal by 2208.
Grant declined to discuss that timeline but reiterated the state's commitment to diversifying its energy sources.
"We are not in the business of picking technologies," she said. "Right now, solar is doing very well and it will be a portion of the success in meeting those greenhouse gas emissions goals."
SCHOOLS BUY IN
Several local colleges and universities have joined the effort to boost renewable-energy use – and decrease reliance on fossil fuels.
Seventy percent of Brown University's fossil fuel intake will be offset by the purchase of solar energy produced at a soon-to-be-built array in North Kingstown. While the university does not own the facility nor the panels directly, it has agreed to purchase the energy produced there.
Brown, said Steven Porder, assistant provost for sustainability, "is committed to creating as much renewable energy as we consume."
For the past 18 months, culminating in Brown's January announcement, the university has watched solar technology rise in popularity and fall in price and has been "vetting" its options, explained Porder.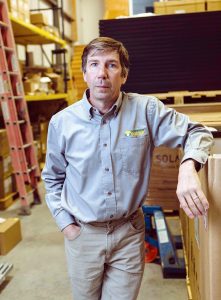 But the school is not just counting on solar.
"This project was very desirable from a number of viewpoints" said Porder, "but that doesn't mean we don't like wind [energy] too."
The remaining 30 percent of the university's fossil fuel consumption will be offset by wind energy produced in Texas.
Another higher education investment, found on three South County lots, involves the University of Rhode Island. In partnership with South Kingstown and Narragansett, URI was one of three partners to establish the 40-MW South Kingstown Solar Consortium in late November.
Marcia Garcia, URI sustainability officer, explained 40 MW is equivalent to two-thirds of URI's energy use per year. But, rather than purchase the energy produced there, like Brown, URI has committed to a net-metering agreement.
For its first 10 years, the facility will not offset any of URI's electricity or fossil fuel consumption while those rights are held by the developers, Energy Development Partners out of Providence and Boston-based Kearsarge Solar. However, URI will receive a utility bill credit, roughly $1.2 million, through the agreement.
In 2029, when the developers' rights expire, URI will have the option to sell Renewable Energy Certificates, credits compiled over each year as power is sold to the utility, on the market or use the power to offset its carbon footprint. The 40-MW facility is expected to generate approximately 45,000 RECs per year that can be sold for between $10 and $30 each, depending on the energy market.
University of Massachusetts Dartmouth also has included solar in its strategy. A total of 269 kilowatts of solar energy is produced by installations on four residence halls and the university's gymnasium, accounting for 0.5 percent of the school's electricity consumption.
In six years, Jamie Jacquart, assistant director of campus sustainability and residential initiatives, estimated the arrays collectively produced nearly 2-MW hours of electricity.
"They're consistent performers," he said.
Solar is "a tried and true technology only getting better" with time, he said.
CHANGING VIEWS
For Jacquart, there is only one downside to solar. Panels can be large and "roofs are only so big," he said, forcing proponents to hunt for viable space.
That's also an issue in communities across the state, where residents in rural and forested areas are upset to find their views and habitats disrupted by solar farms.
In Cranston, some angry residents say one of the largest solar farms in the state, encompassing more than 60 acres on a former dairy farm near Lippitt Avenue, has changed the nature of their residential neighborhood.
There, Warwick-based Southern Sky Renewable Energy is installing more than 53,000 solar panels.
With similar discussions taking place in Coventry, Exeter and Hopkinton, OER's Grant said she is "keenly aware that siting any form of energy investment has challenges."
As the state works to meet its energy goals, she said, Rhode Island's "future looks different from the days it was all taken care of in large, single [energy-producing facilities]."