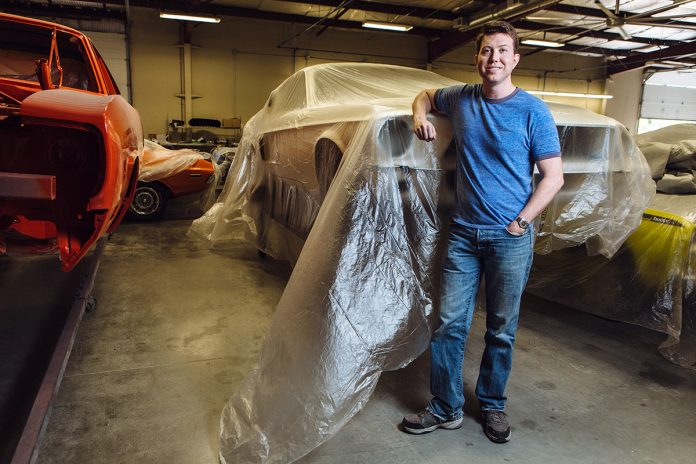 For Michael Mancini, car restoration was first a family hobby, "a bug" he caught from his father and uncles.
Today, Mancini owns the 17-person, North Kingstown-based American Muscle Car Restorations company, which was featured on the front page of the June 2018 edition of Hot Rod magazine.
Himself the owner of three restored vintage cars – a 1967 Pontiac GTO, 1971 Corvette and 1968 Plymouth Roadrunner – Mancini decided to take the entrepreneurial plunge in 2007 when he "didn't see eye to eye" with a previous employer.
Calling the jump "a big risk," Mancini and a five-person crew launched in 2007 – right when the economy was "at its worst" leading up to the Great Recession. However, he counts himself lucky to have been "busy from day one."
When he first opened, Mancini said he had enough projects to keep his crew operating because of the type of individuals, and their strong financial footing, who invest in vintage cars.
In the vintage-car-restoration industry, he said, "There are a lot of variables with the projects."
The company does not buy, restore and resell vintage cars they find, he explained, "It's all customer vehicles coming in to us" – which means they can be in almost any state imaginable.
Mancini said cars have come in for restoration that haven't been touched since they rolled off the assembly line and were used in their heyday. Others have come in buckets from other shops and needed to be put together "like a giant jigsaw puzzle," he said.
Many of the cars coming in from the West Coast, he said, are cleaner, with less rot, than cars that have aged in New England because of the difference in climate. While he admits it would be a lot easier if "we were [operating] in California," the one weather hindrance for his work boils down to patience. If the crew finishes a car in the middle of winter, he said, it's never fully complete until the vehicle can be road tested once the snow and ice melt.
Most restoration work lasts between one and one and a half years, said Mancini, with some "more-involved" projects lasting up to three years. Clients, he added, very rarely are looking for partial restoration, but rather "will want us to do every single nut and bolt on the car."
Mancini said many of the vehicles rehabbed by his shop are sought by collectors. Notable restorations include several 1971 Plymouth Hemi Cudas, which can be valued as high as $1 million, per Mancini; a 1970 Plymouth Superbird; a 1969 Dodge Charger Daytona; an Oldsmobile 442 W30; multiple Corvettes; and factory-issue show and executive cars.
Entrepreneurship, said Mancini, has been a "learning curve" for him as a restorer and an employer.
In an industry where "You can't make mistakes" and "Every car is unique," he said, "You develop tricks of the trade through experience."
Over the past eight years, with commissioned projects advancing in difficulty, Mancini believes he and his team have "increased the caliber and production quality" of restored vehicles in that time. And he hopes to continue to raise the bar over the next eight years.
OWNER: Michael Mancini
TYPE OF BUSINESS: Vintage car restoration
LOCATION: 65 Foliage Drive,North Kingstown
EMPLOYEES: 17
YEAR ESTABLISHED: 2010
ANNUAL SALES: $2 million