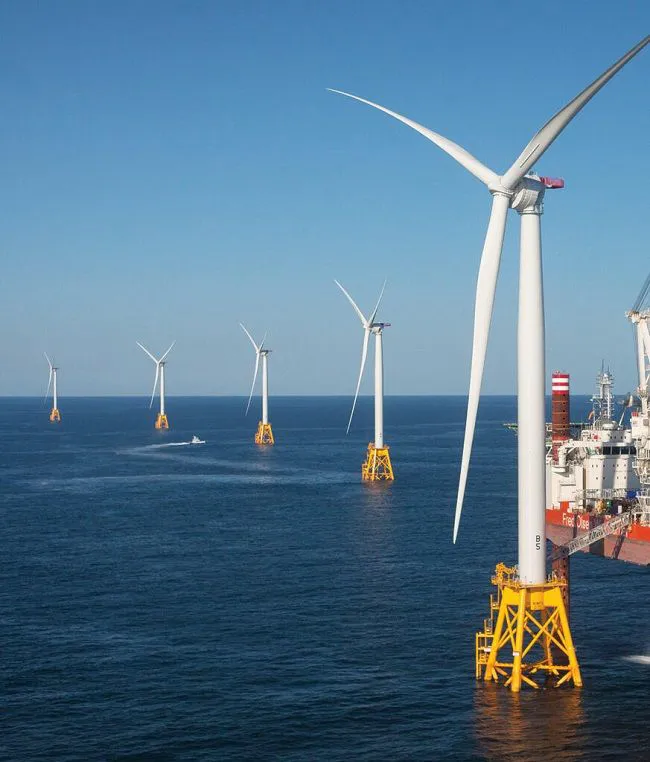 PROVIDENCE – The Revolution Wind project's construction and operations plan earned approval Monday from the U.S. Department of the Interior's Bureau of Ocean Energy Management, the final federal permit needed for the proposed 704-megawatt offshore wind project off Rhode Island coast. 
The approval allows work on the 65-turbine wind farm about 15 nautical miles southeast of Point Judith to advance toward offshore construction. Onshore construction already began at Quonset Point in North Kingstown, with offshore construction expected to ramp up in 2024. The project is expected to be operational in 2025.   
"This is a significant win for Rhode Island, marking an important milestone in our efforts to advance the state's clean energy future and grow our already thriving blue economy," Gov. Daniel J. McKee. "Revolution Wind will be essential to advancing the state's 100% renewable energy standard by 2033 and achieving our Act on Climate objectives. We look forward to seeing offshore construction and installation activity beginning in 2024." 
The approval came the same day Orsted announced on social media that the first turbine had been stalled on the South Fork Wind project in an area near where Revolution Wind will be located. South Fork Wind will provide 132 megawatts of power to New York.
Both Revolution Wind and South Fork Wind are joint ventures between Orsted A/S and Eversource LLC. Revolution Wind is slated to deliver 400 megawatts of clean, affordable offshore wind power to Rhode Island and 304 megawatts to Connecticut, powering more than 350,000 homes in the two states.  
"Revolution Wind will not only advance the states' climate goals, it will also deliver even more good-paying, local union jobs and build upon the investments we're already making in Rhode Island, in Connecticut and across the U.S. supply chain," said David Hardy, group executive vice president and CEO Americas at Orsted. "With this final Department of Interior approval, we look forward to a busy year of construction building American clean energy for Rhode Island and Connecticut." 
McKee said on Nov. 16 that Revolution Wind has already created 100 new local union construction jobs as work is already underway on the project's onshore, underground transmission system at Quonset Point. The project is expected to create thousands of direct, indirect and induced jobs, as well as permanent operations and maintenance jobs in both Rhode Island and Connecticut. 
"This is yet another positive development that gets us closer to Connecticut's first offshore wind farm," Conn. Gov. Ned Lamont said. "Wind power remains a key part of our clean energy strategy and ensuring we provide families and businesses with clean, reliable and affordable power." 
Both Orsted and Eversource financially committed to the Revolution Wind project on Nov. 1, the same day same day Orsted scrapped two large offshore wind projects off the coast of New Jersey. 
On Aug 22, the proposed Revolution Wind project received a "record of decision" from the U.S. Department of the Interior's Bureau of Ocean Energy Management, calling the approval "a major milestone in the federal environmental review process." The developers now have their eyes on BOEM approval for its construction and operations plan, which they anticipate the bureau will OK later this month. 
However, Eversource CEO Joe Nolan said on Nov. 6 that his company is a step closer to selling its stake in Revolution Wind, South Fork Wind and Sunrise Wind, which is located to the immediate south of South Fork Wind. He added that the unnamed buyer must now formalize several documents, including a new joint venture with Orsted. 
Also, Orsted company announced on Nov. 14 that Chief Financial Officer Daniel Lerup and Chief Operating Officer Richard Hunter "mutually agreed" to step down.  
Mads Nipper, Orsted's group CEO and president, said the company needed "new and different capabilities to lead the finance and operations to strengthen its journey into the future." 

Want to share this story? Click Here to purchase a link that allows anyone to read it on any device whether or not they are a subscriber.