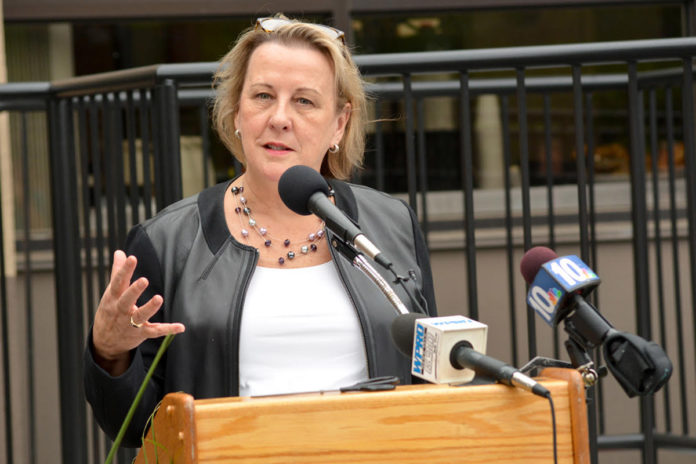 PROVIDENCE – Federal and state officials joined Rhode Island Hospital and Lifespan leadership at the June 19 opening of the Lifespan Recovery Center, Lifespan reported. The center, which officially opened June 16 with 250 patients already under Lifespan physicians' care, will provide comprehensive outpatient treatment for those seeking to overcome opioid addiction. The center can treat up to 650 individuals.
"This new clinic will provide a single touchpoint to some of our most vulnerable community members – those struggling with addiction," Rhode Island Hospital President Margaret M. Van Bree said in a statement. "We are proud to offer this comprehensive center of care to members of our community who are battling to get their lives back on course."
Van Bree, Lifespan President and CEO Dr. Timothy J. Babineau, Lifespan Senior Vice President of Psychiatry and Behavior Health Dr. Richard J. Goldberg and Steven Pare, Lifespan board member and chairman of the board's Behavioral Health Committee, were joined by United States Sen. Jack F. Reed, U.S. Rep. James R. Langevin, Gov. Gina M. Raimondo and Sen. Joshua Miller, D-Cranston, among others.
"Our nation is struggling with the growing opioid addiction epidemic and we are working together to help save lives and help people reclaim their lives. We must continue to invest in education, prevention, treatment, outreach and recovery," Reed said in the statement.  "Lifespan's new recovery center will help treat people suffering from opioid addiction and connect them to the support and services they need, from access to medical treatment to behavioral health services. … The road to recovery is long and difficult and it takes courage for people to seek treatment. We want to remove barriers to treatment and help people navigate around the roadblocks from addiction to recovery."
Operating under the auspices of Rhode Island Hospital, the center will provide continuity of care by coordinating and leveraging the resources of its partner facilities, including inpatient and outpatient medical, mental and behavioral health services; ongoing coordination with primary care services; and liaison activity with Lifespan hospitals' emergency departments.
"In a small state like Rhode Island, the opioid crisis hits close to home because it seems everybody knows a family that has had their lives upended by addiction," said U.S. Sen. Sheldon Whitehouse, who authored the Comprehensive Addiction and Recovery Act, which was signed into law last year. Whitehouse, who had toured the center before it's official launch, added, "It was clear to me … that the medical and addiction professionals here will be an asset for those on the long, noble road to recovery.  I'm keeping up the fight to get more federal resources to stem this public health crisis, and I am proud of the work being done in Rhode Island to treat and prevent addiction."
The national crisis of opioid addiction has not bypassed Rhode Island, which is experiencing alarming numbers of overdoses and deaths, as shown by R.I. Department of Health tracking. According to national data, between 2000 and 2015, more than 500,000 people died from drug overdoses, and 91 Americans die every day from an opioid overdose. In 2016, according to the DOH, 336 individuals in Rhode Island died of accidental drug-related overdose.
"One of my goals as governor is to reduce opioid overdose deaths by one-third within three years. This new center will be a valuable tool in our fight against the most urgent crisis facing our state," Raimondo said in the statement. "We've lost too many lives to overdose. These are our sons, daughters, mothers, fathers, brothers and sisters. We must keep fighting."
The center will provide medication-assisted recovery; physician care for medical and psychiatric needs; group and individual therapy; care coordination with the patient's primary care doctor; and ongoing recovery planning and care.
Nancy Kirsch is a PBN contributing writer.