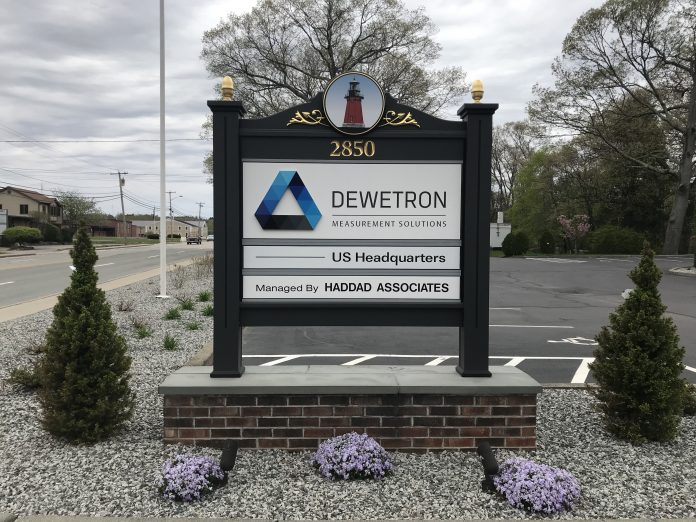 In the spring of 2017 DEWETRON, Inc. moved the United States headquarters and laboratories from its Peace Dale location to a new facility in East Greenwich, RI. On May 15, 2018 DEWETRON will be celebrating the completion of an expansion project that doubles the size of the East Greenwich facility and increases the capacity of the service, calibration and assembly operations in the United States.
DEWETRON, Inc. a fully owned subsidiary of DEWETRON GmbH, was incorporated in the state of Rhode Island in 1998 and has been quietly growing ever since by proving precision test and measurement solutions to the defense, transportation and power markets nationwide.
The expanded facility houses the newly realized Customer Care Center, USA which boasts three Calibration Laboratories for NIST calibration of DEWETRON Test and Measurement Systems, a general testing laboratory, assembly room and service center. The recently hired Customer Care Coordinator choreographs the logistics of service for DEWETRON customers nationwide. Says newly appointed COO, Steve DiPalma "bringing the repair and maintenance of DEWETRON systems to the states dramatically reduces the down time for our customers, saves them international shipping and simply makes it easier for our Customer Care Coordinator to establish a personal relationship with our customers". In addition to the Customer Care Center, the expanded facility offers sales offices for visiting Regional Sales Managers and Manufacturers Representatives, two private meeting rooms for customers and guests and a state of the art training room for hands on instruction facilitated by DEWETRON Application Engineers.
DEWETRON's expansion is not limited to the facility. Since January of 2018, DEWETRON has accredited two new Manufacturer's Representatives, hired a Regional Sales Manager and created new positions within the Customer Care Center. Recognizing the value of the millennial generation and investing in the local market, DEWETRON is proud to be a participating business with the internship program of the North Kingstown High School Academy of Business and Finance. Three afternoons a week DEWETRON's USA Marketing department has the pleasure of mentoring and benefiting from the skills of a marketing intern. As summer approaches, the Customer Care Center looks forward to inviting more interns to learn from and support the laboratory technicians.
DEWETRON as a corporation and DEWETRON the people behind the logo, manifest the corporate mission to make the world more efficient and safe by offering industry leading test and measurement equipment and ensuring person to person support for that equipment.
Who is DEWETRON GmbH?
Established in 1989, DEWETRON GmbH is an Austrian manufacturer of precision Test & Measurement systems designed to help their customers make the world more predictable, efficient and safe.
DEWETRON's strengths lie in customized solutions, based on "modular logic", that are immediately ready for use while also being quickly adaptable to the changing needs of the test environment and sophisticated
technology of the Aerospace, Energy, and Automotive industries.
Customization was a part of DEWETRON's philosophy long before it became an industry standard.
DEWETRON Data Acquisition Systems are designed to record from one to thousands of vastly different signal sources gaplessly and in perfect sync, at one location or distributed across locations up to 100 meters apart. With DEWETRON modular technology, high speed
expansion is easy, simply add any DEWE2 system to any other DEWE2 system.
Since 2015, DEWETRON's high channel count open systems have been relied on to give the "green light" during countdown at almost every rocket launch in America.
From basic data logging to advanced high end recorder and data analyzing, DEWETRON offers a wide range of analog, isolated signal conditioning amplifiers (TRION™), suitable for a wide variety of sensors, including strain gages, accelerometers, force sensors, pressure, load and flow sensors, thermocouples, as well as voltages and currents.
For 25 years, DEWETRON has set new standards for test and measurement systems. Today, customers from more than 25 countries worldwide rely on their products for precision measurement recording and analysis. The company employs over 150 people in 25 countries and is part of the TKH Group, a global corporation, that specializes in the development and supply of innovative solutions worldwide.
DEWETRON quality is certified in compliance with ISO9001 and ISO14001
Environmental and quality management is more than just a statutory obligation – it is an integral part of all DEWETRON business processes.
DEWETRON continually strives to combine innovation and business success with strict quality standards and rigorous quality processes.