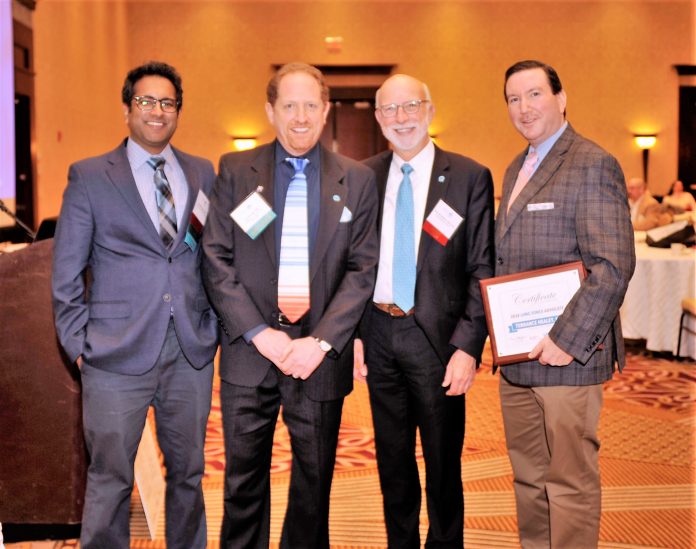 The American Lung Association has named Rhode Island Medical Imaging (RIMI) radiologist Dr. Terrance Healey the American Lung Association's 2018 LUNG FORCE Advocate. Dr. Healey was chosen due to his leadership in lung cancer screening, early detection and diagnosis as well as his dedication and participation in the Rhode Island LUNG FORCE movement.
"We are proud to honor Dr. Healey this year, as a true champion for lung cancer screening," said Jeff Seyler, Chief Division Officer of the American Lung Association. "Lung cancer screenings save lives, and when medical professionals like Dr. Healey are engaged in educating the public about these tools, we have an opportunity to raise awareness in a really meaningful way."
Once a year, at the American Lung Association's Rhode Island LUNG FORCE Expo, an advocate(s) who has made outstanding contributions to the LUNG FORCE movement, including but not limited to, the Expo is chosen by the American Lung Association's Rhode Island LUNG FORCE Expo planning committee. This local award can be presented to a patient, caregiver, healthcare professional or sponsor.
This year's award's ceremony and LUNG FORCE Expo was held on January 29, 2019 in Warwick, RI. Approximately 225 people were in attendance.
Dr. Healey is RIMI's thoracic radiologist and the Director of Thoracic Radiology at Rhode Island Hospital. Dr. Healey graduated from the combined Dartmouth College – Brown University program in Medicine and completed his residency in diagnostic radiology at Rhode Island Hospital/The Warren Alpert Medical School of Brown University. He completed his fellowship in thoracic radiology at Massachusetts General Hospital and is certified by the American Board of Radiology.
"Dr. Healey's dedication to the Rhode Island community and to the LUNG FORCE movement has undoubtably made a difference for families and individuals throughout the region," said Seyler.
The award Dr. Healey received was first given out in 2017 and the recipients were Jutta Becker (patient) and Peter Woodberry (caregiver).
About Rhode Island Medical Imaging:
Rhode Island Medical Imaging (RIMI) has a network of 12 private state-of-the-art medical diagnostic imaging facilities that are staffed by over 70 board certified radiologists with broad-based experience and subspecialty training in Bone Densitometry (DEXA), Computed Tomography (CT), Magnetic Resonance Imaging (MRI) including the most extensive 3T MRI imaging network in Rhode Island, Mammography, Ultrasound, and X-ray.
RIMI radiologists perform and interpret imaging in Rhode Island at Hasbro Children's Hospital, Miriam Hospital, Our Lady of Fatima Hospital, Rhode Island Hospital, Roger Williams Medical Center, and Women & Infants Hospital, and most recently at Sturdy Memorial Hospital in Attleboro, MA. Most of RIMI's radiologists are also faculty members at the Warren Alpert Medical School at Brown University.
For over 75 years RIMI has provided Rhode Island with imaging excellence (since 1943).
Photo Caption (L-R):
• Dr. Saurabh Agarwal, RIMI Cardiothoracic Radiologist and RI LUNG FORCE Expo Planning Committee Chair
• Dr. David Hill, American Lung Association National Board of Directors and Chair of the Northeast Regional Board
• Peter Woodberry, Ph.D., RI LUNG FORCE Expo Planning Committee Member, RI Leadership Board Member, LUNG FORCE Advocate
• Dr. Terrance Healey, RIMI Thoracic Radiologist and recipient of the 2018 LUNG FORCE Advocate Award