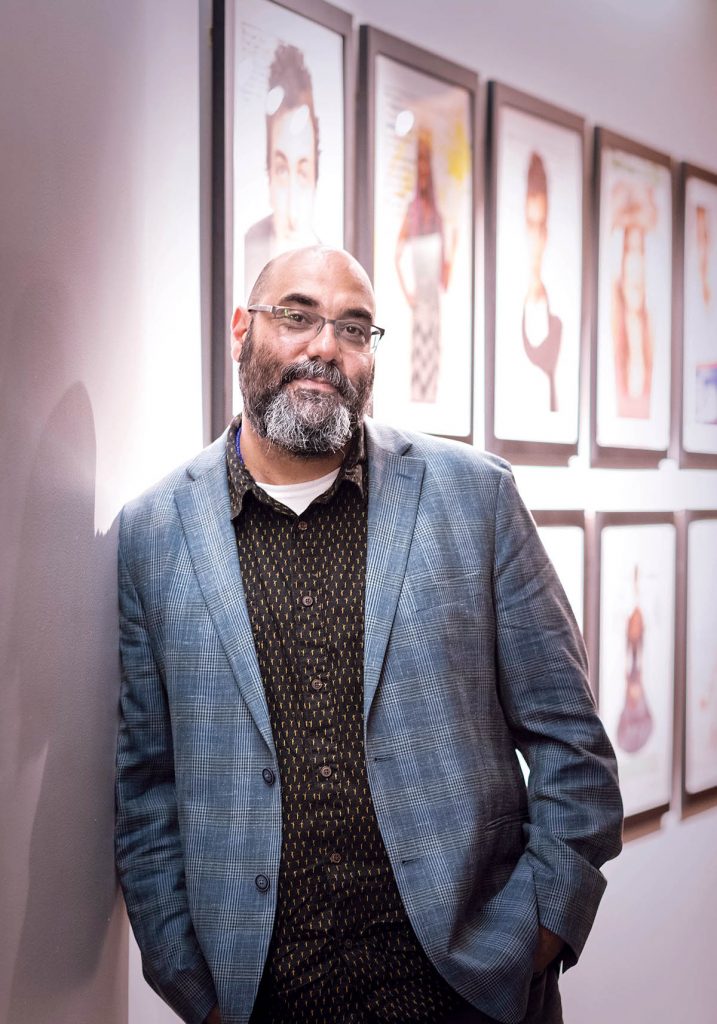 For Matthew Shenoda, being the first to tackle an issue on a college or university campus isn't daunting.
Settling in as the Rhode Island School of Design's inaugural vice president of social equity and inclusion, Shenoda is implementing the school's 1-year-old Social Equity and Inclusion Action Plan, designed to go beyond previous higher education efforts to increase on-campus diversity and strengthen the pipeline for minority access.
Published in September 2017, the RISD report reads: "Numerous institutions have worked to counteract the systemic forces of bias and inequality, but these efforts have produced, more often than not, only limited effects, especially when seen in the context of more-rapid cultural changes in society at large. This differential between intent and outcomes has added a new level of urgency to the conversation on issues of diversity, identity, inclusion, access, agency and equity in the halls of American higher education."
Shenoda has held similar positions at Illinois and California schools and has lectured on the subject over a 30-year career.
For a man so well-versed in the presence, or lack thereof, of on-campus diversity, Shenoda knows that while the issue is "systemic," there is no "universal way to do this work.
"Response has to be tailored to the institution itself," he said.
RISD's SEI action plan is built on eight core tenants. They include creating and maintaining a "campus culture of inclusion," democratizing access to the school and enriching course curricula to represent "a more-expansive spectrum of creative cultures, practices and competencies."
Moving forward, he said RISD plans to develop the plan to include analyses and goals for each academic department's hiring practices in a "concerted effort to recruit and retain more diverse candidates" and identify curriculum gaps to present a broader spectrum of learning opportunities.
'I want to see real, significant results every year.'
MATTHEW SHENODA, Rhode Island School of Design VP of social equity and inclusion
Shenoda could not say if such examination would result in the addition of new faculty but did not rule it out.
As for students, he hopes to focus on more "strategic" admissions practices to cultivate a population reflective of a broad spectrum of gender identities, races and socio-economic backgrounds.
Groups that remain historically underrepresented at art schools, explained Shenoda, are "fairly similar" to other types of higher education institutions. Yet art school students, he explained, are "far more diverse than the faculty" and are mostly female, whereas faculty and administrators face "stark and significant" racial and socio-economic barriers.
RISD's goals, said Shenoda, will take time. He foresees creating a cyclical, accountable process to measure any diversity milestones reached as the result of changes in school policy and procedure.
While RISD has yet to produce demographic data for the public, Shenoda said he hopes to do so annually in the coming years, starting in 2019.
"My goal is an annual one, I want to see real, significant results every year," he said.
This action would put the school in line with the annual reports outlining results from Brown University's February 2016 Pathways to Diversity: An Action Plan.
While it aims to increase diversity on the College Hill campus overall, a specific aim is to double tenure-track faculty from historically underrepresented groups, increase the number of women in science, technology, engineering and math fields, as well as Asians in the humanities at Brown by 2022.
In May, Brown published updated figures. In 2016-17, the most recent data available, 35.4 percent of the 758 faculty were women in STEM fields, Asians in the humanities, or historically underrepresented groups compared with 31.7 percent of 736 faculty in the 2013-14 academic year.
In an email, Brown spokesman Brian E. Clark characterized the school's success to date as "a tremendous amount of early progress."
He declined to comment on RISD's plan.
Dan Egan, president of the Association of Independent Colleges and Universities of Rhode Island, said RISD's success in recruiting international students will help it reach its SEI goals.
Calling its percentage of foreign students "higher than most," he said, "When you're picking classes with a global reach, your student body, by nature, is going to be much more diverse than an institute with a regional or national reach."
With knowledge of RISD and Brown plans, Egan said over the past 10 to 20 years a "national trend" has emerged among higher education institutions launching similar plans.
In fact, he said, in 2006, "there was [a large] enough mass" of higher education professionals interested in effecting such change to create the National Association of Diversity Officers in Higher Education.
Membership in the Fort Lauderdale, Fla., group as of March was 684 individuals and institutions.
The popularity of this movement, said Egan, "is a response to years of student activists who have made their voices heard and to the changing makeup of the student [population] in the 1980s and 1990s."
Emily Gowdey-Backus is a staff writer for PBN. You can follow her on Twitter @FlashGowdey or contact her via email, Gowdey-backus@PBN.com.