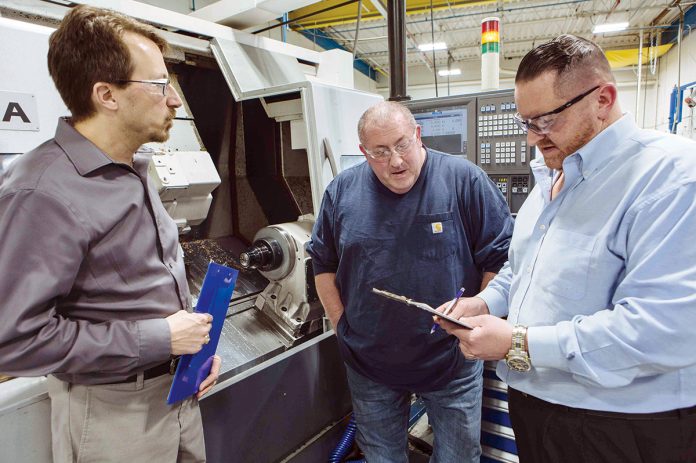 Saint-Gobain SA
Excellence in Safety Performance & Records | 2019 Manufacturing Awards
---
At Saint-Gobain SA, safety starts on day one.
"Our safety-first culture is fueled by preparation," explained Craig Danko, Saint-Gobain plant manager. "We expect that at the end of the day, all employees will have taken the initiative to make the future safer while they were at work and return home in the same manner in which they arrived. With this in mind, it is important to invest the time to properly train employees before they are put in the manufacturing environment.
The Bristol location for the multinational manufacturer produces critical parts and components from high-performance polymer materials for the automotive, aerospace and electronics markets. Processes include polymerization, injection molding, compression molding and computer numerically controlled machining. There are nearly 50 employees in Bristol, and managers know everyone plays a part in creating a safe environment.
"We engage in observational coaching to help ensure that all guidelines are adhered to and that the employee has mastered the protocol. We do this all throughout an employee's tenure. This helps to reinforce and confirm that our safety policies and procedures are followed by all employees all of the time," Danko said.
A detailed checklist allows for review of the key safety steps that are required to successfully complete routine tasks. For example, for working at heights, employees must inspect all equipment, including lifts and ladders, as well as the safety gear. They also need to properly mark off their work area to ensure no one passes beneath.
"To us, 'successfully' means without injury," Danko said. "We review the checklist before an employee is permitted to engage in any of these activities. Then a trained employee will walk through the checklist side by side with the employee who is completing the task to make sure that all safety procedures are being followed."
'Our goal is to empower employees and encourage them to contribute to the solution.'
Mark Collette, Saint-Gobain global environment, health and safety director
An environmental health and safety program, driven by employee engagement, incentivizes employees, said Mark Collette, global environment, health and safety director. Employees earn points for participation in a wide range of safety-related activities, such as conducting a safety observation, reporting and correcting an unsafe condition, completing required inspections and mentoring newer employees. Saint-Gobain lists 2018 participation at 97 percent for employees in Bristol.
"By participating in these activities, the employees become naturally more responsible for their own safety and the safety at the site. The accumulation of points positively impacts our incentive program," Collette said.
As a result of these and other programs at the Bristol site, leaders said safety performance has continued to strengthen. They cite zero lost time to injuries in more than 11 years and zero Occupational Safety and Health Administration recordable injuries in three years. Unsafe conditions are assessed and addressed in less than 60 days, 94 percent of the time. The Bristol facility earned an "A" grade from Saint-Gobain corporate during a biannual EHS audit in 2017 and was named a 2018 Emerald Award for Excellence in EHS by Saint-Gobain North America.
"Our site has an EHS committee that consists of managers, engineers, maintenance workers and shop-floor employees," Collette said. "This diverse representation helps us garner insight from a range of roles and perspectives. The team meets regularly to discuss risks that have been identified and works together to find solutions. We are also proactive in nature, and strive to get in front of any potential challenges. Our goal is to empower employees and encourage them to contribute to the solution. When employees help solve issues themselves, buy-in becomes a much easier task."
A new incident-investigation program called Cause Mapping has added to the success, said Danko. Its use led to 100 percent effectiveness of corrective actions put in place (no repeat occurrences) in 2018.
"The process involves continually asking questions to identify causes of each effect and drilling down to the most critical, and often hard to discover, details," he explained. "It's a tool to drive open-ended questions and honest conversations to reveal facts, while taking potential biases out of the investigation."