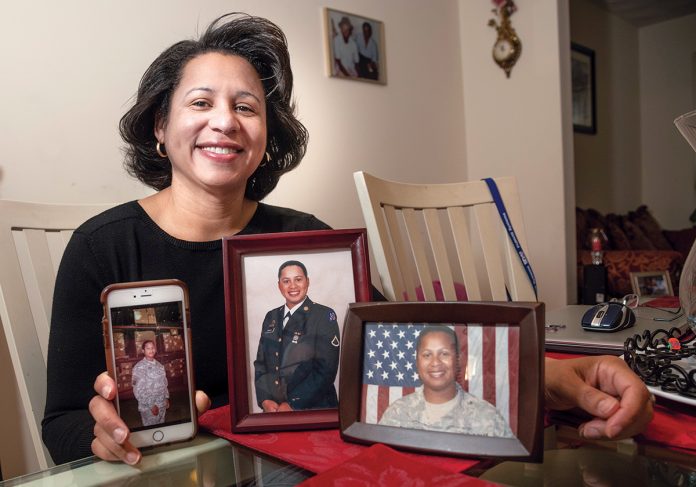 A U.S. Army and R.I. National Guard veteran, Johanna Bravo is now the senior logistician at Purvis Systems in Middletown thanks to a match made by Southeastern New England Defense Industry Alliance in its newest internship program.
"I got in touch with [SENEDIA] and the rest is history," said Bravo, who served from 1998 to 2014.
Funded by a $100,000 Real Jobs Rhode Island, R.I. Department of Labor and Training grant, the Veterans Internship program was designed by SENEDIA to introduce military veterans to the civilian workplace. Together with the R.I. Office of Veterans Affairs, DLT and SENEDIA review unemployed and underemployed veterans' skills in the hopes of matching them with internships at local civilian companies.
Thirty 80-hour internships, from Jan. 1 to Dec. 31, 2018, are covered by the Real Jobs RI grant.
The first intern to be placed, Bravo started with Purvis on March 20 helping to update how inventory is tracked and stored. After 15 years outside the civilian sector, Bravo said the biggest difference from military work is the speed of operations.
"In the military, everything was hurry up, hurry up, hurry up. … But in the civilian sector things are a little relaxed. Deadlines are way ahead of time," she said.
Prior to the end of her internship on April 12, Bravo was offered permanent work at Purvis.
Launched in early February, by mid-April SENEDIA had received 22 applications for the 30 open internships. Since then, two interns have completed their placement and three applicants were hired, bypassing the internship stage, at five companies. Two additional interns are in the process of completing their placement.
"We're thrilled with the number of applications we've received," said Molly Donohue Magee, executive director of SENEDIA.
Lee Silvestre, SENEDIA program manager, anticipated additional interest from the local veteran community after receiving application requests from 10 veterans at one job fair alone.
"We are starting to see exponential growth in the number of applications and resumes. … Twenty-two is going to be very small in comparison to what we end up with," she added.
And she was right. The number of applications received by SENEDIA had doubled by mid-May, to 44.
'In the military, everything was hurry up, hurry up.'
JOHANNA BRAVO, Purvis Systems senior logistician
Two of the initial 22 applications received were from female veterans and applicants' ages ranged from 28 to 71. Most applicants, said Silvestre, are in their "early 30s," having spent "five [or] six years" in the armed services before attending college.
While placing veterans with local firms is one tenant of the program, the second is to encourage the expansion of existing corporate recruiting practices to include military veterans and educate those companies as to how military experience can be valuable in the corporate, civilian workplace.
Magee said SENEDIA's marketing of the internship to each of its 110 member companies and related industry clusters, all Rhode Island higher education institution veteran groups, and the R.I. Office of Veterans Affairs, represents a "pretty wide expanse" of possible employers.
To date, SENEDIA has sent resumes and applications to 19 companies active in the local manufacturing, engineering, medical administration and financial sectors.
In addition, added Silvestre, "many [participating employers] are in the defense space. Not only is that our comfort spot relative to membership but a lot of the participants want to leverage the experience they've had in the military" and feel that is a familiar sector.
One of the 19 employers to receive resumes and applications from SENEDIA is Evans Capacitator Co. in East Providence.
Charles Dewey, CEO of the 40-person company, was recently named National Subcontractor of the Year by the U.S. Small Business Administration. With that recognition, said Vice President Colin McClennan, "Business will continue to ramp [up] and finding [new workers] will continue to be a challenge."
While the company isn't currently hiring, McClennan called the Veterans Internship Program "a good place to go looking" for the next generation of the workforce. He said the company is comfortable hiring veterans.
With the onset of this SENEDIA-led effort, there are now three Real Jobs RI hiring campaigns geared to helping military veterans navigate and identify employment opportunities in the civilian workplace. They include a four- to five-week partnership with the commercial fisheries industry focused on recruiting veterans that will lead to a registered apprenticeship program, and the creation of a workforce pipeline to the manufacturing sector targeting veterans, among other groups.
Additional state-level programs to help veterans enter the civilian workforce exist outside the auspices of Real Jobs RI, but Magee believes there is "absolutely" a possibility for future iterations of the Veterans Internship Program.