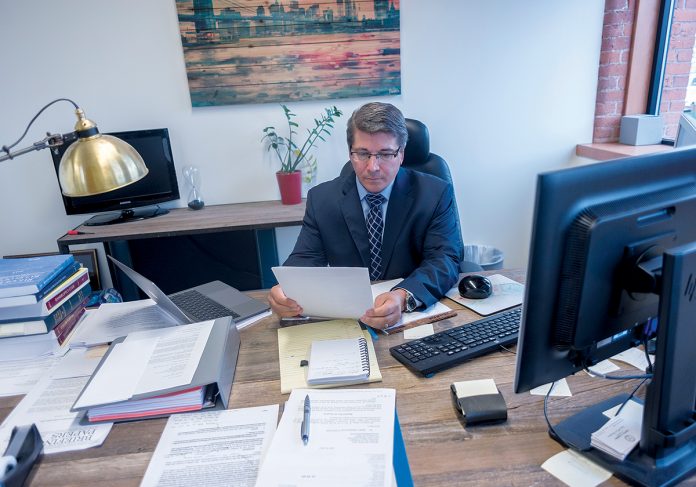 PROVIDENCE – A settlement between Stephen Del Sesto, receiver and administrator of the St. Joseph Health Services of Rhode Island Retirement plan, and CharterCARE Community Board, St. Joseph Health Services of Rhode Island and Roger Williams Hospital received preliminary approval in U.S. District Court Thursday.
The settlement does not include the defendants related to Prospect CharterCARE or the Roman Catholic Diocese.
A preliminary approval is not a final judgement, but moves the settlement forward for more serious consideration, according to a court filing. The preliminary approval is held to a less-rigorous standard in which a judge needs to determine if a settlement "appears to fall within the range of a possible final approval," it was said. The decision was made by U.S. District Court Chief Judge William E. Smith.
The agreement would have the settling entities make an immediate $11.2 million payment to Del Sesto as receiver. The settling entities also would assign RWH's interest in an escrow account (valued at $750,000) to the receiver. The CCCB's interest in the CharterCARE Foundation and its interest in Prospect CharterCARE also would be assigned to the receiver. The CCCB's holdings amount to a 15% ownership stake in Fatima Hospital and Roger Williams Medical Center.
In the same filing, the court approved a discovery period related to the settlement between the receiver and settling parties, which was petitioned for by the non-settling defendants.
The diocese and Prospect CharterCARE have questioned whether the settlement was in good faith, alleging unlawful collusion between the parties.
The non-settling parties question the settlement due to certain concessions by the settling defendants, including admitting to breach of contract while also placing a larger "proportionate fault" on the non-settling defendants.
The settlement said that the amount necessary to fund the pension properly was at least $125 million.
The non-settling parties also argued that the state receivership, overseen by Del Sesto, who is a partner at Pierce Atwood LLC, itself is unlawful, arguing that the federal courts should have exclusive jurisdiction over the pension plan.
The court noted that the settlement, if approved, would not be binding to proceedings between the receiver and the non-settling parties.
Non-settling entities include: The Roman Catholic Bishop of Providence corporate sole, the Diocesan Administration Corp., the Diocesan Service Corp., Prospect Medical Holding Inc., Prospect East Holdings Inc., Propsect Chartercare LLC, Prospect Chartercare SJHSRI LLC and Prospect Chartercare RWMC LLC.
Chris Bergenheim is the PBN web editor. You may reach him at Bergenheim@PBN.com.