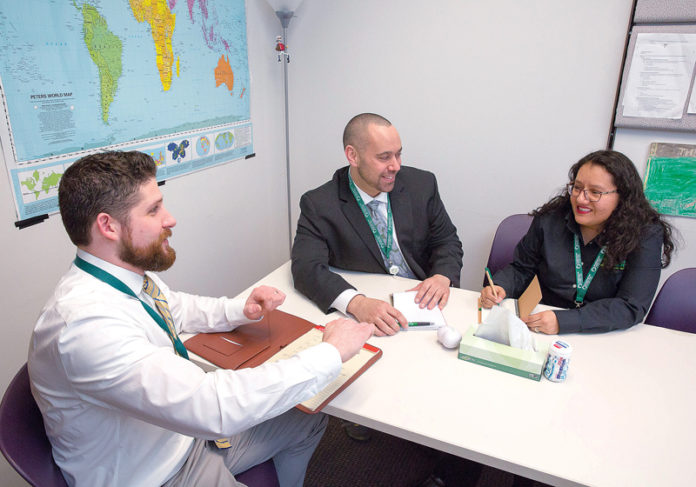 As Congress has convulsed over efforts to replace the Affordable Care Act, health insurers in Rhode Island who specialize in Medicaid customers are trying to keep track of alternatives that may emerge and influence the outcome.
But hazard a guess as to what happens next? Too soon to tell.
David Burnett, chief of staff for Neighborhood Health Plan of Rhode Island, said that while the GOP bill was pulled before it could be voted on, it's unlikely to be the end of efforts to scale back the health care act.
"I would expect Congress to continue to look at alternatives and bring a different bill forward in the coming months," he said, a few days after House Speaker Paul Ryan determined there were not enough votes to pass the Republican health care reform bill.
Burnett added: "Neighborhood hopes that a thoughtful, bipartisan process will build upon the Affordable Care Act's success."
The stakes are tremendously high. As Gov. Gina M. Raimondo stated last month, the health care of 70,000 Rhode Islanders is in the balance.
This is the population of state residents who were newly insured by the expansion of Medicaid services enacted under the ACA, often called Obamacare.
The initial push by President Donald Trump to repeal the original act and replace it with one that cuts costs had many aspects, but would have fundamentally changed how states receive funds for the population of residents with low incomes who were newly eligible for health benefits under Medicaid expansion.
Thirty-one states, including Rhode Island, expanded Medicaid populations under the ACA.
The newly covered are among the most vulnerable in Rhode Island. They have not traditionally had access to health care insurance, because it was unaffordable to them, health officials say. They include adults with low incomes without underage children and the elderly.
In the Trump-backed GOP proposal, states would no longer have received direct federal funding covering these services by 2020, and instead would have received a fixed amount, sometimes called a block grant, based on the number of enrollees.
The practical implications of this were described in a nonpartisan Congressional Budget Office report: about 5 million people would be cut from Medicaid by next year, and 14 million by 2026. A specific number estimated for Rhode Island was not available.
In a public address, Raimondo said the impact would be devastating for many elderly and Rhode Islanders with low incomes, and their families.
Neighborhood Health has one of the state's largest proportions of Medicaid enrollees.
The stakes for the Smithfield-based nonprofit are enormous. Medicaid accounts for about 80 percent of its business, Burnett said. The company has 159,000 Medicaid members in Rhode Island.
Neighborhood Health has a contract with the state to administer Medicaid coverage for Rhode Islanders. The nonprofit and United­Healthcare of New England Inc. combined handle 80 percent of the Medicaid enrollees in Rhode Island, according to the state.
In the most recent fiscal year, which ended June 30, 2016, the state made $944.3 million in payments to Neighborhood Health, according to a statement from the R.I. Executive Office of Health and Human Services.
UnitedHealthcare received $462.6 million in payments that same fiscal year, along with $19.9 million for dental services.
Through its national associations, Neighborhood Health has tried to lobby in favor of keeping Medicaid coverage intact, said Burnett. That will continue as the year moves forward.
Could substantial cuts to Medicaid upend its business model? Burnett said the concern is there.
It's not at all clear that the state could make up the difference if the cuts originally proposed at the federal level were to come to pass.
Said Burnett: "Obviously, any major shift in Medicaid is a concern. What I'd say is Medicaid has always been a dynamic environment. You always have changes being pushed down from the state level or the federal level, where they are looking to do things differently."
What won't change is the mission of the company, he said.
The incomes of the newly expanded population put health care insurance out of reach previously, he said. The threshold for Medicaid is generally about $16,000 a year or less for an individual.
"These are folks who normally have not had access to health care," Burnett said. "Rhode Island is one of the great successes of the Affordable Care Act. Our uninsured rate fell to 4.9 percent. It's one of the lowest uninsured rates in the country."
What's been the practical effect?
"We always go back to the numbers," he said. "These are life-changing things for these folks, over the last few years."