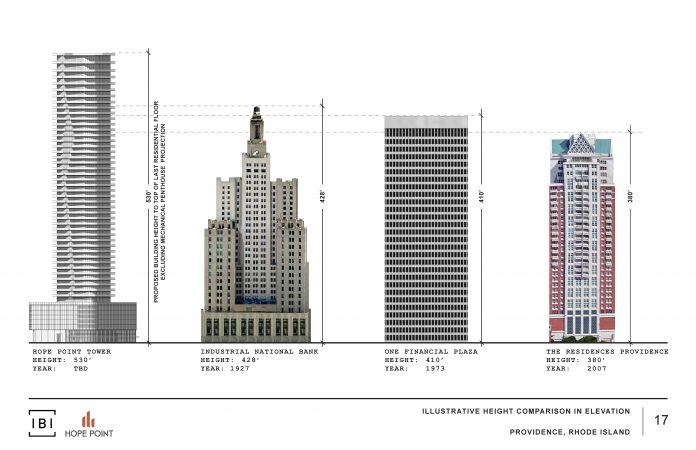 PROVIDENCE – State law spells out that the I-195 Redevelopment District Commission has the final say over design review for projects in the district, according to state General Assembly leaders, who sent a letter this week to Mayor Jorge O. Elorza seeking to gain his signature on a zoning change for the Hope Point Tower.
The City Council on Tuesday gave a second and final vote to the zoning change, which would allow the tower to reach a height of 600 feet. The existing zoning limits heights of new construction to 100 feet in that area.
That day, Senate President Dominick J. Ruggerio and House Speaker Nicholas A. Mattiello sent a joint letter to Elorza, urging him to sign the zoning change ordinance.
Elorza in a statement on Monday indicated he would not support the project unless the city had final design approval, and his staff said he wanted an agreement to that effect with the developer. He now has 10 days to decide whether to support or veto the zoning change, or let it become law without his signature.
In their letter, Ruggerio and Mattiello point out that state law specifies that design review rests with the I-195 commission.  In addition, the I-195 commission also has a procedure that sets out timelines for construction deadlines, addressing another concern raised by Elorza.
"Hopefully this helps to alleviate your concerns and the city will not impede the project," the General Assembly leadership wrote.
The design review within the downtown of Providence is handled by the Downtown Design Review Commission, which has a recommending authority to the I-195 commission for projects in its lands, according to Peter McNally, the I-195 district's executive director.
He said through a memorandum of understanding, the commission effectively has partnered with the city's planning department. The design review would include the exterior finish of the building, its appearance and the project footprint, McNally said.
"The mayor should be at ease on that," he said.
Dante Bellini, a spokesman for The Fane Organization, the project developer, said the development team is open to having discussions with the mayor about his concerns.
"We are open to reasonably discussing reasonable issues," Bellini said. "And now, hopefully, with the mayor's support, we will go through the design review phase. We see this final stretch on design as a collaborative and collegial effort."
Mary MacDonald is a staff writer for the PBN. Contact her at macdonald@pbn.com.