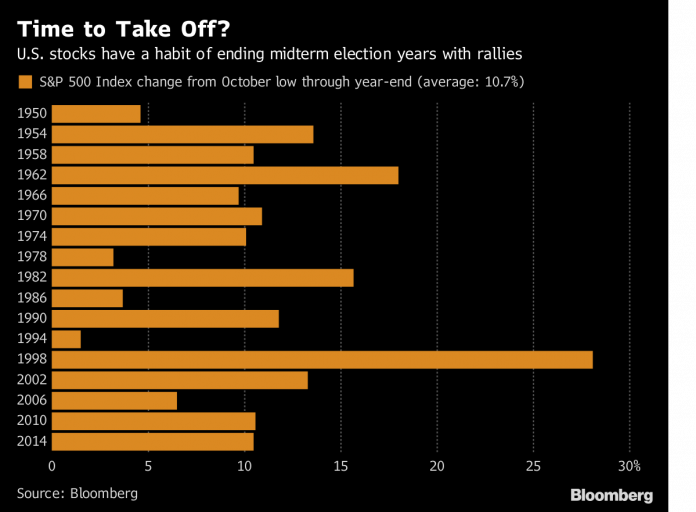 NEW YORK – U.S. equities jumped, the dollar dropped and Treasuries climbed as investors moved past the hurdle of uncertainty presented by the midterm elections and shrugged off concerns about Washington gridlock.
Riskier assets were in favor after results showed Democrats winning control of the House of Representatives and Republicans holding the Senate. The outcome dims chances that Donald Trump's signature tax cuts will be reversed, but also makes less likely major fiscal initiatives that might have pushed yields higher.
In a sign of relief that the election is over, tech stocks that took the brunt of October's sell-off rallied the most, with the Nasdaq 100 surging more than 2 percent. Amazon.com and Netflix increased more than 5 percent at one point. Health care shares helped lift the Standard & Poor's 500 index more than 1 percent. Managed-care giant UnitedHealth Group and medical-equipment maker DaVita paced gains on reduced risk for major changes to the health system. Pharmaceutical stocks also surged. The Cboe Volatility Index fell to its lowest level in a month. The 2-year Treasury yield edged higher, while the 10-year rate fell as bond traders contemplated what a split Congress means for fiscal policy and the economy.
Comments
"It seems like the early move is just relief that we've gotten the broad uncertainty out of the way," said Chad Morganlander, senior portfolio manager at Washington Crossing Advisors. "The conversations we're having are more long-term in nature. Nothing changed in the election that will really have an immediate impact on prices."
"This is a market-friendly outcome, but less so than if Republicans had held on to both houses," Terry Haines, strategist at Evercore ISI. "Markets likely view this outcome as positive since it removes the risk of an all-Democratic Congress, and the increased Republican Senate majority offers additional assurance that the 2017 tax cuts would not be rolled back in 2021 in the event of a Democratic president."
Key insights
The biggest macro theme remains the trade war after recent warnings from people including the IMF's Christine Lagarde and former U.S. Treasury Secretary Hank Paulson. Meanwhile, the Italian government is holding a confidence vote Wednesday. The Federal Reserve is set to decide interest rates Thursday. Theresa May is pushing on with efforts to pass a Brexit deal.
Market moves
European stocks rallied and Asian shares were mixed. Shares of Spanish banks surged after they escaped paying billions of euros in back taxes. The euro rallied as data showed German industrial output picked up steam in September.
Coming up
The Fed's next rate decision is Thursday. While policy makers are expected to leave borrowing costs unchanged, observers will be looking for any signals on how much more tightening remains. China trade data also come Thursday, with gauges of consumer and factory prices expected on Friday.
Randall Jensen is a Bloomberg News staff writer.