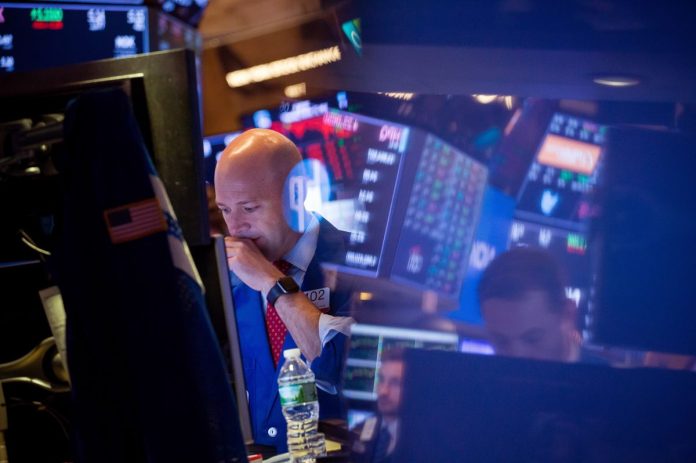 NEW YORK – United States stocks slumped, with the Dow Jones Industrial Average tumbling as much as 548 points, after results from Caterpillar and 3M added to concern that corporate profit growth has peaked. The yen, gold and Treasuries all rallied on demand for haven assets.
Trading volume was almost 80 percent higher than average for the Dow, and about 45 percent above the late morning figure for the S&P 500 Index. The sell-off in U.S. equities put the S&P on track for its 12th loss in 14 days as investors grow concerned that the trade war and rising interest rates have put an end to runaway expansion of corporate profits. The Russell 2000 Index turned negative for the year.
"The general sentiment among investors is they've gotten accustomed to having stable markets so when volatility rears its ugly head, they worry about it a lot more," said Andy Kapyrin, director of research at RegentAtlantic, which has $3.7 billion in assets under management. "Investors risk appetites have changed. It's causing more angst."
Caterpillar sank as much as 10 percent after flagging concern over rising materials costs, while 3M dropped more than 8 percent after cutting its forecast. The Dow pared losses, aided by positive earnings results from other index members. Shares of McDonald's and Verizon rallied after the companies beat estimates. Energy and tech companies were the biggest losers in the S&P.
The Stoxx Europe 600 Index slid to the lowest level since December 2016 and Asian equities teetered on the verge of a bear market. Some of the steepest losses were in Japan, Hong Kong and China, where shares had posted the biggest jump in more than two years a day earlier. Disappointing earnings from Renault and some European tech companies added to the pain in Europe.
Investor nerves are on full display in the flight to quality beginning to take shape after global equities tried and failed to stem this month's declines. U.S. growth data later in the week as well as earnings from companies including Amazon, Alphabet, Microsoft and Intel could be key to how far much further the drop will go. In the meantime, uncertainty over the death of a Saudi journalist, Italy's budget and Brexit are among the factors weighing on sentiment.
Equities failed to get any reprieve after China announced fresh measures to ease the funding strains of private companies, as top officials seek to restore confidence in the world's second-largest economy.
"Trade tensions here are important, interest rate levels are important, but the next week or two, earnings will be important," said Matt Maley, equity strategist at Miller Tabak + Co. "The fact that some key multinationals are giving disappointing guidance is a problem."
Elsewhere, oil traded near the lowest in almost five weeks. Emerging-market equities slumped as Turkish President Recep Tayyip Erdogan said a team including Saudi generals conducted the killing of writer Jamal Khashoggi.
Here are some key events coming up this week:
Earnings season gathers pace with notable highlights including Twitter, UBS, Deutsche Bank, Barclays, Total, Halliburton and Linde. Monetary policy decisions are due in Europe, Indonesia, Sweden and Canada. ECB policy makers could on Thursday confirm that asset purchases will end this year, reiterating its pledge to keep interest rates at record lows through summer 2019. President Mario Draghi will hold a press conference. U.S. gross domestic product growth may have slowed in the third quarter, yet remained near its best pace since mid-2015, according to forecasts ahead of Friday's release.
These are the main moves in markets:
Stocks
The S&P 500 fell 1.5 percent as of 11:24 a.m. in New York, while the Dow Jones Industrial Average dropped 1.4 percent and the Nasdaq Composite Index slumped 1.8 percent. The Stoxx Europe 600 fell 1.4 percent. The U.K.'s FTSE 100 declined 1.1 percent. Germany's DAX Index dropped 2.3 percent higher, the fifth straight decline. The MSCI Emerging Market Index dipped 2.1 percent. The MSCI Asia Pacific Index slumped 2.1 percent.
Currencies
The Bloomberg Dollar Spot Index dropped less than 0.1 percent. The euro was little changed at $1.1462. The British pound rose 0.3 percent to $1.3005. The Japanese yen strengthened 0.6 percent to 112.11 per dollar.
Bonds
The yield on 10-year Treasuries dropped seven basis points to 3.12 percent, while the two-year note yield fell five basis points to 2.86 percent. Germany's 10-year yield fell three basis points to 0.41 percent.
Commodities
West Texas Intermediate crude slumped 2 percent to $67.76 a barrel, the first drop in three days. Gold gained 1.4 percent to $1,238.83 an ounce.
Vildana Hajric and Sarah Ponczek are reporters for Bloomberg News.