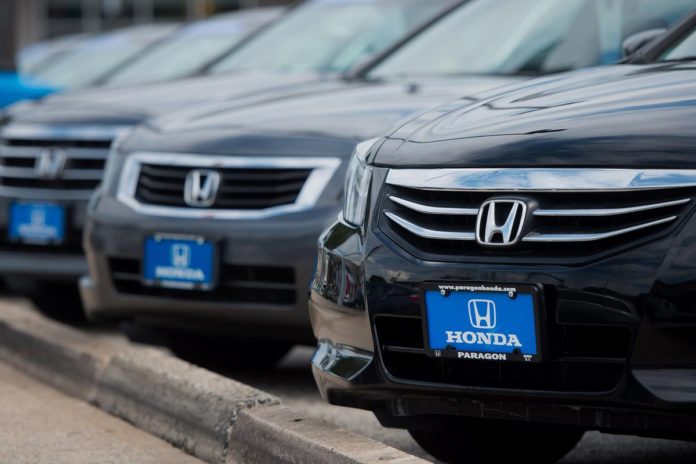 NEW YORK – Automakers may have no chance of matching last year's record United States sales, but they're still selling lots of expensive trucks and sport utility vehicles, and that's good news for investors.
Industry sales look like they will be down about 1 percent to an annualized selling rate of 16.6 million vehicles in June, General Motors Co. estimated as automakers filed their reports for the month. That's not strong enough to spur another all-time high in 2017 but it could still be one of the best years in U.S. history. Investors seized on the news and pushed GM and Ford Motor Co. up more than 3 percent.
"The market is holding up very well," said Michelle Krebs, senior analyst at Autotrader, an auto-pricing website. "We expected this kind of decline last year and we got an extra year of growth, so it's pretty strong overall."
Most major automakers reported better sales than analysts had estimated for June following a five-month streak of industry declines, with demand for roomier SUVs and pickup trucks doing most of the heavy lifting. Low unemployment, rising consumer confidence and an unexpected boost in orders at American factories all say that the economy is strong enough to keep car sales moving at a robust pace, even though it has softened from last year.
Big Vehicles
"We're pretty optimistic turning the corner into the second half," Bill Fay, the head of Toyota-brand sales in the U.S., said on a Monday call with reporters. The automaker is sticking to its industry forecast of 17.1 million sales this year.
Collapsing demand for sedans and coupes by American consumers and rental-car companies have produced small declines in U.S. sales volumes every month this year, and while second-half promotions are unlikely to reverse what looks like a permanent shift, the industry is still outperforming estimates. Among the six top sellers in the U.S., only GM missed analysts' predictions.
Toyota Motor Corp.'s deliveries climbed 2.1 percent in June, while Honda Motor Co. sales rose 0.8 percent from the same month last year, both surpassing analyst estimates. Nissan Motor Co., which had been expected to record a drop, saw sales rise 2 percent instead. Deliveries of Toyota's RAV4 spiked 25 percent while Honda's HR-V saw a 35 percent gain.
Sales at Ford slipped 5 percent, but even that was less than the drop analysts had been estimating. A 14 percent slide in sales to fleet customers drove Ford's decline. Sedan sales at Ford plunged almost a quarter, while deliveries of Ford's biggest money maker, the F-Series truck line, rose 9.8 percent.
Dramatic Shift
"That dramatic shift into SUVs and trucks, which transact at a higher level generally, is not overcoming the overall weakness in cars," Mark LaNeve, Ford's U.S. sales chief, told analysts and reporters on a conference call Monday. "That trend is being played out across the industry."
GM sales dropped 4.7 percent, more than analysts forecast, as it curtailed fleet sales. Its truck-focused GMC brand reported a 3.6 percent drop and passengers cars like the Chevrolet Malibu family sedan and Cruze compact fell by more than 30 percent. Still, average transaction prices rose about $400 each as it sold more big vehicles, GM said.
Fiat Chrysler Automobiles NV, which had been expected to report the biggest sales drop at 7.9 percent, narrowly beat estimates with a 7.4 percent slide.
Among the biggest automakers, only Toyota and Honda had been expected to report increases in June deliveries. Volkswagen AG, the world's biggest automaker but still a smaller player in the U.S., saw its combined VW and Audi brand sales rise with the addition of the VW Atlas SUV that is made in Chattanooga, Tennessee.
Summer Shutdowns
GM, Ford and Fiat Chrysler are all shortening summer shutdowns or forgoing them altogether at some U.S. plants that make popular SUVs and pickups as demand for the bigger vehicles continues to chug along. At the same time, several car plants are bracing for a cut in summertime shifts and output as manufacturers try to align supply with still-slumping passenger-car demand.
"It's been encouraging to see the level of discipline we've seen so far. We have seen a targeted cutback in production," Kelley Blue Book analyst Alec Gutierrez said on a Monday call. "There is recognition that the market is cooling off a bit."
The full-year total of 17.2 million analysts have been projecting would end a seven-year winning streak for the auto sector but would still mark the fourth-best year on record. The industry sold 17.55 million cars and light trucks last year.
"It doesn't look like there's any indication that we would gain enough momentum as an industry in the second half to eclipse last year," LaNeve said.
Jamie Butters and David Welch are reporters for Bloomberg News.