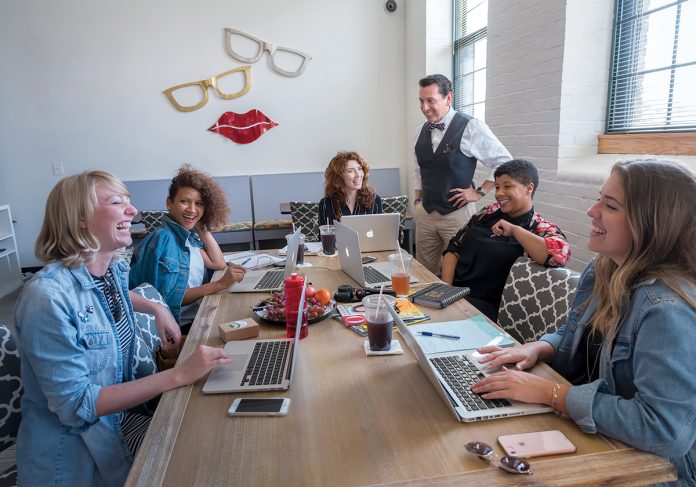 Pawtucket will host the Ocean Inno Tech Fest later this year, bringing innovators and investors from far and wide to the city.
"There are tech companies here in Pawtucket that people don't know about," said David Gomez, founder and chief creative officer at Pawtucket's Red DWG Library, a co-working space for startups and entrepreneurs.
He also suspects many people don't know there are about 125 tech startups in Rhode Island overall.
Gomez's group is partnering with the city of Pawtucket, the Pawtucket Foundation, the Pawtucket Red Sox and R.I. Commerce Corp. to produce the Ocean Inno Tech Fest, complete with drone racing, food trucks, presentations, workshops, networking, gaming and live music.
And for the gathering to take place in Pawtucket makes sense to many.
"Pawtucket is the birthplace of the American Industrial Revolution – this is where innovation began," said Mayor Donald R. Grebien in a press release announcing the tech fest, which is forecast to draw 5,000 attendees and feature major tech companies. In fact, the event was pushed back from May to September to accommodate global tech firms interested in taking part.
"We're getting some great, great attention" from large corporations across the globe, said Gomez.
Along with strategic partners Tech Collective, Polaris MEP, Social Enterprise Greenhouse and MassChallenge, the tech fest at McCoy Stadium Sept. 13-14 is billed as the place to be for investors, gamers, startups, students, recruiters, companies and innovative thinkers. The goal is to foster global awareness about small and large tech companies, said Gomez.
The fact Rhode Island is home to many higher learning institutions is another plus.
'There are a lot of folks that don't know about the opportunity and talent here.'
DAVID GOMEZ, Red DWG Library founder and chief creative officer
"There are a lot of folks that don't know about the opportunity and talent here," he said. "I've been to a few tech festivals in Boston, London and New York, and thought, 'Why don't we have one here in Rhode Island?' … Everyone can show off what they do, create more of what they do."
While 28 startups and entrepreneurs use Red DWG Library and its resources, the formation of the co-working space is innovative in itself.
Red DWG Library occupies 8,500 square feet of renovated space in the American Insulated Wire historic mill. It opened in 2017.
As for the Red DWG Library name, red is the most prominent of the color palette, Gomez explained. DWG stands for "Developing Wisdom with Guidance." As a child who was bullied in school, Gomez would escape to the library to hide, clear his head and concentrate on subjects that would advance him in life, such as architecture, which is what libraries represent to him: a chance to focus, advancement.
Gomez eventually became an architect.
Until recent years, he was working in New York at his own architectural firm, with 20 or so employees. When computer-aided design, or CAD, began encompassing 3-D technology, he was hooked. "I knew it was growing; it's now virtual reality. It's evolved in such an insane manner, which I found very appealing," he said. Along with technology, he was also interested in brand building, which is what Red DWG Library offers startups and entrepreneurs who use the space.
"Whether they need help designing a logo or brand identity, we help them with marketing, connect them with manufacturers, legal services … we help them build their brand here," Gomez said.
These brands may or may not revolve around the areas that will be highlighted at Ocean Inno Tech Fest, such as artificial intelligence, virtual reality, augmented reality, robotics, autonomous tech and 3-D tech.
But Rhode Island appears to be following the national trend when it comes to job growth regarding technology. The rise of software-developer positions is in line with what Gomez has observed locally.
The Bureau of Labor Statistics puts software developers of applications at 31 percent growth from 2016 to 2026, making it one of the fastest-growing areas of technology in terms of jobs. The R.I. Department of Labor and Training's fastest-growing occupations include operations research analysts, software developers of applications, software developers of system software and web developers.
The emergence of software-development job growth is evident in Pawtucket and the surrounding area, says Gomez. "Software developers have been the biggest sector that we've come across … and web-design engineers," he said.
The event looks to cater to tech-community sectors as much as possible, with more than 40 events overall. There are specific focuses on networking, talent recruiting and company showcases; a launch-phase focus where startups can present to investors, venture-capital firms and seed funders; and a growth-focused, top-tech CEO speaker series offering their personal stories and best practices.
"We want to know what they are looking for – whether it's a job, investors, or if they just want to network. We work to help our sponsors and exhibitors examine that and connect better with attendees," said Gomez.