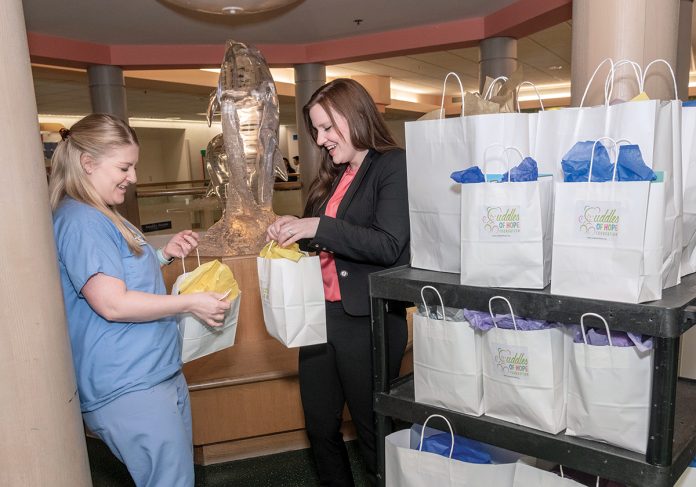 When you run a successful nonprofit that provides gift bags for children who are in a hospital or in a shelter, you end up with a lot of stuffed animals.
Where does one keep them all?
"In my garage, any room I can find," said Amy Antone of North Providence, of the bears, dinosaurs, rabbits, bunnies, giraffes and dogs. "We love having them around because it reminds us of the gift bags," and the feelings of comfort and joy they bring to kids going through a scary situation.
Often with help from her husband and their children Lucas and Zoey, Antone and the Cuddles of Hope Foundation regularly deliver gift bags that include a stuffed animal, crayons and a coloring book to patients at Hasbro Children's Hospital. Each one also has a poem introducing their new stuffed friend.
Lucas is an especially willing assistant in gift bag efforts.
It was his hospital stay a few years ago that gave Antone the idea for the nonprofit. Lucas fell and hurt his eye, requiring surgery. As he was rushed to the hospital by ambulance, there was no time to grab his favorite stuffed animal, which he really could have used at the time.
Antone didn't want other kids to go through the same kind of experience without a buddy to cuddle. Where Hasbro hospital did provide kids with toys and Play-Doh, she thought it might be helpful for young patients to have stuffed animals they could keep with them in their beds.
Through an Amazon Wish List and other means, the Cuddles of Hope Foundation has seen donations from all over the U.S. and continues to grow.
Though she had no idea how to go about starting her own nonprofit, Antone was no stranger to volunteer work. Her desire to help others and give back was already present, having volunteered for the Multiple Sclerosis Society, Make a Wish Foundation, Special Olympics Massachusetts and serving as board member for the local parent-teacher organization.
A senior compliance consultant for CVS Health Corp., Antone established Cuddles of Hope in her off hours, said her husband, Nathan. Those off hours are already full, by the way – in addition to having a full-time career, being an MBA student and the mother of two small children – she made it work, said Nathan.
"She took it upon herself to spend her nights researching how to start a nonprofit and all the legal requirements," he said in a statement. "Within a couple of months, she had the name and logo trademarked … started raising funds … taught herself to make the website and dropped off her first donation."
'These bags provide comfort and normalcy in an often-challenging moment.'
KERRI BAKER, Hasbro Children's Hospital child-life specialist
Though Antone cannot see families at the hospital due to federal privacy and security rules, nurses at Hasbro tell Antone that the bags are received with great excitement by the children arriving there as patients.
"These bags bring a smile to the faces of both 3-year-olds and 15-year-olds," said Kerri Baker, a child-life specialist at Hasbro. "[They] provide comfort and normalcy in an often-challenging moment in their lives."
It's knowing she is helping families in a vulnerable time that motivates Antone. Time management is one of her strengths.
With a bachelor's degree in operations and project management, she is now pursuing a master's in business administration, a longtime goal. Pacing herself is key. "I take one class at a time," said Antone.
She has about a year left to complete the degree, and is seeing parallels with what she is learning and her work with the foundation.
"I knew nothing about starting a business and all the different areas, finances, especially. The MBA is helping me understand the business side of everything," she said. It's also helped guide her in planning growth for her nonprofit.
So far, hundreds of cuddle bags have been assembled and distributed. Each one costs about $7 in materials. Her goal is to get 1,000 bags donated in 2019. Antone is in the planning stages of an event to raise more donations and has broadened her scope in terms of where bags are distributed, she said.
In addition to Hasbro hospital, several shelters get the cuddle bags for kids, with the stuffed animals, along with what Antone calls hope bags, with soap, shampoo, conditioner and other personal items included, helping adults with necessities in a tumultuous time.
Reaching out to shelters and hospitals is another task that helps make the foundation run. Recently this has included going beyond the borders of the Ocean State.
Antone is in the initial stages of expanding foundation efforts into Fall River and Boston hospitals and shelters, with some help from relatives. She aims to eventually take the foundation nationwide, enriching hospital and shelter experiences for families across the U.S.
"Almost everything has changed," since the early days of the foundation, said Antone. "We grew from just stuffed animals to gift bags. Now it's bigger than we thought it would be."