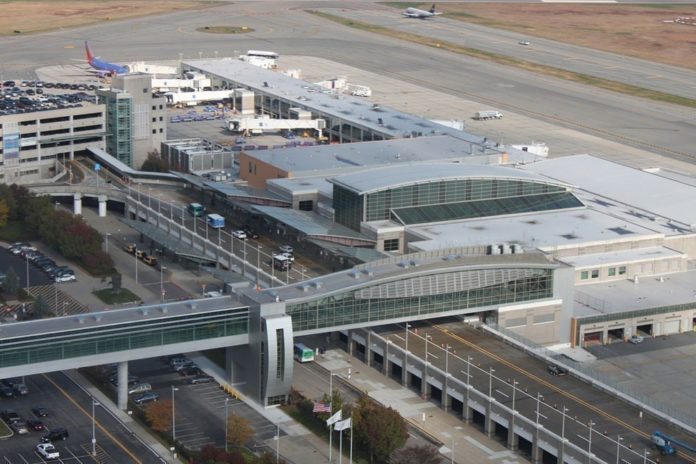 WARWICK – Traffic at T.F. Green Airport increased 18.6 percent year over year in October, according to the R.I. Airport Corp.'s monthly airport passenger activity summary. A total of 384,799 passengers were enplaned and deplaned in October.
Southwest Airlines accounted for more travelers than any other airline for the month, per usual, with 36.4 percent of all travelers for the month, a total of 140,221. American Airlines followed second with 22.9 percent of all traffic at T.F. Green., or 88,004 passengers.
Low-cost, or discount, airlines accounted for 14.6 percent of passengers for the month. The largest low-cost airline operating in October was Frontier, which handled 10.1 percent of all traffic at the airport, or 38,810 passengers. None of these airlines, Allegiant, Frontier, Norwegian Air and OneJet, were operating in October of last year.
Year-to-date in October, 3,217,430 passengers passed through the airport, a 5.3 percent  increase from one year prior.
Nearly 3.8 million pounds of cargo was processed through T.F. Green in October, a 73.6 percent increase from one year prior – an increase of 1.6 million pounds of cargo – and a reversal of the 280,081 pound year-over-year decline the airport experienced in October 2016.
FedEx Corp. accounted for the most cargo at T.F. Green with 1.2 million pounds.
Air Transport International accounted for the second-most cargo with 1.1 million pounds of cargo in its first month of recorded operation – more than United Parcel Service Inc., which moved 814,240 pounds.
Atlas Air, also in its first reported month of operation at the airport, accounted for 499,986 pounds of cargo for the month. Both Air Transport International and Atlas Air are known to operate cargo planes for Amazon.com, which opened a fulfillment center in Fall River in late 2016.
Year-to-date in October, total cargo increased by 9.8 percent to 24 million pounds.
Chris Bergenheim is the PBN web editor.