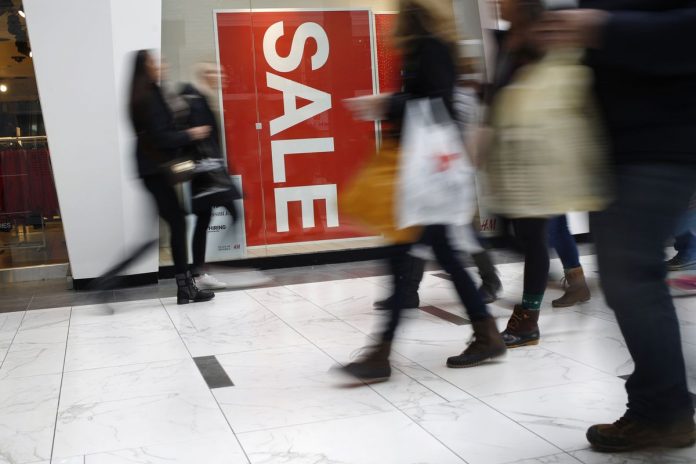 NEW YORK – United States consumer sentiment declined more than forecast in November as Americans' views about the economy deteriorated amid rising interest rates and slumping stocks.
The sentiment index dropped to 97.5, the lowest level since August, from the prior month's 98.6, according to a University of Michigan report Wednesday. The median estimate of economists surveyed by Bloomberg was 98.3, which was also the preliminary reading released earlier this month. The gauge of current conditions decreased to 112.3, while the expectations index slipped to 88.1 – also three-month lows.
Key insights
A measure of buying conditions for long-lasting goods declined to a three-month low. Positive attitudes toward buying vehicles remained at a five-year low, and favorable home- buying conditions also were at "depressed levels," according to the report. That doesn't bode well for sales and orders of durable goods, which have softened in recent months. "While there is no reason to anticipate a sudden change in expectations in the months ahead, consumers have begun to resist rising interest rates on purchases of housing and vehicles," Richard Curtin, director of the University of Michigan consumer survey, said in a statement. Even so, confidence remains elevated amid the strong job market, improving wages and cheaper gasoline. That may support consumers' ability to spend heading into the shopping season kicked off by the Thanksgiving holiday weekend. The report also showed inflation expectations for the year ahead edged down to 2.8 percent from 2.9 percent in prior month, while the inflation rate over the next five to 10 years was seen at 2.6 percent compared with 2.4 percent in the October survey.
The survey's index of current personal finances held at 130, while a gauge of the outlook for personal finances slowed to 129, the weakest since June. The index measuring attitudes about the 12-month outlook for the economy fell to 117, the lowest level since July. Separately, the Bloomberg Consumer Comfort Index rose last week to 61.3 from 60.5 the prior week.
Shobhana Chandra is a reporter for Bloomberg News.