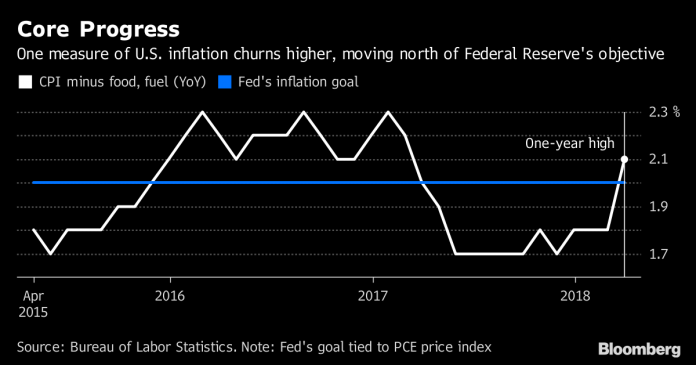 NEW YORK – A key measure of U.S. inflation accelerated to the highest in a year as a drag from mobile-phone costs faded, bearing out the Federal Reserve's forecast for a pickup in price gains.
Excluding food and energy, the core consumer price index rose 2.1 percent from March 2017 after a 1.8 percent gain in the year through February, a Labor Department report showed Wednesday. The gauge was up 0.2 percent from the prior month, matching the median estimate of economists. Including all items, the CPI was down 0.1 percent from February on a drop in gasoline costs, with the index up 2.4 percent from a year earlier, also the most in a year.
The core CPI's pickup will help reinforce the view of policy makers that inflation had been weighed down by transient factors such as the unusual weakness in the cost of wireless-phone services. The acceleration will reinforce Fed expectations that its preferred gauge of inflation – a separate consumption-based figure from the Commerce Department – is gradually approaching its 2 percent goal.
The advance in the core CPI brought the three-month annualized gain to 2.9 percent, after 3.1 percent in February.
Core inflation "is running a little bit hotter but we don't see it likely to rise to problematic levels," said Russell Price, senior economist at Ameriprise Financial Inc. in Detroit. "Even though demand for labor is tight, the economy overall is expanding at a fairly balanced pace where inflation is kept in check."
The report "is in line with the Fed's expectations," said Price, who correctly forecast the 2.1 percent annual gain in core CPI.
Mobile-phone service prices increased 0.2 percent in March after falling 0.5 percent the prior month. They had slumped a record 7 percent in March 2017 from the previous month as carriers sweetened data packages, and weakness in the category, along with softer prices for items such as cars and medical care, continued to restrain core CPI for the next few months.
Pricing power
Other details of the latest data showed the increase in pricing power reflected advances in shelter – including an outsize gain in hotel and motel rates – along with medical care, personal care, motor vehicle insurance and airfares. Prices declined for apparel and used cars and trucks.
Investors are looking out for signs of inflation pressures that could prompt faster interest-rate hikes by the Fed. Minutes of the central bank's March meeting, when it lifted borrowing costs by a quarter percentage point, will be released later on Wednesday. Most officials have penciled in two or three more increases this year.
While the Fed's preferred gauge of inflation has missed the 2 percent goal in most months since 2012, policy makers anticipate gradual improvement and have projected 1.9 percent inflation for 2018. Fed Chairman Jerome Powell said last week that 12-month inflation readings "should move up notably this spring" because of the fading of weakness from a year earlier.
Meanwhile, the jobless rate is at the lowest level since 2000 as the labor market tightens, indicating the Fed has almost reached its other goal, of maximum employment.
A separate report, also released Wednesday by the Labor Department, showed average hourly earnings adjusted for inflation rose 0.4 percent from March 2017. Worker pay has grown moderately in this expansion even with robust demand for labor.
The CPI is the broadest of three price gauges from the Labor Department because it includes all goods and services. More than half of the index covers the prices that consumers pay for services ranging from medical visits to airline fares, movie tickets and rents.
Other details
Energy prices fell 2.8 percent from previous month, biggest drop since February 2016; food costs rose 0.1 percent
Apparel prices, which jumped in the first two months of the year, decreased 0.6 percent
Costs for new vehicles unchanged after a 0.5 percent decline in February that was the most since 2009; used-vehicle prices fell 0.3 percent for a second month
The price of airfares rose 0.6 percent for a second month Shelter costs, which account for about a third of CPI, rose 0.4 percent from the prior month, most since August; includes 0.3 percent increase in owners-equivalent rent, one of the categories designed to track rental prices
Cost of lodging away from home, part of shelter category, jumped 2.3 percent, biggest increase since August
Expenses for medical care rose 0.4 percent; these readings often vary from results for this category within the Fed's preferred measure of inflation due to different methodologies
Shobhana Chandra is a reporter for Bloomberg News.