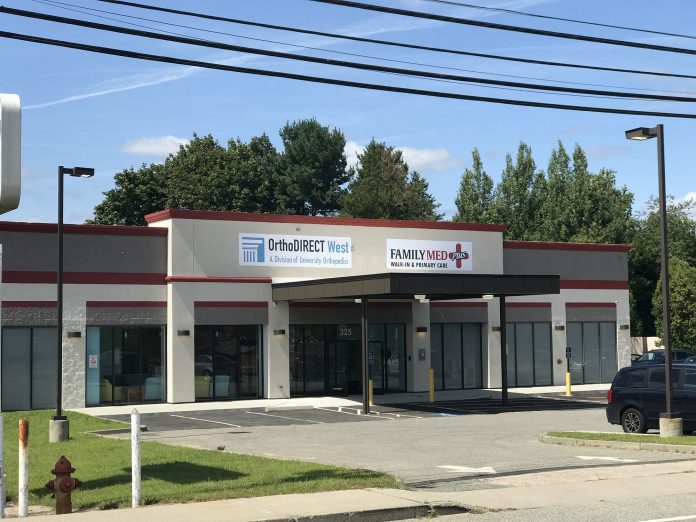 WEST WARWICK – University Orthopedics has opened its newest location at 325 Quaker Lane, providing more-convenient access for West Bay communities to treatment for acute sports-related injuries, as well as shoulder, knee, ankle and other musculoskeletal injuries.
The building, dubbed OrthoDIRECT West, is a 6,000-square-foot, state-of-the-art, free-standing building offering same-day and next-day appointments staffed by orthopedic- and sports medicine-trained clinicians.
The building is located off Quaker Lane and Bald Hill Road. The location is equipped with exam pods, X-ray rooms, cast rooms and waiting areas.
In addition to treating patients with orthopedic concerns resulting from acute sports-related injuries, shoulder, knee and ankle injuries, as well as other musculoskeletal injuries, patients requiring surgery can be directed quickly to an orthopedic surgical specialist.
"We are pleased to add this new location for our patients in the West Bay and surrounding communities," said Dr. Edward Akelman, president of University Orthopedics. "At University Orthopedics, we are committed to enhancing the patient experience, and our physicians understand the importance of prompt diagnosis and treatment."
OrthoDIRECT West will offer the following extended hours for patient convenience: Monday through Thursday from 9 a.m. to 7 p.m.; Friday from 9 a.m. to 5 p.m.; and Saturday from 9 a.m. to 2 p.m. The direct number for booking appointments is (401) 443-4100.
Rob Borkowski is a PBN staff writer. Email him at Borkowski@PBN.com.