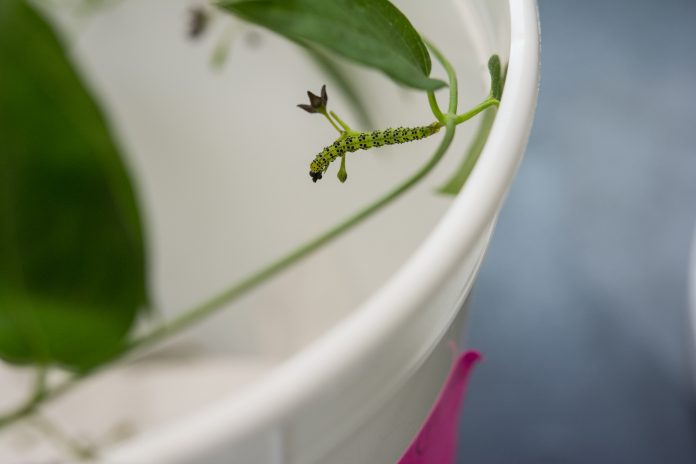 SOUTH KINGSTOWN – A decade into studying the invasive black and pale swallow-wort, University of Rhode Island researchers have released a species of moth from Ukraine to combat the flora, which plagues Europe and parts of North America.
"Swallow-wort was one of those weeds becoming increasingly problematic," said Aaron Weed, a former Ph.D. student at URI that spearheaded the project, in a statement.
Transported to North America more than a century ago and found along the Eastern Seaboard and north into parts of Canada, swallow-wort outcompetes native species and alters soil chemistry. In addition, the flora harms populations of Monarch butterflies, which lay their eggs on its leaves as it resembles milkweed. Once the eggs hatch, the leaves no longer are sustainable and the larvae cannot survive on the plant.
Weed began his research at URI in 2005 when interest in combating the flora was high.
"Integrated management of weeds is a very challenging endeavor," Weed said in prepared remarks. "Biocontrol is potentially efficacious for swallow-wort because conventional methods just weren't working or were incompatible in sensitive areas."
Weed's studies brought him to Europe, where he attempted to identify other species that could control the proliferation of swallow-wort. He brought multiple specimens back to URI's Biocontrol Lab, among them the hypena opulenta – a small moth that feeds on swallow-wort – which was collected in southeastern Ukraine.
A permit was received by the URI researchers to release the moths in 2017, resulting in field tests in controlled cages in environments in Charlestown and other regional locations. If the experiment is successful, researchers at URI hope to share their plan and release additional moths in other areas.
Emily Gowdey-Backus is a staff writer for PBN. You can follow her on Twitter @FlashGowdey or contact her via email, gowdey-backus@pbn.com.