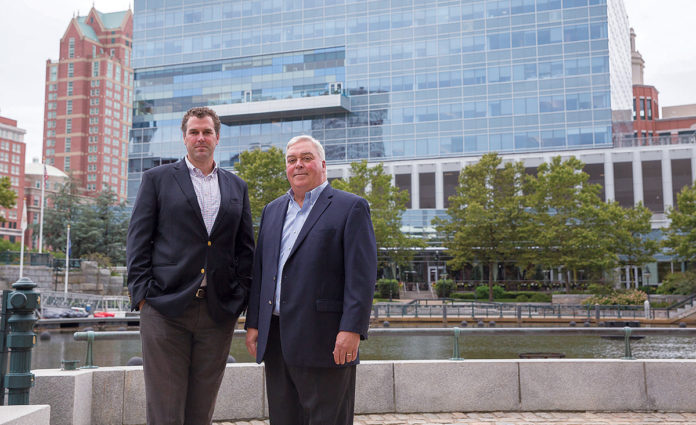 The slow, steady conversion of vintage downtown buildings into residential spaces, or boutique hotels, has tightened the supply of Class B office space in Providence, according to commercial real estate brokers.
At the same time, the availability of Class A space isn't what it might seem. Yes, the downtown has buildings with vacant floors and suites. But if a company with a need for 30,000 square feet or more wanted to relocate to Providence, the capital might not have enough contiguous office space to accommodate them.
Real estate brokers describe the leased office market as steady in 2017, with no sharp increases in activity and a gradual absorption of vacant space.
On the sale side, there is less supply, with a limited number of office condominiums. Providence remains primarily a leased market.
The signature building on the market this year is One Financial Plaza. The 28-story office tower, the second-tallest in Providence, is listed by CBRE New England. The property description indicates it is 80 percent leased, with tenants that include Bank of America, Duffy & Sweeney and Locke Lord.
The skyscraper has 322,000 square feet of office space, with the largest contiguous suite being 12,925 square feet on the 23rd floor, according to a summary prepared by The Providence Foundation.
CBRE did not immediately return phone calls requesting information on purchase inquiries. The building was valued at $56.9 million in the most recent citywide revaluation, according to property records.
The last sale of a comparable tower was 100 Westminster, in 2014. Paolino Properties purchased that office high-rise, along with the neighboring Exchange Bank Building, for $60 million, according to property records.
This summer, the 390,000-square-foot 100 Westminster tower has about 44,000 square feet available. But only 20,500 square feet available in a single space, according to The Providence Foundation summary.
'If you need 40,000, 50,000 or 60,000 square feet, now we have a problem.'
KARL SHERRY, Hayes & Sherry partner
The scarce availability of large office spaces could be a problem if Rhode Island is successful in attracting a company that needs connected space, said Karl Sherry, a partner at the Providence-based Hayes & Sherry, a Cushman & Wakefield affiliate.
"When you say a building is 85 percent leased, or even 80 percent leased, most of that space is usually in different pockets," he said.
If a client needs to get 20,000 to 25,000 square feet, he said, it can be assembled in a floor or two floors. "If you need 40,000, 50,000 or 60,000 square feet, now we have a problem," he added.
Building new office space on spec doesn't generally happen. If a new building were to be built in Providence, given the current land and construction costs, it would likely be leased in the neighborhood of $50 a square foot, explained Peter Hayes, a partner at Hayes & Sherry.
Now, Providence leased space tops out at $36 to $37 a square foot for the best space, at buildings such as 500 Exchange St., headquarters for Blue Cross & Blue Shield of Rhode Island, and the IGT Center.
For a significant development of new space to happen, he said, a company would have to choose to relocate to Providence from a market, such as Boston or New York, where it was paying considerably more in rent. In Boston, quality buildings command $60 a square foot, he said.
So far, the downtown office market has been typified by smaller companies being created or relocating and needing space in the range of 8,000 square feet or less, explained Leeds Mitchell IV, an executive vice president with Providence-based MG Commercial Real Estate.
"We haven't seen a lot of movement over the last 12 months," he said. "The sign of a strong office market is the demand from the local businesses requiring 3,000 to 8,000 square feet of space. That would be the law firm spinning off a law firm, accounting firms spinning off accounting firms. The organic creation of new business is a sign of strengthening in the market."
Where Rhode Island has attracted new companies, many of them have chosen downtown Providence as their location. Johnson & Johnson has occupied renovated space at 1 Ship St., with the goal of later relocating to the Wexford Science & Technology campus that is planned for the Interstate 195 Redevelopment District.
GE Digital and Virgin Pulse are both expected to move into the newly renovated Providence Journal building, which has also retained the newspaper as a tenant under new owners Cornish Associates LP-Nordblom Development Co..
The presence of large companies downtown could hopefully result in smaller companies locating nearby, Mitchell said, much as CVS Health Corp. has inspired smaller businesses to locate in northern Rhode Island.
"That's what really drives the northern Rhode Island market," he said. "One would hope a similar effect would happen in downtown ­Providence."