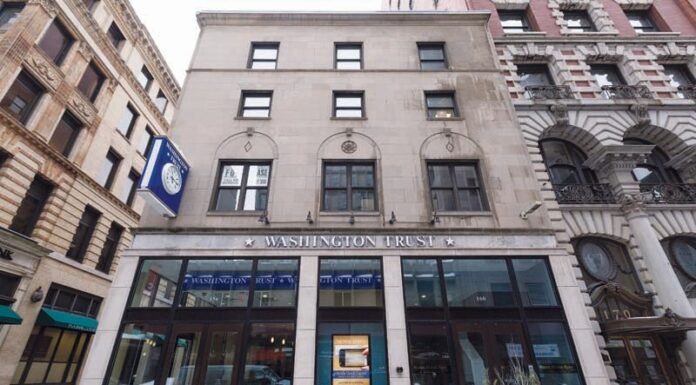 WESTERLY –  Rising interest rates, typically a boon for banks' bottom lines, weren't enough to offset inflationary headwinds for Washington Trust Bancorp Inc., which saw annual earnings fall 6.8% over the prior year.
The parent company for The Washington Trust Co. on Wednesday reported a $71.7 million profit for 2022, compared with $76.9 million in 2021. The decline was driven by slowdowns in the mortgage banking business, with revenue cut by more than two-thirds, along with other inflation-related challenges, according to Edward O. Handy III, company chairman and CEO.
Diluted earnings per share also fell 28 cents, to $4.11 per share.
Still, the company had some bright spots, including a record $5.1 billion in loans for the quarter that ended Dec. 31. This marked a 20% increase over the fourth quarter of 2021, reflecting growth in residential real estate and commercial loans.
Loan growth also propelled a 13.7% boost to total assets, which stood at $6.7 billion as of Dec. 31. Year-end deposits ticked up 1% to $5 billion.
Aggressive federal interest rate hikes also boosted interest income, both quarterly and year-end. The annual interest income of $194.5 million marked a 23% increase over the year prior. This was partially offset by higher interest expenses, which more than doubled to $38.5 million, compared with 2021.
Also reflecting the rise in interest rates, the net interest margin – the difference between interest income generated and the amount paid out to lenders – rose 10 basis points to 2.69%.
Flouting the trend of financial institutions nationwide, most of which have begun to build back up credit reserves in anticipation of an economic downturn, Washington Trust continued to release money from its loan loss provisions. However, the $1.3 million dumped from its stockpile in 2022 was significantly less than the $4.8 million it released in 2021.
Annual non-interest income took the biggest hit, year-over-year, down 28.4% to $62.6 million. This primarily reflected major cuts to mortgage banking revenues, down to $8.7 million, as the market cools, the company stated.
Yearly non-interest expenses of $128.7 million marked a 5% drop over the prior year, with lower salary and employee benefit costs stemming from fewer mortgage loans and lower wealth management compensation costs, the company stated.
For the fourth quarter of 2022, the company reported a $16.6 million profit, down 17.9% over the fourth quarter of 2021. This included an $800,000 addition to its credit loss provisions, versus the $2.8 million released in the fourth quarter of 2021. The addition to its reserve pile was aimed at covering loan growth and preparing for "continued negative trends in the macroeconomic environment," the company stated.
The company continued to see the benefits of higher interest rates in its fourth-quarter report, with a 49.3% rise in interest income to $61.8 million. This was partially offset by higher interest expenses, also a result of higher interest rates, which increased more than five-fold to $20.4 million.
Quarterly non-interest income of $13.8 million marked a32.1% decline over a year ago, with losses to wealth management, mortgage banking and loan level derivative income.
Quarterly non-interest expenses ticked down 5.3% to $33.4 million, with declining employee salaries and benefits, partially offset by an increase in "other" expenses due to a $600,00 charitable contribution, the company stated.
"Washington Trust's fourth quarter and full-year 2022 results were solid, yet reflect the challenges of operating in an inflationary environment," Handy said in a statement. "Total loans reached a record high and asset quality remained strong. We enter 2023 poised to face continued economic headwinds with our time-tested business model, disciplined credit approach and strong capital position." 
As of June 30, 2022 – the most recent available – Washington Trust had the third-highest share of in-market deposits in Rhode Island, with 11.1%, according to the Federal Deposit Insurance Corp.
Nancy Lavin is a PBN staff writer. You may reach her at Lavin@PBN.com.

Want to share this story? Click Here to purchase a link that allows anyone to read it on any device whether or not they are a subscriber.