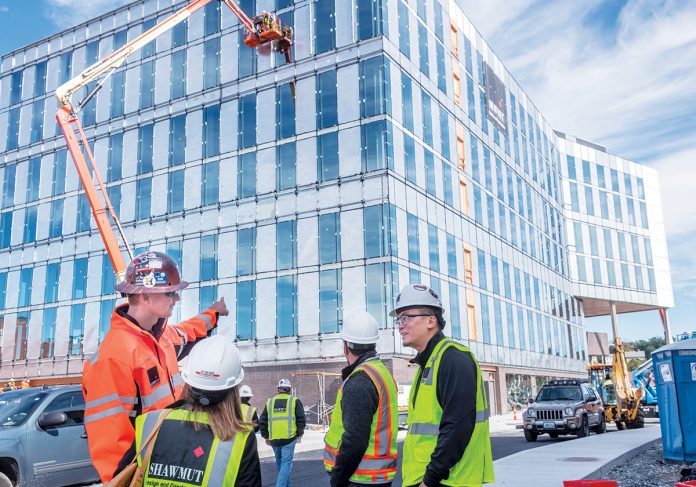 About 13 months after starting, core and exterior construction of the Wexford Innovation Center in the historic Jewelry District of downtown Providence is nearing completion.
Tenants can start their own construction and improvements inside the building in December.
Proponents of the project see it as a model for economic-development efforts in the state. Project officials expect the center to be occupied and operating next summer.
The innovation center is seen as a centerpiece of state and city efforts to redevelop a swath of land that became available from the relocation of Interstate 195 in downtown Providence, removing a virtual barrier that divided the Jewelry District from the Financial District.
The innovation center is the first of potentially three phases of development that Wexford Science & Technology could undertake there, covering up to 5 acres.
The Baltimore, Md.-based company was spurred on by an unprecedented level of public financial support in the form of roughly $34 million worth of tax credits and other incentives provided through Gov. Gina M. Raimondo's administration, said Peter McNally, executive director of the state's I-195 Redevelopment District Commission.
"If they do what they say they're going to do, it will serve as a center of gravity" for a new wave of economic development, McNally said about the Wexford project.
Wexford develops mixed-use buildings featuring lab and office space for universities, academic medical centers, major research institutions and related businesses. The company has done similar projects in Baltimore, Philadelphia, Chicago, Miami, St. Louis and elsewhere.
For the Providence center, Wexford so far has signed lease agreements with three tenants – Cambridge Innovation Center, Brown University and Johnson & Johnson. They will occupy about 70 percent of the available space in the seven-floor, 200,000-square-foot building, said Sean Lee Burgo, Wexford's project director for construction on the site.
Wexford hired Boston-based Shawmut Design and Construction as the main contractor for the $88 million project, focusing on the building's "core and shell" construction, Burgo said. Shawmut has built and renovated buildings on college campuses in New England, including local projects for Brown, the Rhode Island School of Design and Roger Williams University.
"As you walk around it," Burgo added about the Wexford building's boxy, crystalline appearance, "there's not a bad angle to this building."
Shawmut was planning to complete the building's mostly clear-glass exterior in November, so tenants will be shielded from the weather when they are expected to start retrofitting their spaces inside the building in mid-December. The entirety of construction and other preparations are expected to be completed in March, with the building officially opening around early July, Burgo said.
The ground floor will feature a lobby, retail space and a 35,000-square-foot restaurant. Wexford has not yet found a tenant for the restaurant, Burgo said. Another area of the first floor will lead to an outdoor courtyard. The floors above will be composed mainly of offices and multipurpose rooms, some with balconies and other amenities.
The primary tenant will be Cambridge, Mass.-based Cambridge Innovation Center. CIC will use the Wexford space as an "incubator" for startup companies and entrepreneurs.
Brown, which opened its nearby Warren Alpert Medical School in 2011, will occupy about one and a half floors in the Wexford building, Burgo said. Brown's School of Professional Studies will use the space.
In addition, New Brunswick, N.J-based corporate giant Johnson & Johnson – a maker of pharmaceuticals, medical devices and consumer products – will occupy the top floor, Burgo said.
For the second phase of Wexford's plan, Burgo said, the company is eyeing another parcel of land next to the innovation center on Clifford Street occupied by Nabsys Inc., a maker of electronic mapping products. The second and third phases of Wexford would add more office and lab space. However, Burgo said, the later parts of the plan are in flux and there are no certainties beyond the first phase.
At this point, he added, "There's a better chance for Phase 2 than for Phase 3. A lot of things have to align" for all of it to come together.
The Jewelry District Association, a coalition of merchants and residents, sees the innovation center as a big plus for the neighborhood, said Sharon Steele, the association's president.
"We've already welcomed it with open arms," Steele said.
Leading the innovation center project out of its Providence office, Shawmut currently has between 110-120 workers on the site, mostly subcontractors, said Chi Yik, Shawmut's senior project manager on the site.
Scott Blake is a PBN staff writer. Email him at Blake@PBN.com.