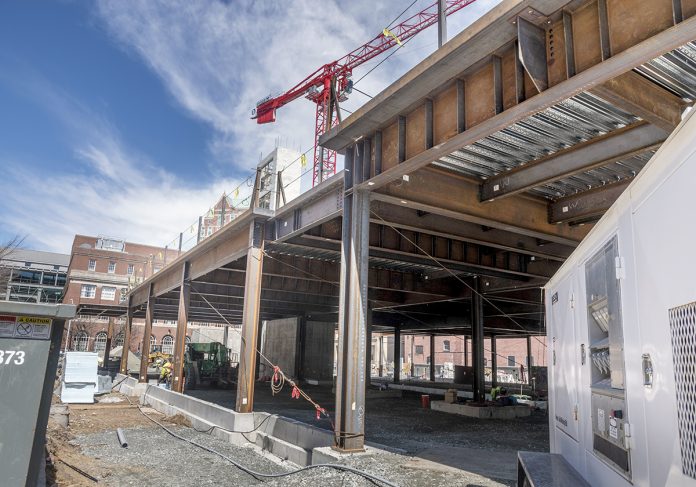 Downtown Providence is known as the central political and cultural district of Rhode Island. Among those who live and work there, it's also known for something else: the lack of a supermarket.
There are several small food stores and delis downtown. However, some residents and city officials said a supermarket is the missing piece to making the city's center a more "livable" neighborhood.
The Downtown Neighborhood Association, which formed about four years ago, has been pushing for a supermarket. Rich Pezzillo, the group's president, said it's one of the things downtown residents have said they want most. Members of his group have discussed the issue with city officials, but apparently little can be done until a supermarket operator steps up with a proposal.
Pezzillo said he's often heard that downtown needs between 6,000 and 10,000 permanent residents for a supermarket operator to consider opening there. He figures that downtown's population must be larger than that now, considering new housing projects, students and people who work there.
With several housing projects proposed or in the works downtown, Pezzillo expects a supermarket chain eventually will recognize an opportunity and open there.
"I think it's only a matter of time as more residential buildings go up," he added.
Developers of one of downtown's current housing projects are hoping to address the need for a supermarket, though in a limited way. Cornish Associates in Providence is partnering with Nordblom Co. of Burlington, Mass., on a six-floor housing project at 78 Fountain St., across the street from the Providence Journal building. The plan calls for a grocery store on the ground floor. The $52 million project is expected to be completed next spring.
The developers would like to see a grocery store – typically smaller than a supermarket – occupy most of the 11,500 square feet of retail space on the ground floor. The project calls for 143 residential units and 42 on-site parking spaces. However, a grocery store may not be part of the final product, depending on how the leasing process unfolds, said Tony Simmons, a spokesman for the developers.
"There is a need for a [grocery store] in the neighborhood," Simmons said.
Meanwhile, Providence-based Capstone Properties Inc. is hoping to find a grocery-store operator to lease or buy the former "Ultra" nightclub building at 125/127 Friendship St., in the Jewelry District on downtown's south side, said Neil Amper, Capstone's vice president.
Amper said his firm recently listed the nearly 10,000-square-foot building for lease or sale. Whether a grocery store moves in depends on the response Capstone gets from prospective buyers or tenants. He said he heard that downtown had a population of about 4,500, but that was "a few years ago."
'[A supermarket is] the one thing that's missing to make it a truly … livable neighborhood.'
BOB AZAR, Providence Department of Planning and Development deputy director
A challenge for a supermarket downtown is finding a building with enough ground-floor space, with room for truck docking and customer parking, Amper said.
"If you go to Boston and look at Trader Joe's [supermarket] near Fenway Park, the demographics are a bit better than Providence. You have more people there," he said. "Because [downtown] Providence has a small footprint, you don't have a lot of buildings that meet the criteria."
Meanwhile, there has been a string of multilevel housing projects downtown, many with retail space on the ground floor, but nothing offering a full-fledged food outlet, said Bob Azar, deputy director for the city's Department of Planning and Development.
Azar said there are no regulatory obstacles to developing a supermarket downtown, but a lack of space could be a problem.
"We would love to see [development of a supermarket] happening downtown," Azar said. "It's the one thing that's missing to make it a truly walkable and livable neighborhood."
Having a supermarket downtown, Pezzillo reasoned, would make housing there more appealing to buyers and renters, and the two would feed off each other.
For the time being, he goes to some of the small food stores downtown in a pinch. When he wants to do lots of food shopping, he goes to a supermarket in another part of the city or he stops on his way home from work near his office in Dedham, Mass.
Pezzillo noted the area of downtown that offers the most open space for a supermarket is the Jewelry District, where the city and state have been focusing on developing land where Interstate 195 used to run through downtown before it was relocated south of the neighborhood.
Another good spot, he said, would be across from the Jewelry District on the east side of the Providence River, where there is open land and where a pedestrian bridge will be built over the river.
Providence City Councilwoman Katherine Kerwin, whose district includes much of downtown, said a supermarket, or at least a farmers market, which sets up outdoors on a regular basis, would be good for downtown.
According to the city's Department of Planning and Development, there are four projects totaling nearly 500 residential units now under construction downtown.
And that doesn't include the pending Hope Point tower, a proposal of unprecedented size for Providence by developer Jason Fane. It calls for construction of up to a 600-foot tower, possibly with 448 condominiums, with 46 floors in the Jewelry District.
"When I was growing up 10 or 15 years ago," Kerwin said, "there wasn't that kind of push and gentrification downtown."
Scott Blake is a PBN staff writer. Contact him at Blake@PBN.com.