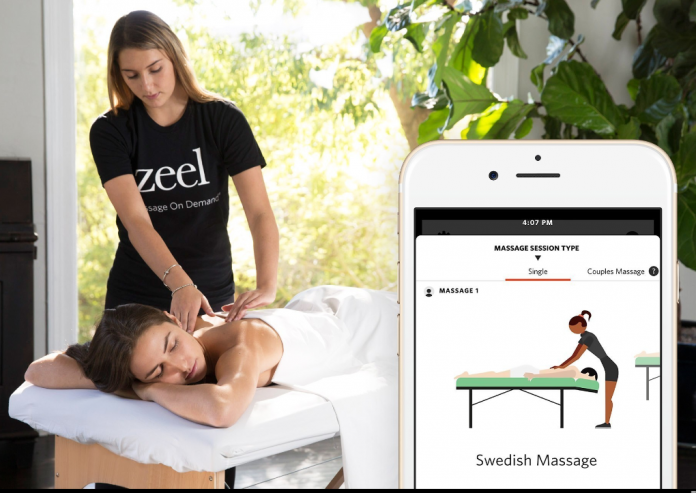 PROVIDENCE — If you've ever craved a massage delivered to your doorstep within an hour, Zeel Networks Inc., a massage-on-demand company, is now available to satisfy that desire throughout the state from locations in Newport and Providence.  
Zeel created the massage-on-demand category in 2012 as the first company to bring same-day, in-home massages to customers. The company is the largest on-demand massage provider in the U.S., with more than 10,000 licensed massage therapists delivering massages. Most other massage services requiring the customer to visit the provider's location require appointments made days, or weeks, in advance. 
Company founder and CEO Samer Hamadeh originally set out to provide better access to general wellness services in 2010, but discovered that people overwhelmingly wanted massages delivered via a same-day service. However, while massage therapists wanted more on-call work, and there was a high demand for them, the professionals were leery of taking on new customers without a reference or security check. 
By 2012, Zeel had provided the necessary security for massage therapists by requiring all customers to verify their identity through Zeel tech partners – a measure many on-demand app-based services still lack. The company also began vetting therapists joining the network in person and verified licenses and insurance for the professionals. 
The company launched its on-demand app in 2013. Members of the service receive a massage a month, plus a free massage table, at discounted member pricing. But if you're not a joiner, you can use their service and the app as a less formal customer. Zeel offers an easy and cash-free payment process, with gratuity and tax always included in pricing and outlined on each receipt. A 60-minute massage in Rhode Island is $105, with members of the massage membership paying only $87. 
Massages can be ordered from the Zeel app for iPhone and Android, and on zeel.com. Customers choose their appointment time, duration, and location for the massage; the gender of the massage therapist; and a massage technique. Zeel offers Swedish, deep tissue, sports, prenatal, couples, and a specially-designed sleep massage, developed to help with insomnia and sleep insufficiency. Massage therapists on the Zeel platform bring the massage table, music, and all other supplies for a five-star, customized massage therapy session at the time and place of the customer's choosing – from early in the morning to late at night, 365 days of the year. 
"It's an honor to bring wellness directly to the doorsteps of the people of Rhode Island," said Hamadeh. "Not only will permanent residents benefit from having access to Zeel's massage delivery offering, but so will the many tourists that visit these scenic cities each year. As the country's most convenient massage option, we're proud to say that you can bring Zeel with on your travels. This will be a game-changer in wellness for Rhode Island residents and tourists alike." 
Rob Borkowski is a PBN staff writer. Email him at Borkowski@PBN.com.