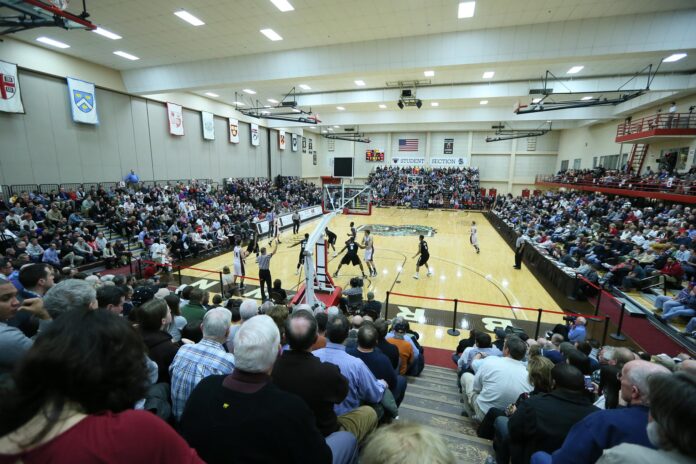 PROVIDENCE – Two Brown University basketball players, one former and one current, filed  a lawsuit in federal court Tuesday accusing the eight Ivy League institutions, including Brown University, of engaging in a price-fixing agreement by not offering athletic scholarships to student athletes. Such an agreement, the lawsuit claims, results in student athletes at Ivy League institutions not being compensated for their services.
Grace Kirk, who currently plays for the women's basketball team at Brown, and Tamenang Choh – who played on the men's team between 2017 and 2022 – filed the suit in U.S. District Court in Hartford, Conn. Harvard University, Columbia University, Cornell University, Dartmouth College, University of Pennsylvania, Princeton University, Yale University and the Ivy League Council of Presidents were also named as defendants in the lawsuit.
Kirk and Choh are of the view that the Ivy League's policy barring its institutions from offering Division I scholarships and not paying athletes compensation, including the eight institutions allegedly limiting financial aid, violates the federal Sherman Act. That section prohibits agreements between two or more individuals or independent entities that unreasonably restrain trade. The suit cites the NCAA being sued by a former student athlete, and subsequently being found in 2015 in violation of the Sherman Act for prohibiting athletes from licensing their names, images and likenesses at the time.
"In either case, regardless of whether considered as a restraint on the price of education, the value of financial aid, the price of athletic services, or the level of compensation to Ivy League athletes, the Ivy League Agreement is per se illegal," the lawsuit states.
Ivy League Executive Director Robin Harris defended the policy – the only such one in Division I college athletics – in a statement responding to the legal action, noting there are a wide variety of options when it comes to opportunities available to college-level athletes.
"The Ivy League athletics model is built upon the foundational principle that student-athletes should be representative of the wider student body, including the opportunity to receive need-based financial aid," she said. "In turn, choosing and embracing that principle then provides each Ivy League student-athlete a journey that balances a world-class academic experience with the opportunity to compete in Division I athletics and ultimately paves a path for lifelong success."
It is unclear if Brown offers any financial aid and additional payments to student athletes for their services in lieu of scholarships, and whether or not that aid completely covers the athletes' expenses in attending the university. Brown representatives did not immediately respond Wednesday to a request for comment.
The plaintiffs also seeking class-action status in order to represent current and former Ivy League student athletes who were recruited by the institutions since March 2019. The complaint can be read here.
James Bessette is the PBN special projects editor, and also covers the nonprofit and education sectors. You may reach him at Bessette@PBN.com. You may also follow him on Twitter at @James_Bessette. The Associated Press contributed to this report.

Want to share this story? Click Here to purchase a link that allows anyone to read it on any device whether or not they are a subscriber.