PAWTUCKET – A $400 million development project that includes a soccer stadium is planned for the city's waterfront, Gov. Gina M. Raimondo and Mayor Donald R. Grebien announced on Monday.
The project, called Tidewater Landing, will see the construction of a soccer stadium for a United Soccer League Championship team, a hotel, a mixed-use development with housing units, retail and food and beverage, as well as commercial space and an indoor sports event center.
The project is expected to draw $300 million in private investment. It will also see Tax Increment Financing for public infrastructure and nonstadium development. Public financing will be tied to performance and project milestones, the governor's office said.
The footprint of the project nearly mirrors a proposal for a new stadium for the Pawtucket Red Sox that was ultimately abandoned when the team announced it will move to Worcester, Mass.
The new plans for Pawtucket do not include any use of the McCoy Stadium property.
"When the General Assembly proudly enacted the legislation creating the Pawtucket Tax Increment Financing earlier this year, we were hopeful it would generate such an exciting economic-development opportunity as this one," said House Speaker Nicholas A. Mattiello.
Public investment in the project is expected to be 20% of the project cost, which the governor's office said will be approximately $70-$90 million, with roughly $60-$80 million coming from state revenue that has already been approved by the General Assembly as part of the Pawtucket TIF legislation. The specific amount of public funding will be determined over a 120-day due-diligence period. City revenue is also expected to be used to finance the project.
The project site is located in a federally designated Opportunity Zone.
"Today is an exciting first step towards a $400 million investment in Pawtucket's future," said Raimondo. "This economic-development project will establish a professional soccer team from a leading national league here in Rhode Island, revitalize the waterfront and downtown and create more than 3,500 jobs. Most importantly, it will transform this area into a vibrant hub of activity like we haven't seen in decades."
The USL league that will be brought to Pawtucket is recognized by the United States Soccer Federation as a Division II professional league, second to Major League Soccer. The league's matches are broadcast on ESPN+ and ESPN3, as well as across linear channels.
The team is expected to start playing in the 2022 season. The stadium was labeled "Riptide Stadium" in renderings.
The developer is Fortuitous Partners, which specializes in sports-anchored mixed-use real estate projects. The USL team's ownership group will be headed by Fortuitous co-founder and Partner Brett M. Johnson.
The project will also include a Riverwalk park and a Seekonk River pedestrian bridge, connecting downtown and the riverfront area. The site will be called Tidewater Landing.
The stadium is expected to have 7,500 sets and is expected to be available for use for other uses such as concerts, and other sports.
The project is focused on two properties owned by National Grid Rhode Island, the Tidewater and Division Street sites, and could also include the Apex site.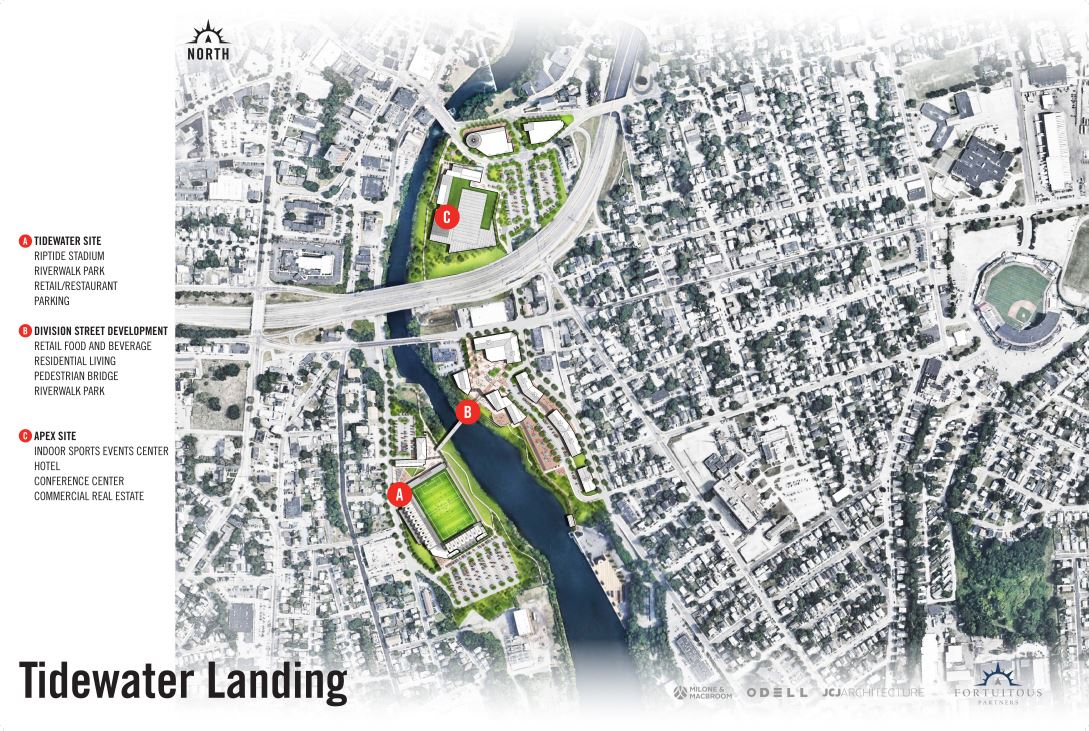 The project would be the largest economic-development project in Pawtucket's history. It comes following a request for proposals from the state.
The hotel is currently planned to have 200 rooms and the residential elements of the project are planned to have 200 units. Commercial space in the development will span 200,000 square feet.
The entire development is projected to create 1,200 direct, ongoing jobs upon completion. It is also projected to create 2,500 direct and indirect construction jobs and add $130 million to state gross domestic product.
"This is an opportunity of a lifetime for the city of Pawtucket, the Blackstone Valley, and the state," said Grebien. "This $400 million investment in one of Pawtucket's opportunity zones will create jobs and will be a transformative economic development at the gateway into our state. It's a natural expansion from our beautiful Slater Mill National Park to the city's underutilized riverfront."
Chris Bergenheim is the PBN web editor. You may reach him at Bergenheim@PBN.com.

Want to share this story? Click Here to purchase a link that allows anyone to read it on any device whether or not they are a subscriber.